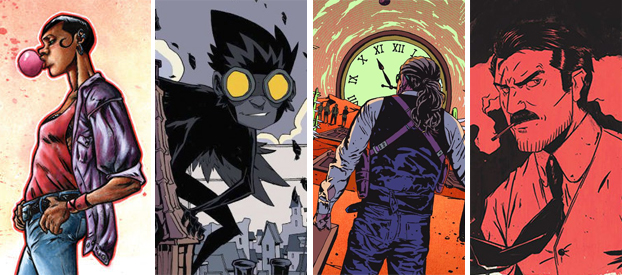 It's nearly Wednesday, and you know what that means: a fresh load of comics and graphic novels! With so many publications hitting your local comics store or digital storefront, the BF staff is here to lead you through the woods with our weekly staff picks. Satisfaction guaranteed!
Comic of the Week
Dirty Rotten Comics #6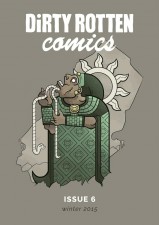 Throughout 2015 in my 'Small Pressganged' column here at BF I've been directing your attention to an anthology title with an inclusive philosophy that has given first-time creators an opportunity to be published alongside established names like Private Eye cartoonist David Ziggy Greene and British Comic Awards winner Tim Bird.
In just a few months Dirty Rotten Comics has built a reputation as one of the most supportive platforms in UK small press comics, and deservedly so. In this latest edition (previewed here last week at BF), co-publishers Gary Clap and Kirk Campbell have put together another wonderful collection of work that includes material from Broken Frontier Awards nominees Danny Noble and Kim Clements, British Comic Awards nominee Julian Hanshaw, established small pressers like Douglas Noble and Matthew Dooley, and rising stars of the scene like Jey Levang, Olivia Sullivan and 13-year-old Stanley Miller.
You can order a copy online from the DRC store here.
Anthology – Various creators • Dirty Rotten Comics, £4.00
– Andy Oliver
Feathers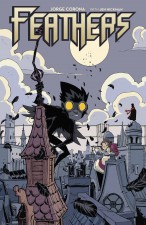 Jorge Corona earned this year's Russ Manning Promising Newcomer Award, thanks in large part to this subversive fairy tale. This sturdy hardcover edition is perfect for sharing with the young readers (and the young at heart) in your life.
Feathers is the story of Poe, a mysteriously plumed young orphan living in the labyrinthine Maze. The name of the protagonist is a clue to Corona's influences, and it should come as no surprise that there's an undercurrent of darkness to this fable.
Drawn in an action-packed manga-inspired style, Feathers offers plenty of questions to keep you turning the pages. Why are street children going missing throughout the Maze? Who's the ominous figure pulling strings from the shadows? And what does it all have to do with Poe's hidden parentage?
With the help of a young girl from the City beyond the Maze, Poe just might find the answers… if only he can survive long enough to understand them.
Jorge Corona (W/A) • BOOM! Studios, $24.99
– Paul Mirek
Alpha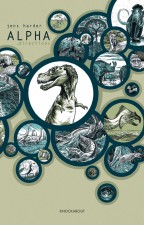 If there's one thing you can't accuse German artist Jens Harder of, it's a lack of ambition. The 350-page hardback Alpha is billed by Knockabout, its English-language publisher, as "nothing less than the story of evolution, from the Big Bang through the genesis of life up to the beginning of human civilization".
In a mind-boggling piece of work, which won the Prix de l'Audace ('Audacity Prize') at Angoulême and the Max und Moritz-Preis for Best German Comic in 2010, when originally published in French and German, Harder samples and lavishly recreates found imagery to weave together a stunning epic of natural history.
And, believe it or not, this is only the first volume in a planned trilogy: the two work-in-progress volumes of Beta will cover the endeavours of human civilisation to the present day! For once the blurb might not be falling into hyperbole when it declares the project as "the most ambitious piece of work since the beginning of time…"
Jens Harder (W/A) • Knockabout, £29.99
– Tom Murphy
X'ed #1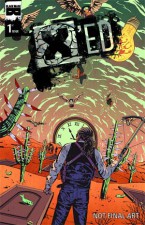 New this week from Black Mask Studios is X'ed, from emerging writer Tony Patrick and artist Ayhan Hayrula (Occupy Comics). It's a disturbing sci-fi thriller that posits the existence of "subliminal hitmen", who target and eliminate victim's personal demons through an experimental procedure that allows them to enter a person's psyche.
The program's most recent recruit, a partially paralysed ex-military sharpshooter named Colin McClure, seems the perfect choice as a subliminal hitman. On the surface it's win-win, but McClure has an ulterior motive for joining the program: to bring his catatonic daughter out of her coma.
It's been a stellar year for Black Mask, with critically acclaimed successes such as Space Riders and Young Terrorists showcasing the publisher's penchant for riveting, original stories presented with their characteristic brashness and craft. With its engaging concept and surreal visuals, X'ed seems poised to follow suit.
Tony Patrick (W), Ayhan Hayrula (A) • Black Mask Studios, $3.99.
– Jason Wilkins
Mystery Girl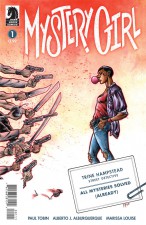 Paul Tobin has been charming readers of all ages with the Eisner-winning Bandette (in collaboration with Colette Coover), and his new series for Dark Horse features another resourceful young woman with a taste for adventure.
Pitching her business on the, ahem, sidewalks of London Tahhhn, Trine Hampstead is a lippy "street detective" with the ability to answer intuitively whatever question is put to her. However, her insight dries up when she looks in the mirror: her recent life – including how she developed her 'gift' – is lost in an amnesiac fog.
Realised by Madrileño artist Alberto Alburquerque (Letter 44) and colourist Marissa Louise, Trine certainly looks the part as the spirited young face of London. And with the energetic first issue throwing up a globe-trotting mission in search of a frozen mammoth and the arrival of a ruthless assassin, the series promises no small amount of mystery and danger.
Paul Tobin (W), Alberto Alburquerque (A), Marissa Louise (C) • Dark Horse Comics, $3.99
– Tom Murphy
Underworld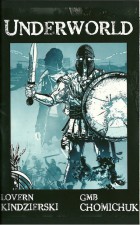 Legendary Winnipeg-based colourist Lovern Kindzierski (Shame, That Damned Band) turns his considerable talents to writing in his latest original graphic novel Underworld, out this week from Canadian publisher Renegade Arts Entertainment. Created in collaboration with fellow "Pegger" and multimedia artist G.M.B. Chomichuk (Infinitum), the book is loosely based on Homer's Odyssey.
Set against the grimy and unpredictable criminal underworld of Winnipeg's cold, mean streets, the plot follows protagonist Hector on a hellacious metaphysical journey through madness, loss, and despair that has dangerous repercussions in the real world.
A complex work delving into the power of myth as it relates to the artist and his community, Underworld's distinctive visual tone and primal storytelling push the boundaries of the medium. A remarkable book unlike anything on the shelves today, Kindzierski and Chomichuk's dark fantasy epic is a gorgeously produced must-have for discerning comics connoisseurs everywhere.
Lovern Kindzierski (W), G.M.B. Chomichuk (A) • Renegade Arts Entertainment, $24.99.
– Jason Wilkins
Carver: A Paris Story #1
Writer/artist Chris Hunt, a protegé of Paul Pope, dives straight into creator-owned comics with a crime noir adventure series set in 1923 Paris.
After an absence of five years, globetrotter and notorious gentleman of fortune Francis Carver returns to aid the only woman he has ever loved, who happens to be the wife of a wealthy Parisian socialite. Her daughter has been kidnapped by the leader of a crazed anarchist gang, a man named Slacker Lee.
In order to bring the girl home, Francis will have to crawl through the underbelly of the city while confronting the demons of his past, before being faced with a final choice – succumb to the man he has become, or take off that mask and be the hero he always wanted to be.
This issue also features a three-page back-up story by Paul Pope that gives us a glimpse into Carver's earlier years.
Chris Hunt (W/A)  • Z2 Comics, $3.99.
– Tyler Chin-Tanner
The Private Eye Deluxe Edition HC
First published as a digital comic, The Private Eye was available from Panel Syndicate as a pay-what-you-want / pay-what-you-can / download-for-free series that quickly established itself as a cut above your standard do-it-yourself digital fare. From the first issue, writer Brian K. Vaughn (Saga, Paper Girls) and artist Marcos Martin (The Amazing Spider-Man) presented a fully realized world sans Internet where you must wear masks in public to guard your identity along with a gorgeous mystery that peeled back the dysfunction bubbling beneath its surface.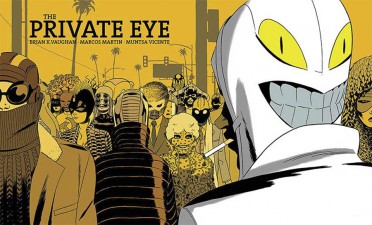 The Internet crashed and spilled everyone's secrets to the world. And whereas the Internet used to be a place people went to remain anonymous, now citizens maintain multiple secret identities and hide their faces in public. With a futuristic spin on classic private-investigator noir, unlicensed P.I. Patrick Immelman is in way over his head.
Beginning in 2013, The Private Eye ran for 10 action-packed issues and won the 2015 Eisner Award for Best Digital Comic. Martin's gorgeous wide-screen layouts were perfect for the digital medium and probably presented a printing challenge that was worth the extra effort as Panel Syndicate and Image Comics teamed up to bring The Private Eye to print in a deluxe hardcover edition that debuts this week. Go ahead and splurge, this futuristic mystery is full of twists and turns that will keep you guessing as you marvel at the splendid art.
Brian K. Vaughn (W), Marcos Martin (A), Muntsa Vicente (C), Panel Syndicate/Image Comics, $49.99
-Karen O'Brien