Disturbing, haunting, and visceral, Pirouette, by Mark L Miller and Carlos Granda, offers a horrific glimpse beneath the greasepaint and reveals the terrifying depths of human depravity.
Horror comes in many different shapes and sizes. From the latest slasher flick to the nightly news, we are bombarded with images designed to test the limits of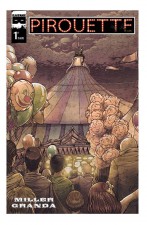 acceptability in what we all like to consider a sane and normal society.
This week, Mark L Miller and Carlos Granda blow the roof off the big top, with an unadulterated tour behind the curtains of a despicable travelling circus ruled by one of the most depraved characters to slip on a pair of oversized clown shoes since Stephen King's Pennywise.
Everybody knows clowns are scary. The exaggerated smiles, the garish face paint, and the almost convulsive physical hijinks all combine to create an illusion of innocent playfulness to which adults and children alike have been drawn for generations.
But what's really going on behind that bright, buffoonish façade?
Miller has a growing reputation as a writer who comes at his stories from unexpected angles. His tale of octogenarian vampires in Nanny & Hank was bittersweet, grotesque, and at times laugh-out-loud funny.
In Pirouette, Miller and artistic collaborator Granda walk a similar tightrope, balancing the superficial wonder and whimsy of the nomadic circus lifestyle with a stark, horrifying depiction of domestic violence that is so visceral it might just turn your stomach.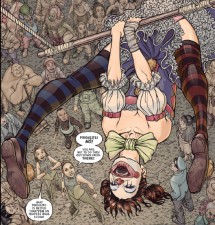 Defiled and beaten by her adopted father and king of the clowns, the orphan known as Pirouette has only known a life of constant movement and pain. And yet she always strives to improve her position, despite the consequences of crossing the so-called "Duke".
A natural acrobat, Pirouette daydreams of one day working the trapeze, flying high above the audience free of the literal and figurative cages her adoptive father keeps her in. It's the young woman's hope in the face of such oppression that keeps the reader engaged in her difficult tale.
Miller's unflinching vision isn't for the faint of heart. Pirouette suffers a variety of physical and emotional abuse from the Duke and other circus performers, which Granda's lushly rendered panels realize in all of their grisly, fetid detail.
Thanks to Granda's stellar turn, this is a story you can really sink your teeth into. From the wonderful widescreen double-page spreads that capture the sprawling nature of Sam Samwell's travelling circus in all of its gaudy glory, to the up-close-and-personal depiction of each disturbing character, Granda's ability to balance the disturbing emotional beats of Miller's script with the claustrophobic immensity of a circus packed with rubes is integral to Pirouette's success.

His style here recalls Todd McFarlane's best years, inking over Greg Capullo in Spawn, but with a wider range of facial expressions. His cartoony, hyper-detailed approach captures the look and feel of the circus perfectly. You can almost taste the cotton candy and popcorn, smell the manure and sour stink of the Duke's breath.
We all like to be scared, and Pirouette is one scary clown story, thanks to Miller's fearless unpredictability and Granda's stunning visuals. However, unlike the supernatural origins found in the aforementioned Stephen King's It, the terrors found in Pirouette (for now, at least) are decidedly human in nature – and all the more disturbing for it.
Mark L Miller (W), Carlos Granda (A) • Black Mask Studios, $3.99, October 8, 2014.