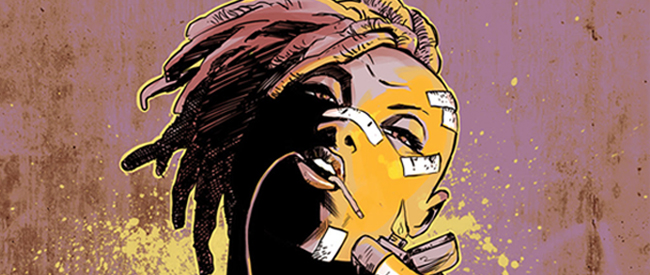 Black Mask founder Matt Pizzolo taps into our morbid fascination with shadow governments, conspiracy theories, and social revolution, in his self-described "revenge story" targeting a system built on hypocrisy, greed, and corruption.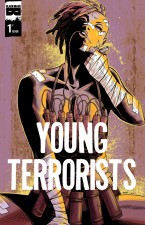 Well, never let it be said that Black Mask Studios pulls its punches, because the phrase just doesn't exist in their vernacular. Case in point is the publisher's latest debut, Young Terrorists #1, by founder Matt Pizzolo (Occupy Comics, Godkiller) and talented newcomer Amancay Nahuelpan.
The creation of Young Terrorists arose out of Pizzolo's harrowing battle with professional lobbyists seeking to scuttle the distribution of a controversial documentary exposing a startling piece of legislation that allowed the U.S. government to place animal rights activists on their terrorist watch lists.
As one of the primary targets of powerful lobby groups hired to block the film's distribution, Pizzolo gained a new understanding of the hypocrisy and sheer immensity of capitalist bureaucracy.
Ten years later, Pizzolo would pour all of his frustration and anger into the development of Young Terrorists. Chronicling the journeys of an eclectic ensemble cast of outlaws, malcontents, and activists, the plot revolves around the existence of a shadow government, the three major factions of which vie for control over America and much of the rest of the world.
Taking place more than 70 years in the future, the setting is familiar yet artfully extrapolated as Pizzolo paints a future society under siege by its own financial and political leaders, and an ignorant public that willingly turns a blind eye to rampant corruption and disregard for basic civil rights. It's the Stockholm syndrome but on a societal scale. Suitably cowed and brainwashed by decades of information overload, nobody wants to rock the boat because they've all forgotten how to use the oars.
Pizzolo's rendition of the near future is a grim one. However, his protagonists are captivating and well-realized and their cause infectious. Possessing complex, sometimes seemingly conflicting motivations, the cast drive the plot forward with the conviction of their beliefs and the decisiveness of their often extreme actions.
Coming in at a whopping 80 pages, this first issue is, as Pizzolo notes, more properly a graphic novella. It's a natural fit for the story, allowing the creative team the breathing room necessary to launch the opening salvo of their fictional guerilla campaign.
It's an interesting approach that puts the story first and speaks to the publisher's confidence in the material. It's no secret that much of Black Mask's catalog is designed to provoke visceral reactions in its consumers, not to mention the comics press.
Titles like Occupy Comics and Godkiller aggressively challenge their readership to suspend not only their disbelief but sometimes their accepted worldviews. Young Terrorists is so much more than a clever marketing ploy and a provocative title, though. There's real technique embedded in both the writing and the art, as well as a true desire to shake up the audience's perceptions of government bureaucracy.
Pizzolo takes advantage of the additional story real estate by packing in as much narrative as possible. The plot rockets along like an extended heavy metal instrumental: fast, chunky, and driving into your cerebral cortex with all the subtlety of a runaway freight train. Pizzolo knows when to yank back on the reins, though.
He punctuates the shocking bursts of disturbing brutality with unexpected yet welcome plateaus that provide the necessary pauses in the action to relate the finer details of his story. However, even these narrative calms simmer with emotion as Pizzolo reveals the tragic histories of his intriguing ensemble cast and the full scope of the series' central conflict.
Artist Amancay Nahuelpan's bold, kinetic style pops with the same intensity and brashness as Pizzolo's script. Even as his collaborator challenges the reader to re-calibrate the way they look at the world, Nahuelpan dares you not to divert your gaze. He uses atmosphere and page composition to underline or enhance the simmering emotions permeating the book.
The many scenes of physical violence, while disturbing and realistically depicted, are exaggerated with care, their shock value undercut with just the right amount of the absurd. The end result makes for a distinctive visual tone that matches Pizzolo's originality and passion with ease.
If Young Terrorists gives you the impression that Matt Pizzolo simply doesn't give a crap, then you're only partially right. He doesn't particularly hold mainstream society's penchant for willingly allowing itself to be led around by the powers that be like sheep in high regard. He also cares not a whit for politically correct bleeding heart sensibilities.
He's an equal-opportunity cultural ass-kicker, whose punk aesthetics don't allow for beating around the bush. What Pizzolo does care about is the Truth – with a capital "T". As he states in the closing remarks of the issue's back matter: "Nothing in this book is true, but it's all True."
Calling Young Terrorists a revenge story makes for a catchy tagline. but this first issue is more than that. It's a call to arms for creators to challenge themselves, their publishers, and their readers to tell stories that matter, that sing – and then to fight for them.
Matt Pizzolo (W), Amancay Nahuelpan (A) • Black Mask Studios, $6.99