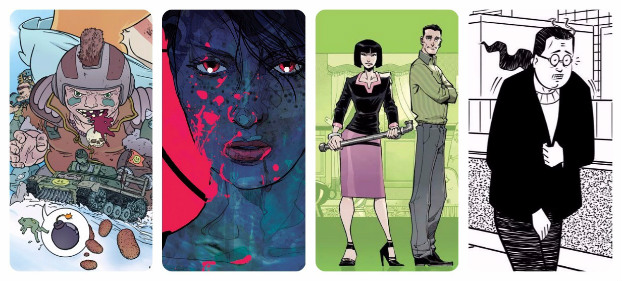 It's nearly Wednesday, and you know what that means: a fresh load of comics and graphic novels! With so many publications hitting your local comics store or digital storefront, the BF team are here to lead you through the woods with our weekly staff picks. Satisfaction guaranteed!
Comic of the Week
Beautiful Canvas #1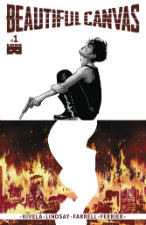 If Australian writer Ryan K Lindsay isn't on your radar yet as a comics creator to follow, you're really missing out. His brilliant 2015 series Negative Space for Dark Horse (with artist Owen Gweni) recently won a prestigious Ledger Award, recognizing it as one of the most excellent comics on his home turf Down Under. And, since hooking up with Finnish illustrator Sami Kivela for two fantastic series – Deer Editor and Chum – he's proven himself to be a force to be reckoned with in terms of a unique approach to writing a comic.
Lindsay and Kivela are back once again – this time with a new 4-issue miniseries for Black Mask Studios called Beautiful Canvas that launches this week and is sure to knock the socks off of comics fans everywhere. With outstanding color work from Triona Farrell and letters by Ryan Ferrier, BC is a boundary-pushing endeavor from a team that has already made a point to create outside-the-box work with everything they've done thus far.
The premise:  Career hitwoman Lon Eisley finds out that her girlfriend is pregnant and, during the same week, is contracted to kill a child by her handlers. Instead of following through on the order, she decides to spare the kid and they set out on the lam together. From there, the story unwinds into a self-proclaimed gonzo thrill ride involving "animal/hybrid hit troupes, pyrokinesis, and lots of other elements that are Philip K Dick-meets-Shane Black"!
One thing is for sure, if you like strangeness mixed with pot-boiling, pulpy-noir storytelling, then Lindsay and crew will be right up your alley. The stuff they've done together up to now is unlike most everything else out there in comic-dom. There's no doubt that Beautiful Canvas will make many new folks stand up and take notice of their unmatchable talents. Can't recommend this one highly enough!
Read the interview I did earlier this year with Lindsay where he talks in depth about the series and how the creative team came together.
Ryan K Lindsay (W), Sami Kivela (A), Triona Farrell (C), Ryan Ferrier (L) • Black Mask Studios, $3.99
– Matthew Box
Back, Sack & Crack (& Brain)

Back in 2014 I had the pleasure of being one of the judges for the Myriad First Graphic Novel Competition, eventually won by Jade Sarson for the stunning For the Love of God, Marie!. All six of the shortlisted creators, however, had submitted excellent books displaying very distinctive and different approaches to the medium. This week sees the fourth of those projects to be picked up by a publisher hit the bookshelves.
Robert Wells provides a painfully funny catalogue of embarrassing health problems in this astonishingly honest and open autobio offering. His dry, self-deprecating humour ensures our empathy throughout in a book that will make you wince and laugh out loud in equal measure. A darkly witty slice-of-life offering from one of the UK indie scene's most underappreciated cartoonists, Back, Sack & Crack (& Brain) will surely see Wells reaching the greater readership his work has long deserved. Look for a full review at Broken Frontier very soon.
Robert Wells (W/A) •  Little, Brown, £12.99
– Andy Oliver
Motro Vol. 1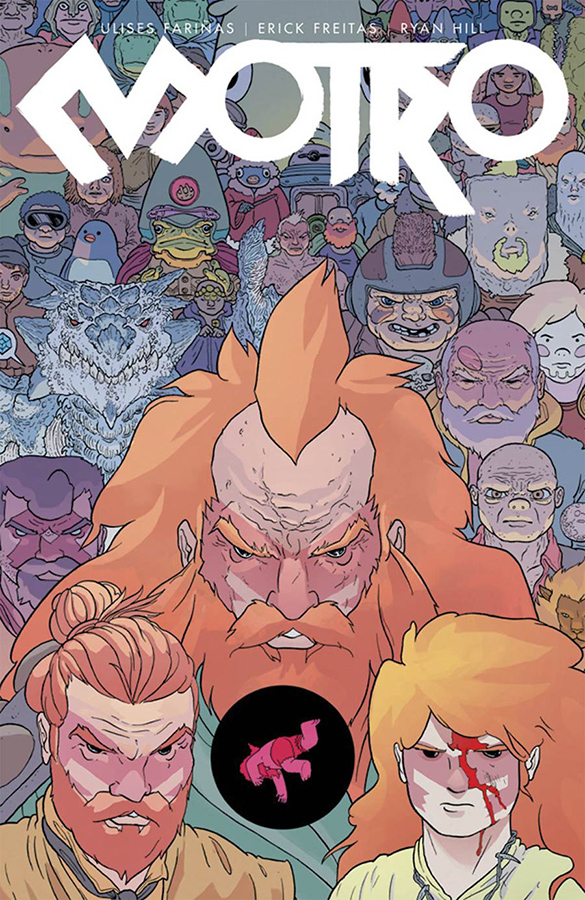 The legend of Motro begins in this new adventure that blends Mad Max with Adventure Time. The boy who would be king struggles to live up to his father's legacy in a cruel world of warriors, monsters, and "talking" mechs.
With projects like the Amazing Forest anthology and Judge Dredd: Mega City, Fariñas has established himself as one of the unique, new voices in comics. Don't miss out on this first volume of the life and legend of a fantasy hero for the ages.
Ulises Fariñas, Erick Freitas (W), Ulises Fariñas (A), Ryan Hill (C) • Oni Press, $9.99
– Tyler Chin-Tanner
Clue #1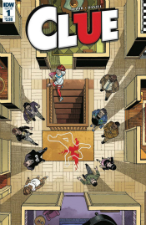 Mr. Boddy is murdered at his own dinner party, and everyone is a suspect!
Clue, Hasbro's classic board game, finally comes to comics through the talented creative team of writer Paul Allor (Teenage Mutant Ninja Turtles) and artist Nelson Daniel (Judge Dredd). Allor and Daniel have created fun updates for all the classic characters, including Professor Plum, Miss Scarlet, Colonel Mustard, Mrs. Peacock, Mr. Green, and others. For example, Miss Scarlet is now an Aussie rapper. It looks like their delightful character interpretations contain the kind of thoughtful details that would be present if your favorite group of Dungeons & Dragons players decided to become Clue characters for the evening. (Actually, that would be a great idea!)
In a unique twist, Upton the butler breaks the fourth wall to address the readers and acknowledges that the story is happening in the pages of a comic book with the characters unaware of that status. This will be a fascinating device for the moving elements of the mystery. That's right, once you get past the character introductions, this comic becomes an engaging murder mystery that won't be a simple solve. Clues are also offered in the variant covers, so be sure to check out Gabriel Rodriguez's beautiful game board–inspired cover (it looks down on all the characters assembled in the foyer, just like game pieces on a board) and peruse Daniels' variants for more hints. As with the cult-classic Clue (1985) film, this issue provides three alternate endings. Watch out for red herrings, and enjoy the mystery.
Paul Allor (W), Nelson Daniel (A) • IDW Publishing, $3.99
– Karen O'Brien
A.D.: After Death Collected Hardcover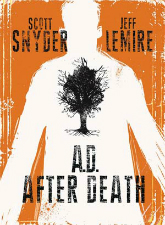 This much awaited series from Scott Snyder and Jeff Lemire – two of the most important and versatile creators in contemporary comics – had no shortage of reasons to tempt in the discerning comics reader when it debuted in 2016. Aside from that first-time creative pairing it had an intriguing socio-philosophical premise exploring the consequences of a world where death had been cured, and combined prose with comics to exploit the storytelling potential of both creative crafts.
All three issues have now been compiled into this hardcover collection for those who missed the book the first time around. Pick it up this week and discover just why BF's Jason Wilkins said of the project here: "Arguably the most anticipated release of the year, Snyder and Lemire's first collaboration as writer and artist more than lives up to the hype. An instant classic of science-fiction, transcending medium and genre, with its resonant exploration of all the big themes we can't help but care about most: life, death, and the journey in-between."
Scott Snyder (W), Jeff Lemire (A) • Image Comics, $24.99
– Andy Oliver
Paknadel and Trakhanov's Turncoat TPB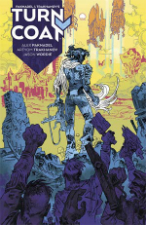 Paknadel And Trakhanov's Turncoat is set hundreds of years after the Earth came under the domination of the alien race known as the Management and two years after said invaders left the planet, abandoning it to its fate. It follows Marta Gonzalez, once a Management officer who turned resistance fighter and now viewed with suspicion by both loyalists to the former alien regime and those who rose up against it. In a post-extraterrestrial occupation era, Gonzalez's new life as a private investigator will lead her into a mystery that sheds new light on the Management…
Turncoat was another comic to be reviewed in serial form at BF by our Jason Wilkins here. In his glowing words "Paknadel, Trakhanov, and Wordie have crafted an articulate piece of science fiction that digs a little deeper than most, delving into society's tragic flaws and ever-shifting loyalties with fresh insight and style."
A smart and layered sci-fi world from Paknadel brought to vividly disquieting visual life by Trakhanov, this collection gives new readers an opportunity to see exactly why the original miniseries received such critical acclaim.
Alex Paknadel (W), Artyom Trakhanov (A) • Boom! Studios, $19.99
– Andy Oliver