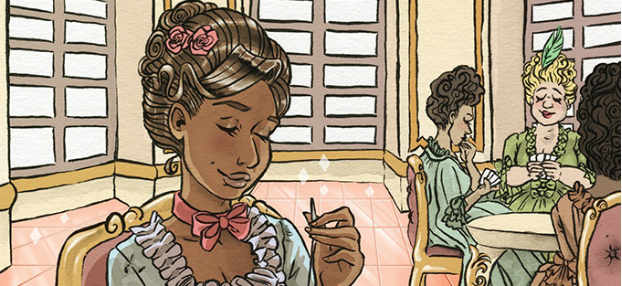 Every fortnight-(ish) we sift through all the dozens of crowdfunding communications we receive here at BF every week to bring you a handful of the more intriguing, exciting, experimental and daring uses of the form that we spot, along with some interesting campaigns we've found ourselves. These are comics that both fit the Broken Frontier coverage ethos and that we think deserve your support and backing!
2dcloud Summer 2017 Collection
The who and what: With 2dcloud having made a Safari Festival appearance in London there's a synchronicity in featuring them in our latest crowdfunding round-up. The Minneapolis micropublisher have built up a reputation over the last few years for being one of the finest purveyors of alt, experimental and abstract comics and their seasonal collections are always worth your time.
This time round the books on offer include trans-media project Architecture of an Atom by cross-media artist Juliacks (previewed here at BF), Jaakko Pallasvuo's Retreat ("a queer love triangle set at the twilight of the human race" – sample art below), Leif Goldberg's road movie/underground comics synthesis Lost in the Fun Zone, the latest Altcomics Magazine and Xia Gordon's short-form comic Kindling (previewed here at BF).
What's on offer: This one is stripped back to the basics in terms of rewards giving you the option of digital or print but with a package like this who needs anything extra?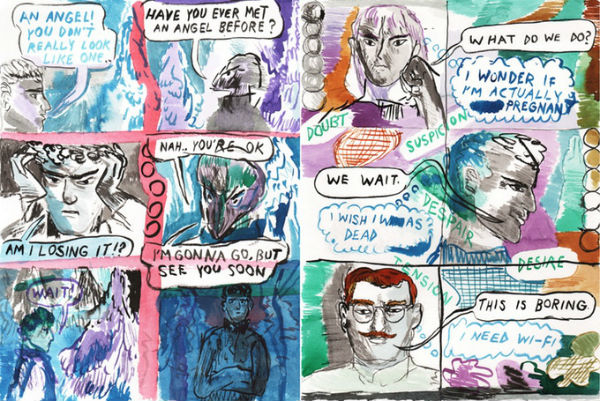 Why you should back it: 2dcloud are fast becoming one of the most important micropublishing outfits around. They've always put out work that challenges our preconceptions but their output over the last couple of years has cemented their place as one of the number one destinations for quality alt comics publications.
– Andy Oliver
Kevin Eastman's Drawing Blood Vol: 1
The who and what: Co-creator of the Teenage Mutant Ninja Turtles, Kevin Eastman, teams with writer David Avallone and artist Ben Bishop to bring you the true-to-life fictional tale of Shane Bookman, a cartoonist who hits the big-time when the comics series he co-creates with his brother in 1992, Radically Rearranged Ronin Ragdolls, suddenly explodes into a multi-million dollar franchise.
But it's more than a decade later and Shane's lost it all. Having been too young to handle the pressure of fame and fortune, he's sold the franchise and spent the money. Now he's about to enter some very risky business deals in order to turn his life around and regain that creative inspiration.
What's on offer: The graphic novel itself comes with a cover by either interior artist Ben Bishop or by Kevin Eastman. Beyond that, there are a ton of extra rewards including original artwork, a VIP experience with Eastman, and some exclusive T.M.N.T. swag.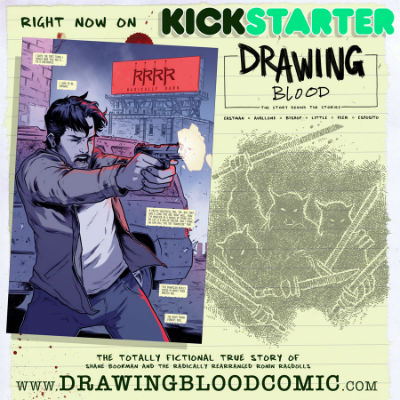 Why you should back it: We have a tendency to idealize success stories, but all stories come with their challenges and every big break comes has its dark side. Though technically a fictional tale, we could all stand to learn something from the life and experience of one of comics biggest stars.
– Tyler Chin-Tanner
Gothic Tales of Haunted Love: A Comics Anthology
The who and what: If you're a fan of 1970s genre comics like DC's Dark Mansion of Forbidden Love or Charlton's Haunted Love then this 200-page anthology will have undoubted appeal. A collection of Gothic romances that span the ages from Victorian Boston to 1950s Vietnam to the modern day with creative talent that includes Hope Nicholson & Scott Chantler, Cecil Castellucci & Willow Dawson, Nika, Katie West & Ray Fawkes, David Lafuente, Hien Pham and many, many more. 
What's on offer: There's the usual mix of bookplates and multiple prints by contributing artists. The multiple commissions that were also on offer proved so popular they were quickly snapped up!
Art from stories by  Janet Hetherington, Ronn Sutton, Becka Kinzie, Zakk Saam; Hope Nicholson & Scott Chantler; and Dante L. & H. Pueyo
Why you should back it: Nostalgic-style genre comics with a contemporary twist combined with some creepily eye-catching preview art ensure this is a project with an appeal to both fans wanting to recapture the feel of a bygone era of monthly comics and newer readers looking for a modern spin on classic suspense stories. 
Reel Love
The who and what: A semi-autobiographical homage to the world of cinema, Owen Michael Johnson's Reel Love is a three-act story that already gained huge positive acclaim when early chapters were self-published. Taking place over three pivotal summers in one young man's life it traces his relationship with the silver screen from childhood awe and wonder to the realities of adulthood. It's now being crowdfunded as a collected edition by Unbound Books. 
What's on offer: Reward tiers include signed bookplates, commissions, film posters and for any cinemas interested in backing the book there's the option of a mural in your establishment on offer!
Why you should back it: Johnson has been twice nominated for the British Comic Awards and is one of the rising stars of the UK indie scene. We reviewed early issues of Reel Love at BF saying of it "Johnson's greatest strength as a storyteller is his ability to pull his audience so deeply into his story through that undeniable sense of shared experience." Those wanting to discover more about the book can read our interview with him here. It's a project we've featured in depth but one that deserves an extra push!