Every few weeks we sift through all the dozens of crowdfunding communications we receive here at BF each week to bring you a handful of the more intriguing, exciting, experimental and daring uses of the form that we spot, along with some interesting campaigns we've found ourselves. These are comics that both fit the Broken Frontier coverage ethos and that we think deserve your support and backing!
Welcome to Crowdfunding Corner…
The Guardian's Haven
The who and what: After the completion of A Dark Forest – the supernatural dark drama series she had been working on for a number of years – Kate-mia White's new serialised story is The Guardian's Haven. This fantasy quest featuring young heroine Eiddwen promises us "a fable of fiends, demons and spirits… of warriors, priests and sentient magical beasts that walk among us."
What's on offer: Print and PDF copies are complemented by the possibilities of signed copies, print combos and original watercolour art.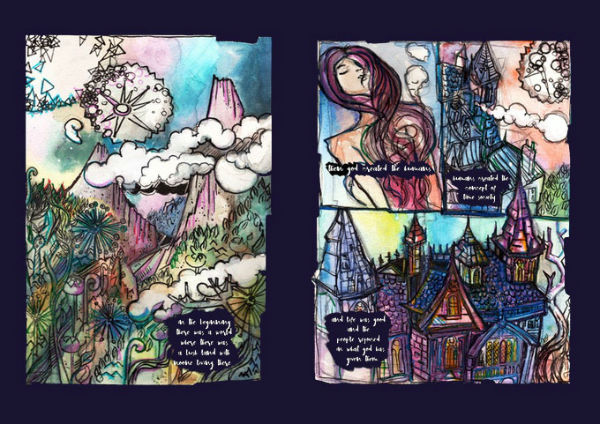 Why you should back it: This is an obvious one from a Broken Frontier perspective given that Kate-mia White is one of our 2017 'Six Small Press Creators to Watch' and a contributor to the recently published 2018 Broken Frontier Small Press Yearbook. It's a notable departure in style for White while still retaining that intricate approach to the page that we've come to expect from her. We're looking forward ro seeing her stretch her creative repertoire on this book and recommend that you get in on the act too!
– Andy Oliver
Power Punch Boot Camp
The who and what: Written by Ellie Egleton with art by Alejandro Rosado, Power Punch Boot Camp is an all-ages graphic novel revolving around events at a summer camp for little supers and features a cast including the heroic Skylark, the less confident Fish Boy Frank and the "hopeless romantic" Rock King. It's when the villainous Bonester finds himself unexpectedly amongst their number that the misadventures begin…
What's on offer: Aside from print and digital copies there's tiers offering an enamel pin, stickers, sketch cards, prints, a digital companion magazine and original art at the top levels.
Why you should back it: We rarely dip our toes into the super-hero world here at Broken Frontier so you can be sure that when we do it's because we see real potential in a project. This looks set to be a top pick for the younger reader in your life while also having enough pop cultural reference points to be a fun read for we older readers looking for some pure escapism as well.
– Andy Oliver
Dog Fight
The who and what: Another eclectic choice from the Unbound Books list, Dog Fight is the true story of two brothers in Poland at the start of the Second World War and follows the very different paths their lives will take them in – one joining the conflict in the battle in the skies and the other finding himself on the run as the Nazis advance across Europe. The characters are, as the title suggests, portrayed in anthropomorphic canine form.
What's on offer: Signed and sketched in editions are available on top of the print and digital copies. At the top end of the reward levels are the chance to be drawn into a crowd scene and an interview recording of the events from their source Piotr Zaniewski.
Why you should back it: Tim Holden brings this true story, recounted to him by his father very late in his life, to the comics page in collaboration with Ivan Fanning's impressive visuals. Unbound's graphic novels list is a consistently diverse one, and Dog Fight is another choice in a growing list of projects that continue to surprise and intrigue.
Back the Unbound campaign here!
– Andy Oliver
Heartwood: Non-Binary Tales of Sylvan Fantasy
The who and what: Heartwood is billed as "the first comics anthology devoted to non-binary creators and characters (and enchanted forests)!". The book is a collection of short comics stories using the symbolism of the forest as a metaphorical starting point for themes of "facing the unknown and emerging transformed".
What's on offer: Additional reward possibilities include digital wallpaper, book plate, prints, enamel pin, sketch card options as well as other P & M Press Books.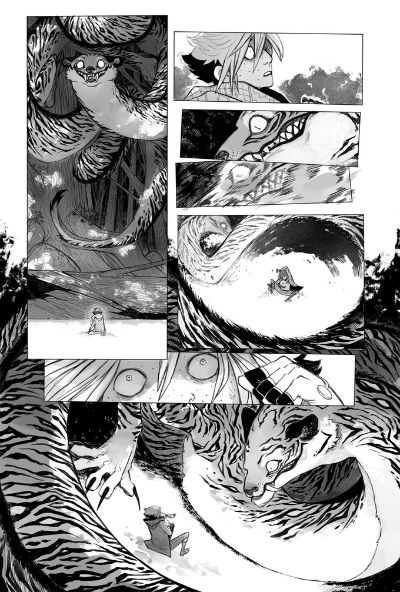 Why you should back it: With two weeks still to go this project has already rushed past its funding target which is obviously a clear indication that it's a book to watch. Editor Joamette Gil (also the Spanish translator of Wash Day, reviewed at Broken Frontier here this week) has curated a book that looks absolutely enchanting from the available preview pages (check out the KS page for a list of all the talent involved). But, most importantly, as the promo blurb says "these stories of modern-day sylvan fantasy showcase some of the best non-binary cartoonists of our day, guiding characters like us into the woods and back again."
– Andy Oliver