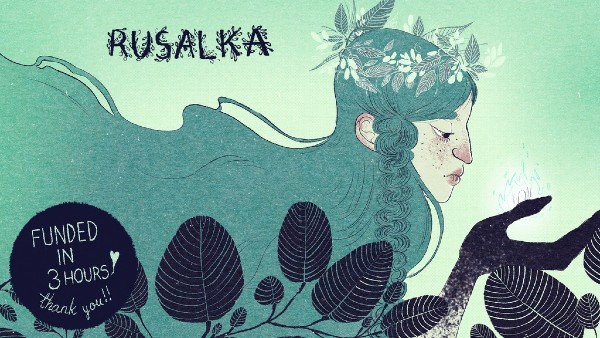 Our Crowdfunding Corner feature has been somewhat irregular since we first went into lockdown last year, with coverage of campaigns being featured elsewhere on the site in early reviews and interviews instead. But with so many splendid projects looking for backing it's long overdue that we once again started actively spotlighting the more intriguing, exciting, experimental and daring uses of the form that we spot on the crowdfunding circuit again. These are comics that both fit the Broken Frontier coverage ethos and that we think deserve your support and backing!
Today's subject is Rusalka, the very first Kickstarted comic from our 2020 Broken Frontier 'Six to Watch' artist Kamila Krol, aka Pigeon…
Rusalka Part 1
Rusalka is a mysterious water demon of Slavic mythology: living by the lake in the ancient Forest, she is the deadly threat luring in lost wanderers…or so the old legends say. But who really is Rusalka and how did she come to be?  Where do her powers come from and what dark secrets might hide in her fragmented memories?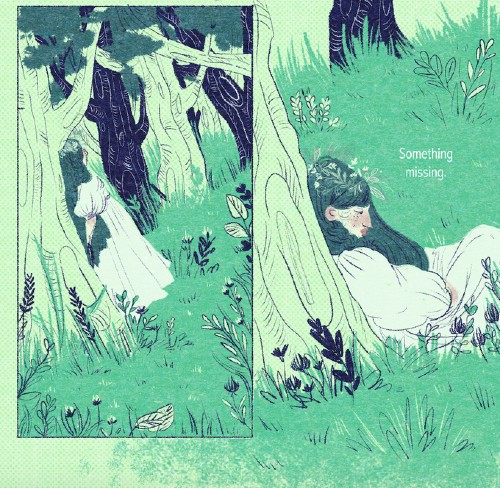 The who and what: If you've been following the practice of Polish artist Pigeon on social media over the last year or two you will already be aware of the influences of her native folklore on her work. Rusalka takes those dreamily magical images that she's been treating us to on Twitter and Instagram into the realms of narrative. This first comics issue is the opening chapter in a larger project.
Pigeon describes the contemporary perspective she has given the project thusly: "As women in mythology are often portrayed in one-dimensional way, it was important for me to shift the narrative to Rusalka's point of view and challenge the traditional depictions of female archetypes. The result is this dreamlike folk tale, set in the magical forest and focusing on Rusalka's journey of discovering her powers and true identity."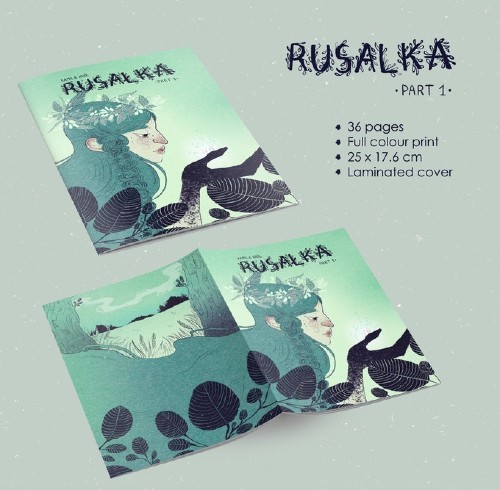 What's on offer: The astonishing success of the Rusalka Kickstarter (fully funded in just three hours!) means that the top tier rewards have already all gone but the comic itself is obviously still available in print and PDF formats.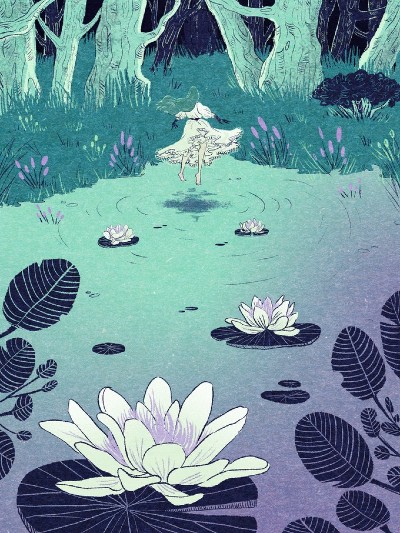 Why you should back it: If a comic reaching double its funding target in its first couple of days on Kickstarter isn't enough reason to check it out then don't forget that Pigeon was one of the 2020 number in Broken Frontier's annual 'Six Creators to Watch' initiative.
I've said of her work in the past at BF: "What I love about Pigeon's illustrations is the imaginative way in which she embeds whole potential narratives within a single image, and her use of colour to emphasise mood, theme and tone is also exemplary." And I was similarly enthusiastic about her short comics zine Floating when I reviewed it here at BF.
Those wanting to investigate Pigeon's work further are directed to our 2020 interview with her here where she spoke in depth about her practice and inspirations. It's also crammed full of examples of her gorgeous illustration. When I picked Pigeon for the 2020 'Six to Watch' her comics output was minimal but the promise in what she had produced was so immediately obvious that I knew there was something very special to come. That potential is now being realised and recognised, and Rusalka is your opportunity to discover the work of one of the most exciting new prospects in small press comics.