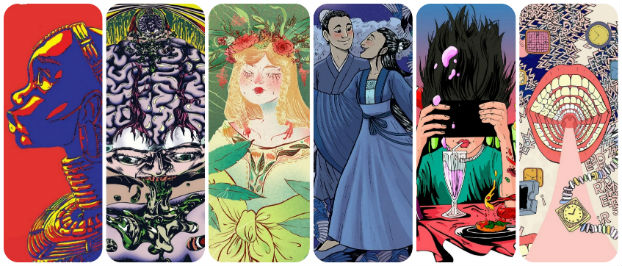 The most exciting time of the year here on the site is our announcement of the names of the artists selected for the year's Broken Frontier 'Six Small Press Creators to Watch' initiative – half a dozen UK-based creative voices we will follow across the next twelve months, providing regular review and interview coverage of their practice. Our 'Six to Watch' programme also offers the chosen creators off-site mentoring support should they need it and profile-raising opportunities to be a part of Broken Frontier events, panels and festival appearances. Over the last few years this process has become something that very much defines who we are and what we do here at BF, as we continue to try to build an ethos that is as much about comics community as it is about comics commentary.
Last year we went back to basics by selecting six artists who were nearer the beginning of their respective comics journeys. This year we're echoing that but we've also included a couple of names in the mix who have built up a level of recognition already (and been featured on the site in the past) but deserve a far, far wider audience. They work in all manners of styles and subject matter – graphic medicine, autobio, manga, abstract comics, folklore and visual metaphor are just some of the words that describe their output. But the most important factor in my choices for 2020 was that each one understands and exploits that much used term here at BF "the pure language of comics".
It's always a fraught decision whittling the longlist down to just a handful of names. I could quite easily have had a "Fifteen to Watch" this year. But I can't wait to start giving these six very talented creators the greater exposure they deserve. Last year's 'Six' of Aleesha Nandhra, Anna Readman, Barbawk/Abs Bailey, Joe Stone, Laurel Pettitt and Olivia Sualdea were an absolute joy to work with and I know you are going to be seeing so much of them all in the years to come (and you can start by picking up Abs Bailey's Avery Hill debut graphic novel Zebedee and the Valentines this year). We will, of course, continue to push their practice on the site as well, as we do with so many previous Six to Watch-ers.
So, without any more waffling, I couldn't be more excited to announce our 2020 'Six to Watch' artists! If you want to investigate their comics further then I've linked to their sites, online stores and social media wherever possible. Or you can just keep visiting BF in the next twelve months. Because you're going to be seeing a lot of this crew on the site in that time!
Dominique Duong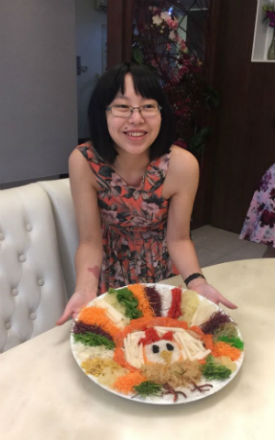 I first discovered Dominique Duong's work 18 months ago when Broken Frontier hosted the Communal Table at the South London Comic and Zine Fair. The striking cover imagery of her self-published zine The Black Cloud – exploring mental health issues – immediately caught my attention and I've been following her progress ever since.
Dominique is an incredibly versatile artist, working across both genres and media. Whether it's autobio or slice-of-life work like The Truth of Being Bi or macabre horror like The Flower Maiden she adapts her style, pacing and approach to the themes of her work with a quietly intuitive consideration.
With a growing list of clients for her illustration practice, the art workshops she runs, and a pronounced presence in a number of small press anthologies like Come Together, The Dark Lady Returns and Lilies, Dominique's profile has been rising ever upwards over the last year or two.
You can visit her site here and her online store here. You can also follow her on Twitter and on Instagram.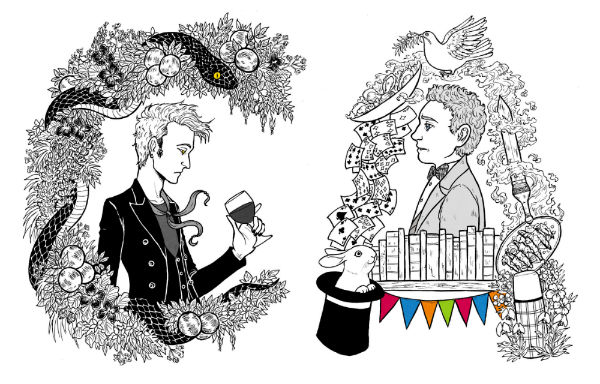 Miranda Smart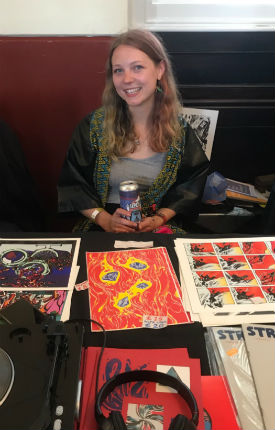 I've said in the past at Broken Frontier that Miranda Smart "doesn't just adopt an intriguingly abstract presentation to her comics, she combines it with a cross-media approach that invites us to think about both the emotional responses the reader has to her practice and also the mechanics of how we interact with her work."
Miranda's abstract comics have been up there over the last couple of years for me with the work of established voices like Olivia Sullivan, Peony Gent and Gareth A Hopkins in pushing the boundaries of this form and taking it into places it rarely visits. We need more practice like this that embraces both the experimental and the challenging, and Miranda's comics deserve a much higher profile.
Her strips include GOBI and Briz de Mar which combine sequential art and accompanying soundtracks. In 2019 her short comic Hydroglyphs to Mania was published in the legendary science fiction anthology Heavy Metal. You can read a BF interview with Miranda here last year.
You can visit her site here and her online store here. You can also follow her on Twitter and on Instagram.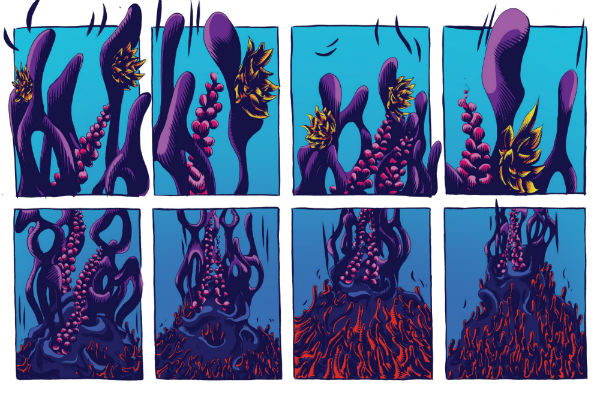 Nic Mac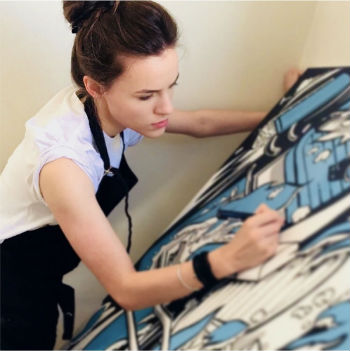 I knew in January 2019 when she was a guest artist at the Gosh! Comics and Broken Frontier Drink and Draw that I wanted Nic Mac on the next 'Six to Watch' list. I've never decided that far in advance before but her comic zine ØMIT – which explores issues of anxiety and depression through the visual metaphor of a protagonist who has a house for a head – just screamed "unique new voice" at me with its mix of tactile narrative interaction and eerily bizarre yet oddly relatable drama.
I reviewed ØMIT here at Broken Frontier calling it "unsettling but not unhopeful, dreamlike but nevertheless rooted in a symbolic reality that many readers will no doubt find familiar." Nic is currently working on a follow-up which you can see teasers from on her social media accounts.
Social commentary is often at the heart of Nic's work and she's another artist on this list whose practice is notably wide-ranging. From murals to graphic narrative through to her attention-grabbing illustration there's something very special going on here and I seriously cannot wait to see what directions she takes the comics side of her practice in this year.
You can visit her site here and her online store here. You can also follow her on Twitter and on Instagram.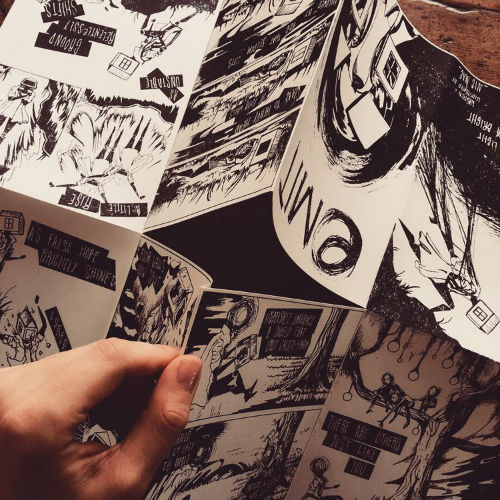 Pigeon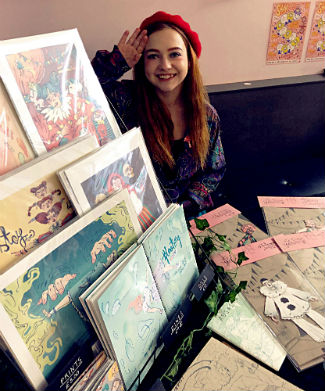 Pigeon, aka UK-based Polish artist Kamila Król, is another name you may have seen cropping up on social media over the last year or two with often haunting but colourful imagery and compositions Her minicomic zine Floating last year captured and communicated her state of mind at the time on a markedly empathetic and instinctual level.
What I love about Pigeon's illustrations is the imaginative way in which she embeds whole potential narratives within a single image, and her use of colour to emphasise mood, theme and tone is also exemplary. And, while, her comics output to date has been more limited there's again just so much obvious potential in what she has produced to date bursting off each and every page.
Pigeon has also been working on a longer-form sequential work Rusalka which taps into her research on Slavic folklore.
You can visit her site here and her online store here. You can also follow her on Twitter and on Instagram.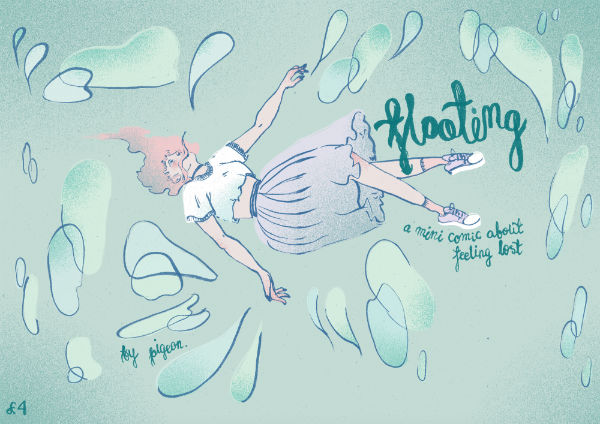 Shangomola Edunjobi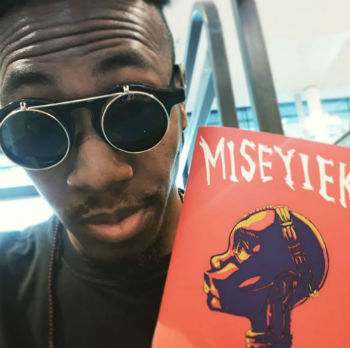 Shangomola Edunjobi is perhaps the most established artist in this year's 'Six to Watch' line-up and he's on this list because I was so impressed with the sheer craft of his work when I covered it at Broken Frontier last year. Shangomola is a truly gifted storyteller, much in evidence in his one-shot Miseyieki – a coming-of-age story about a 16-year old Maasai girl in Kenya – in the way that it invests you so deeply in the lives, relationships and hopes of its characters.
I reviewed Miseyieki here at BF, describing it as "carefully and rather beautifully paced, confounding expectations with an inherent humanity that is both introspective, thoughtful and non-judgemental." The comic took the Silver position in the International Manga Award and his The Dream Catcher won the Manga Jiman competition in 2017.
I called Shangomola "a creator we all need to be keeping a very, very close eye on" last year and I'm delighted we'll be able to give you all the opportunity to do just that over the next twelve months here!
You can visit his ComiXology page here. You can also follow him on Instagram.
Tal Brosh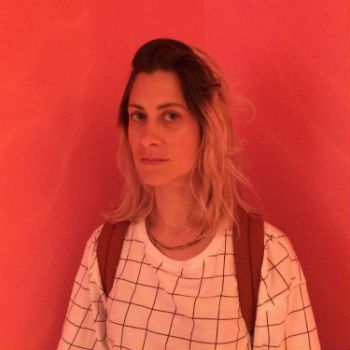 Graphic designer and illustrator Tal Brosh is another artist on this year's list whose comics output may have been limited to date but, regardless, was one who was immediately pencilled in for inclusion when I read Flat Filters, her collaboration with writer Chino Moya, last summer. When I attended the comic's launch in London a few weeks later and saw some of the original pages I knew I had made the right decision!
Flat Filters is the story of a young man who wakes up to a strangely altered reality where not only have the other residents of his apartment block disappeared but the world outside has been replaced by a wasteland. Its captivating Twilight Zone-style feel came to haunting life through Tal's visuals and I said of her Flat Filters pages here at BF: "Brosh, in her first comics work, shows remarkable promise juxtaposing urban reality with the almost clinical nowhere that initially encroaches and then becomes all-pervading. Her page compositions are an integral part of the book's disconcerting atmosphere, panels giving a feeling of scope and contrast, with the confines of the building standing out against the unrelenting conformity of the landscape as a constant motif. Clever shifts in perspective in tighter internal sequences also build up a sense of space with the stark colour choices of the seemingly endless world outside giving an ironic aura of the claustrophobic and the oppressive"
Tal has further comics collaborations (including another with Chino Moya!) currently in the pipeline.
You can visit her site here. You can also follow her on Twitter and on Instagram. You can buy Flat Filters online here.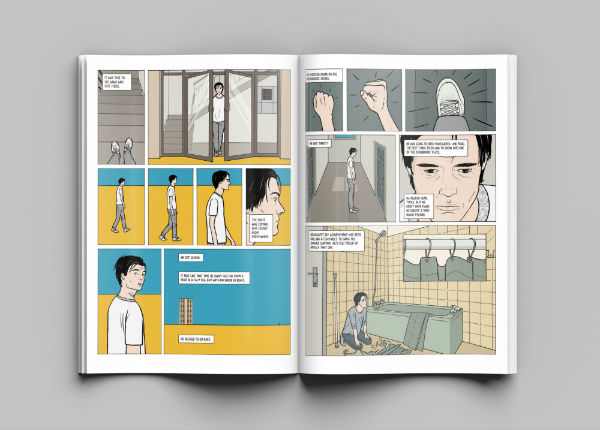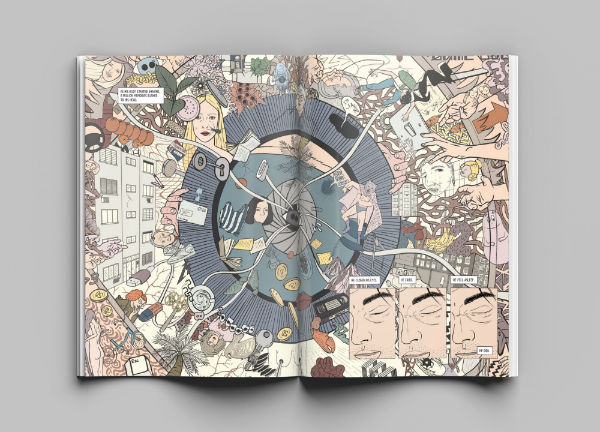 For regular updates on all things small press follow Andy Oliver on Twitter here.
Article by Andy Oliver