In the second of our interviews with this year's Broken Frontier 'Six Small Press Creators to Watch' I talk today with artist Dominique Duong.  Dominique's versatility is a notable part of her practice, whether it's autobiographical work like The Truth of Being Bi or creepy horror like The Flower Maiden. She has also contributed to a number of small press anthologies like Come Together, The Dark Lady Returns and Lilies. Currently she's working on a new self-published comic The Cat and the Dog.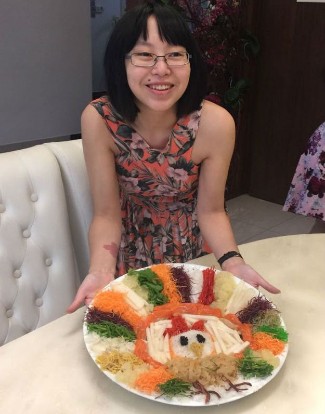 I caught up with Dominique to chat about graphic medicine, the benefits of involvement in small press anthologies and what we can expect from her in the near future…
ANDY OLIVER: Before we speak specifically about your current comics practice and projects can you tell us a little about your wider artistic background?
DOMINIQUE DUONG: I used to work as a concept artist and animator in indie mobile games, and afterwards I went into freelance illustration.
AO: I first discovered your work in the graphic medicine zine The Black Cloud when Broken Frontier was hosting the Communal Table at the South London Comic and Zine Fair a couple of years ago. The Black Cloud is a powerful series of imagery symbolically depicting themes of depression and anxiety (reviewed earlier this year here at BF). Given how emotionally affecting a piece of work it is was there a feeling of catharsis about portraying those feelings on the page?
DUONG: Definitely, yes. I didn't originally plan to make a zine; these artworks were mainly an attempt to vent my feelings. At the end of 2017, I'd lost my job at the games studio and was trying to make it as an illustrator, but I was finding it difficult adjusting from full-time work to freelance. I was living with my parents and struggling with the isolation of working from home so much. Mix that in with money worries, health issues and fear of the future, and I wasn't in the best mental space. I had a lot of pent-up emotions. Creating these artworks was a way of releasing those feelings.
AO: What immediately strikes me about your work is how diverse it is in terms of themes and genres. Everything from autiobio and graphic medicine work through to fantasy and horror. You constantly adapt your style to very different subject matter whether it be the human interest of slice-of-life work like The Truth of Being Bi to the unsettling eeriness of The Flower Maiden. How important is a sense of constant experimentation with different genres and styles of storytelling to you?
DUONG: Very important! I'm still developing as an artist and want to explore all the different avenues that interest me. I don't want to box myself in too narrowly.
AO: One of the things I always advise new comics artists is to get involved with anthologies. You've contributed to a number including Come Together and The Dark Lady Returns. Can you tell us about some of those projects and your stories in them, and also the advantages of connecting with a wider creative community through anthology contributions?
DUONG: Come Together was my first anthology, and honestly one of the best. We had a Discord server set up so all the artists could share WIPs and chat with each other, which made a great anthology even more exciting and inspiring to work on. Everyone was so nice, and it was such a fun project.
The theme was 'reunion', so I wanted to base my story (above) on the Chinese myth of 'The Cowherd and the Weaver Girl'. They are two star-crossed lovers who can only meet once a year when the magpies form a bridge across the river that keeps them apart. I'm half-Chinese and half-Vietnamese, and I always want to try and bring more of my culture into my work.
Until this point I hadn't ever done any erotic work either, so I wanted to do something a little different with mine. Something that still had fun and tender moments, but was also a little bittersweet, because the original story is itself a bit sad.
I'm a big fan of horror, so The Dark Lady Returns (above) as an all-female horror anthology immediately appealed to me. I love creating dark, unsettling imagery, as well as telling those kinds of stories.
The Flower Maiden is a character I originally created for my final uni project. She was a girl who died terribly and came back as a wraith, who hid her mutilated face with beautiful flowers. In that story she was just a minor character, but I really liked her, and wanted to do a story with her as the main monster. When I saw The Dark Lady Returns was open for pitches, this seemed like the perfect opportunity.
AO: You've been working this year on The Dog and the Cat and posting lots of intriguing images on social media. What is the premise of the comic and when can we hope to see it in print?
DUONG: The starting point for the story is the myth of the Chinese Zodiac. Twelve animals swum a race that would decide the order of Zodiac, with the Rat winning first place by riding on the Ox the whole way, and jumping off as they reached the riverbank. Since then, each year we celebrate Chinese New Year, and each year is dedicated to a different animal.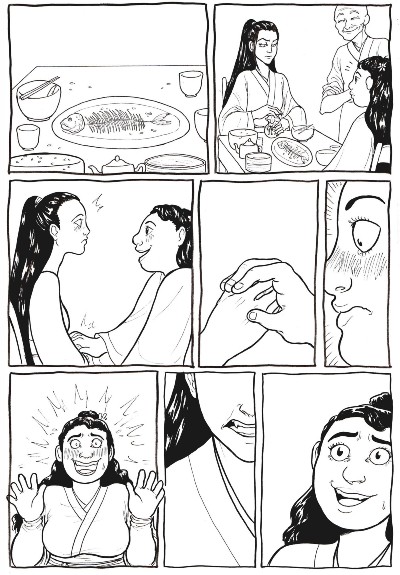 One of the lesser-known stories, though, is that the Cat was supposed to be in the race, too. The Cat and the Rat used to be the best of friends, but on the day of the race, the Rat didn't wake the Cat, and they missed the race. Since then, cats and rats have been mortal enemies.
The story of the Cat always intrigued me, and made me wonder how such a betrayal would affect you afterwards. I've had experiences with poisonous 'friends', and the trust issues it leaves you with are long-lasting. With The Dog and the Cat (above), I wanted to do a story about learning to trust again through the Cat's growing relationship with the Dog, as they meet every year for Chinese New Year dinner. Also, I wanted to write a queer Asian romance.
While One for Sorrow, Two for Joy was quite closely connected to the original story, with The Dog and the Cat, I wanted to use the myth as a jumping-off point to create my own original story.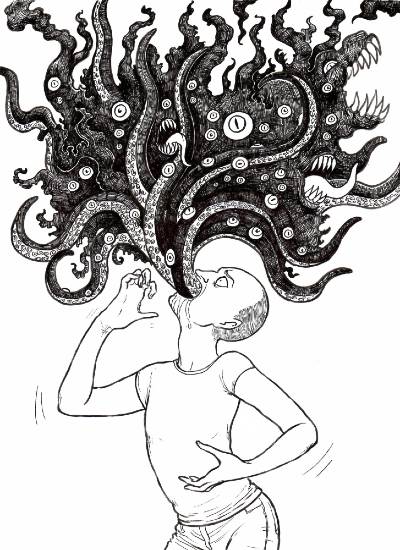 AO: Can you give us some insights into your creative process and the mediums you work in?
DUONG: I love working in black and white, as I love going into detail with my linework or adding a splash of colour for that vivid starkness against it. I do have a tablet and draw digitally, but I generally prefer pencilling and inking by hand. I feel like I have more control over the image and the line-work this way. With digital, sometimes I've found myself overworking things since it's so easy to click 'undo.' With traditional inking, there's a finality. I'll then scan the artwork and do any lettering, colouring or tweaks in Photoshop.
AO: As someone newer to the comics self-publishing world what advice would you have for those just starting out on producing their small press comics? What has worked for you in promoting your work and getting it out to audiences?
DUONG: Go to comic fairs and conventions, see what kind of work other people do and talk to them. Don't be afraid to ask questions or ask for advice. Going to these kinds of events has really inspired me, and also helped me meet some great people and get my work out there.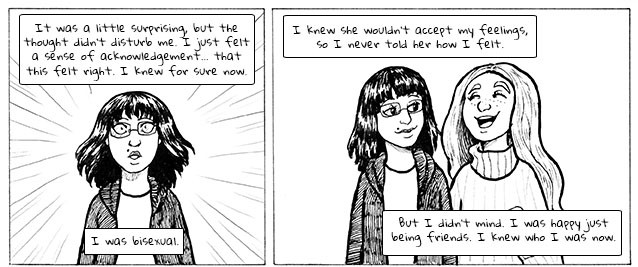 A lot of comic stores also have small press sections, so it's always worth enquiring to see if you can get your work in the shop.
Social media is also a useful tool to not only promote your work, but to keep up-to-date on what's going on in comics, as well as to find events and anthologies; that's how I found most of mine.
AO: You've worked in mainly shorter-form narratives to date. Have you any plans for something longer-form? Do you have a graphic novel in mind for the future?
DUONG: I've mainly been working on short comics as I'm quite new to this, and I wanted to get some experience and develop my visual storytelling skills some more before I started a long-form project. I do have several in mind, though, and would really love to do a webcomic or three. I have characters from way back in my teenage years whose stories I still want to tell. I can't go into much detail yet (mainly because I need to actually write it first) but the one I'd like to work on first is an urban fantasy story about a witch who became a monstrous villain, and what happened to her after she was given a second chance.
I don't currently have any graphic novel plans yet, but you mentioning it has definitely got me thinking!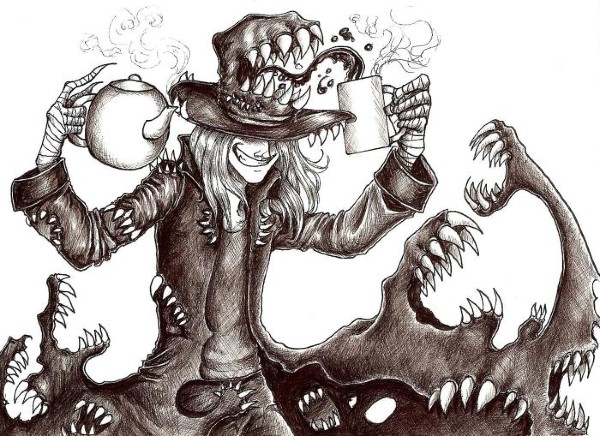 AO: Given the challenges that 2020 has had for us all how have the last few months impacted on your practice? In what ways have you had to adapt to the ever changing realities of this year?
DUONG: I've struggled with motivation a lot this year, since we've mostly been on lockdown and there weren't any events to go to or people to see. I applied for a few fairs and was planning to debut The Dog and the Cat there, but comic fairs were naturally cancelled. I feel I work better when I have set deadlines, so having the motivation to work on The Dog and the Cat or any other personal art has been a bit of a struggle, especially when you're working full-time in an at times stressful job. I've tried to work on my own projects when I can, though.
AO: And finally are there any other upcoming projects you are working on that you can tell us about? What should we be looking out for from Dominique Duong in the future?
DUONG: Namely there's The Dog and the Cat, which I hope to release on Gumroad this year. After that, I'd love to dive back into doing more short horror comics, as well as producing more short queer romances. Going back to horror, I'd love to do an artbook of unearthly female monsters, and portrait or character commissions are also something I'd like to start doing.
For more on the work of Dominique Duong visit her site here and her online store here. You can also follow her on Twitter and on Instagram.
Interview by Andy Oliver