I knew waaaaaay back in January 2019, when illustrator Nic Mac was a guest artist at our Gosh! Comics and Broken Frontier Drink and Draw, that I would be including this hugely exciting up-and-comer on our 2020 annual Broken Frontier 'Six to Watch' artists list. As I said when we made that announcement in January, Nic's comic zine Ømit – which explores issues of anxiety and depression through the visual metaphor of a protagonist who has a house for a head – just screamed "unique new voice" at me with its mix of tactile narrative interaction and eerily bizarre yet oddly relatable drama. It was one of the easiest decisions I've made since we began the initiative in 2015.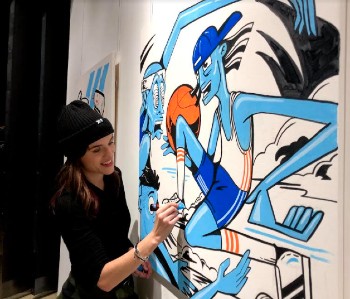 In today's latest interview in our 2020 'Six to Watch' series we also have some sneak peeks at the upcoming prequel to Ømit. Solace will again feature the same character, one who is deliberately designed to be a universal entity that everyone can relate to. Nic and I chat about comics and mental health awareness, connecting with new audiences, and her signature mix of illustration and social commentary…
ANDY OLIVER: Before we speak specifically about your current comics practice and projects can you tell us a little about your artistic background?
NIC MAC: I grew up pursuing it, because I felt it was the only thing I could do. Studying a few different things from Fine Art and Graphic Design, to Illustration and Moving Image, I kept it pretty broad for a long time and it wasn't until my last year of University that I landed on Illustration and pursued that when I left. Although overall, I would say education never really suited me and that the real 'beginning of the journey' was when that side of things was coming to an end, because that's when you are finally creating stuff for yourself as an artist and truly finding what it is you love to do.
Freelancing isn't easy and there's a lot of blood, sweat and tears that go into it, but you just "keep at it" and each time it gets a little easier, and you start to build something. This year I've worked with brands such as Adidas and Dickies and that's been really exciting to be getting bigger projects like that come in and I am excited about the future and what is to come, Just got to keep at it!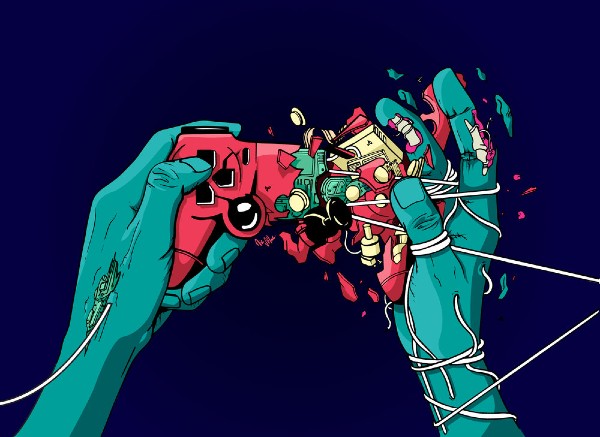 Control – illustration exploring gaming and addiction
AO: What was your entry point into comics as a medium?
MAC: It was only very recently that I delved into the medium. I was challenged by my screen printing tutor a few years ago to make a zine and "try it out"…and the rest is history.
AO: Who would you count as your artistic inspirations both in comics and in the wider art world?
MAC: Luke Pearson's Everything We Miss fully captivated me, The subject matter, colour, style as well is the delicate and quiet nature it had, brought about an emotion in me when I read it. It was a sort of 'stillness'. It's hard to explain really, but I credit that work massively for influencing my own pursuit into comics and zines.
Then there are many Illustrators and street artists that inspire me such as Ralph Steadman, Rune Fisker, Mcbess, Ten hundred, Marina Capdevila, Dave Kloc, Nychos, Maye and Stom500 to name a few
AO: Your comic Ømit was reviewed at Broken Frontier in early 2019 and it was such an accomplished piece of work that I knew I wanted to include you in this year's 'Six to Watch' nearly a year in advance! For those who have yet to read it can you talk about the premise of Ømit, its subject matter and its use of visual metaphor?
MAC: Ømit follows a character with a house for a head and the house symbolises self-isolation and withdrawal from those around you. Not allowing them in, and also not allowing yourself out! Being trapped in your own mind.
The character themselves are made out of separate parts that don't connect, like parts of a wooden figure. This is to highlight fragility. The character navigates a world of ups and downs before their true "face" is revealed when the house head is destroyed. It is made up of a broken light bulb. The faded light (representing loss of hope) and the exposed tungsten (representing near-death) are the darker side to the story but also there is hope within the greater truth, that although the character is in a dire state, they are ultimately not alone, and in sharing their vulnerability with the world, they will find others that are just like them and can begin to heal after accepting themselves for who they are.
AO: You've been open about how your own experiences informed Ømit, including in a video that we ran on Broken Frontier earlier this year. Was the process of creating Ømit a cathartic one?
MAC: It was, It was more necessary that I realised at the time, but I now credit it as being the starting point in me committing to doing what I do and being the freelance illustrator and visual storyteller that I am today. Which is still crazy to say out loud.
AO: Ømit is a very tactile reading experience. Why did you choose that particular physical format for the comic?
MAC: It was one of those things that just happened, I just made it that way because I heard that it was just one method of making a zine and the easiest way to screen-print one – using one large sheet of paper and folding it in on itself. It was only later that I realised just how much it related to the story; with the pages being interconnected, Echoing life and its experiences, none of the pages can be removed without destroying the whole thing, it is a sum of its parts, as are we.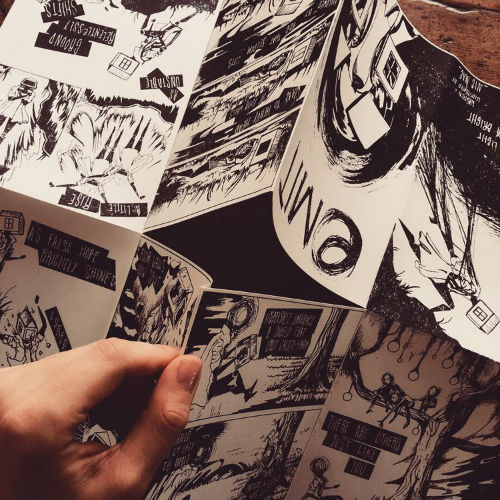 AO: You have a follow-up to Ømit that you have been working on this year. What can you tell us about that eagerly awaited new comics work and when can we hope to see it?
MAC: It's called Solace (preview images below) and is the prequel to Ømit, It shows us the reason why the character had a house for a head, where it came from and why it was constructed. It explores the themes of self-preservation and action when the character hits rock bottom. The story, like Ømit will be dark, but not unhopeful, It celebrates the strength and the resilience that is often found amongst the battles that are fought with mental health.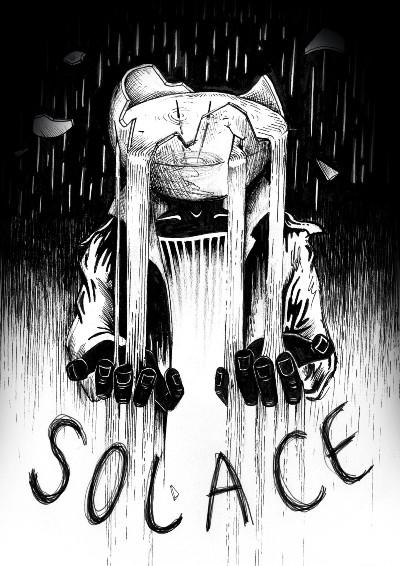 AO: Given the prevalence of graphic medicine work dealing with the subject of depression and anxiety what is it about comics as a form do you think that makes it such a powerful and empathetic medium for communicating stories like Ømit?
MAC: I think, It is because images hit the heart first and the mind second. The emotion is visceral. Everything comes second to art when it comes to communicating these feelings and themes. Imagery has a super power. They are understood in every language and the universal nature of that is what makes it so powerful.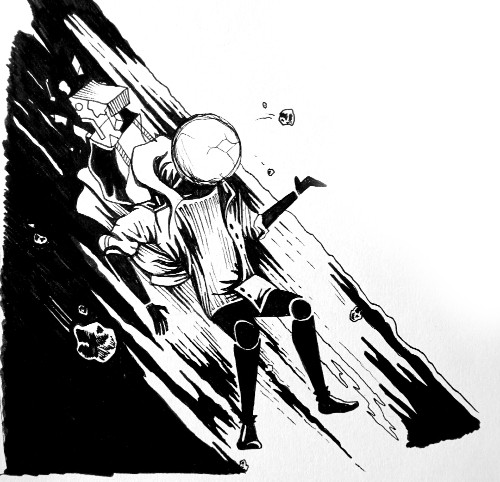 AO: Can you give us some insights into your creative process when it comes to your comics work? What mediums do you work in?
MAC: I wish there was something fascinating and intricate with my process, but my process is pretty simple. It's to keep learning, and to know that I don't know enough! Ahaha. To keep doing what I do, I need to make sure I'm doing that and trying new things. It's vital and is what fuels the creativity for me. It is also why YouTube has been a fun new venture, being able to document small projects and new pursuits every week or so, holds me accountable to keep developing my art and style. I work with paint, markers, pens and styluses! The most prominent tool is probably the stylus right now as I'm working on a lot of digital pieces at the moment.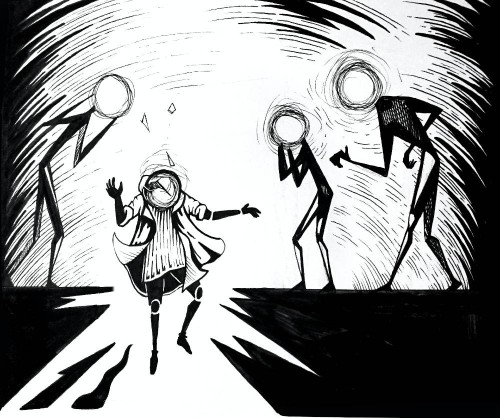 AO: Moving to your illustration work there's a vein of social commentary that runs through it, most notably perhaps the environmental themes of 'The Great Plastic Wave' (below). Can you tell us about some of the issues you explore through that side of your practice?
MAC: I like exploring important issues and I really enjoy the challenge of putting such strong themes and stories into one image, it's never easy to do successfully and very often it will fall short of communicating what you want it to, but it's so important to keep trying. As we previously discussed, it is such a special medium and has the potential to reach people in such a powerful way. So If one drawing I make can bring about some good then it's the ultimate aim and something to strive to do.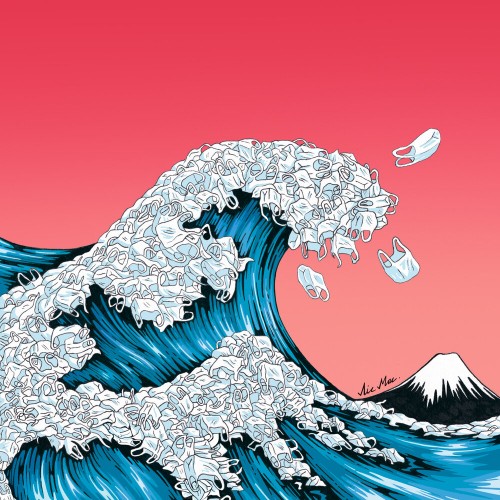 AO: You're very active on social media in terms of using those short videos you mentioned to elaborate on your process and your projects, including some fascinating process videos on your murals. How important has that been in both building up an audience and connecting with them?
MAC: YouTube is a new venture for me, but it is quickly becoming a big part of what I do, with every spare moment being put into making a new video! I think the main reason that connecting with people using this platform has been important, is because it is showing the 'behind the scenes', it shows the mistakes and the problem-solving that goes into making something, such as my "Epoxy Resin – how it can go wrong" video. Which celebrates the art of the mistake and how it is part of the learning process.
I feel we are heavily saturated with images of the finished article and perfectionism, so It's nice to show the ugly side of it too. In terms of an audience, It's weird to think of it like that when I am so small and very much at the start of this new journey, but the little group that have committed and subscribed to me is amazing and blows my mind, it's a strange feeling to know that someone you don't know supports you and likes what you are trying to put out into the world.
AO: Given the challenges that 2020 has had on us all how has the last few months impacted on your practice? In what ways have you had to adapt to the ever changing realities of this year?
MAC: It has been a crazy time but in terms of my practice I have been very fortunate for it to not have affected me too badly. I may have missed out on a few opportunities that were cancelled, but on the whole I've been very lucky.
AO: And, finally, are there any other projects that you're working on that you'd like to share with the BF readership?
MAC: Solace is coming, before the end of the year and I can't wait to share it! There will be a video about it coming soon so stay tuned and watch this space! #nicmacillustration #nicmac #nic #mac
You can visit Nic Mac's site here and her online store here. You can also follow her on Twitter and on Instagram.
Interview by Andy Oliver