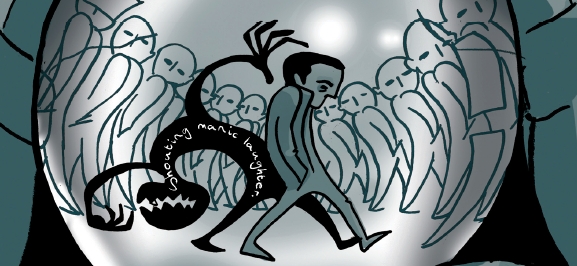 Today marks the ninth World Mental Health Day. The awareness-raising event is held every October 10th and represents a global celebration of mental health education, awareness and advocacy. Each year has seen a focus on a different aspect of mental health issues with this year's theme being "Living with Schizophrenia".
In recognition of this, the following list of links to previous Broken Frontier articles covers a number of graphic novels and comics I have reviewed over the last couple of years or so here that either directly, or tangentially, touch on the subject of mental illness. In that regard this is in no way whatsoever intended to be a comprehensive article on that subject. In fact we are not even scratching the surface of the material available here. But highlighting the projects below does provide an opportunity to revisit some vital work in the genre of graphic medicine on a day when it seems most appropriate to celebrate the comics of those sharing experience, and challenging stigma, in the area of mental health.
For more information on mental health issues, including contact numbers, visit the World Mental Health Day site here. The Graphic Medicine website is also an excellent resource here.
HOAX Psychosis Blues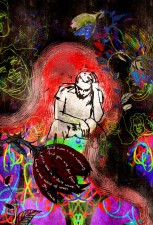 Detailing events over a ten-year period in the life of her late brother Rob while he was in the grip of schizophrenia, Ravi Thornton's HOAX Psychosis Blues is a multi-chapter artistic jam. Nine accomplished comics illustrators – including Bryan Talbot, Karrie Fransman (top banner image), Hannah Berry and Rian Hughes – visually interpret the evocative poetry Rob wrote during his illness.  The standout graphic novel of 2014 for me.
"What this group of creators have accomplished is the ultimate expression of the graphic memoir's unique power to share and communicate personal experience. It is, without a doubt, a hauntingly beautiful masterpiece."
Read the full review here. Read an interview with Ravi Thornton on the HOAX project here.
Ravi Thornton (W), Leonardo M. Giron, Hannah Berry, Karrie Fransman, Julian Hanshaw, Rozi Hathaway, Rian Hughes, Rhiana Jade, Ian Jones, Mark Stafford and Bryan Talbot (A) •  Ziggy's Wish, £15.99,
Marbles: Mania, Depression, Michelangelo, and Me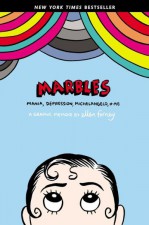 Ellen Forney's autobiographical account of living with Bipolar Disorder is an engagingly chaotic look at life lived in a constantly shifting state between euphoric mania and debilitating lethargy, with an intriguing analysis of the conflict between "wellness" and creativity.
"[Forney's] uninhibited honesty and willing openness allows the reader vital insights into those contrasting devastating low points and dangerous highs she cycles through in rapid succession."
Read the full review here.
Ellen Forney (W/A) • Gotham Books, $20.00
Special Language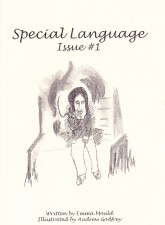 Emma Mould's uncompromising and compelling account of the two months she spent in a psychiatric facility in Bath in the summer of 2010, illustrated by Andrew Godfrey as part of their Sicker Than Thou partnership.
[Mould's] use of language here is remarkable and – in conjunction with Godfrey's empathic visual realisation of her words – it's the standout feature of her storytelling. She doesn't just recount events on the ward, she fully immerses the reader in them. 
Read the full review here.
Emma Mould (W), Andrew Godrey (A) • Self-published, £2.00
I Don't Like My Hair Neat #2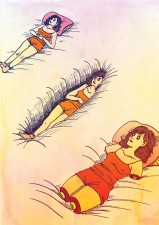 Seldom have I seen a better visual definition of the effects of depression than Julia Scheele's remarkable strip 'Sinking' in this striking anthology collection of her comics work.
"The strip in this collection, though, where Scheele excels is its final offering 'Sinking' (above left); a purely visual representation of the cocoon that depressive illness can weave around us. The solitary nature of depression, its inescapable hold, and the tired resignation of the sufferer are all manifested with a disquieting clarity in this potent visual metaphor."
Read the full review here.
Julia Scheele (W/A) • Self-published, £5.00
Smoo Comics and Better, Drawn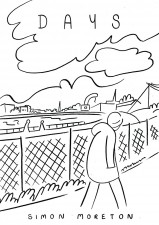 Simon Moreton's critically-acclaimed psychogeographical Smoo Comics series has touched upon his struggles with depression on a number of occasions. Simon is also responsible for founding  the online Better, Drawn project that exists as an open showcase for comics drawn by people with experience of living with long-term mental and physical illnesses.
In Moreton's own words from our recent interview: "I don't have a fixed opinion on how the relationship between mental health and making art works. I know I've made myself ill making comics, just as I know I've made myself better making them. I certainly don't think they're always cathartic. But I think exploring that relationship, personally or collectively, can be fruitful, and Better, Drawn is a platform for that – for people to learn, share or explore creative voices."
Read the full interview here. Read a review of Simon Moreton's collected work in Days here.
Worry Wart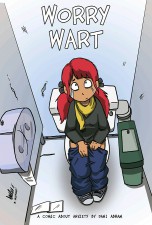 Dani Abram's comic/zine about the effects that extreme anxiety had on her life over a several year period was reviewed just this week at Broken Frontier. It's a mood diary in comics form that charts not just how her illness incapacitated her mentally but also how it affected her physically.
"This is vital work that needs to be seen by those in similar situations because, sometimes, simply knowing you are not alone is half the battle."
Read the full review here.
Dani Abram (W/A) • Self-published £6.00
The Bad Doctor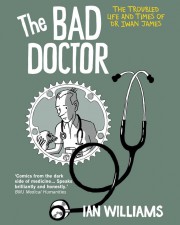 Ian Williams's tale of rural GP Iwan Thomas facing a mid-life crisis, while also coming to terms with  a past history of Obsessive Compulsive Disorder that has defined his present, was one of this year's most eagerly anticipated books for me. Graphic medicine with true heart.
"It's in those flashback scenes to the origins of Iwan's OCD that Williams' command of the visual complexities of the form is the most pronounced. These are illustrated in a darker style giving each interlude a nuanced and fitting intensity."
Read the full review here.
Ian Williams (W/A) • Myriad Editions, £12.99
Lighter than My Shadow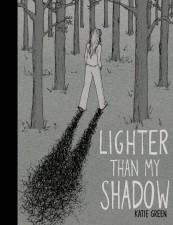 Katie Green's inspirational recounting of her battle with eating disorders, sexual abuse, and recovery. Her use of the unique properties of sequential art to portray psychological trauma through recurring motifs is just one reason why this is such an exceptional piece of comics.
"As an outstanding and courageous use of the graphic novel format to inform, to elucidate and to share, it would be woefully inadequate to describe Green's story as a tour-de-force of graphic memoir storytelling. It's a tour-de-force of graphic storytelling full stop."
Read the full review here. You can also watch Katie being interviewed this week about the book on the BBC website here.
Katie Green (W/A) • Jonathan Cape, £20.00
Psychiatric Tales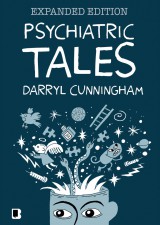 Something of a cheat to include esteemed graphic journalist Darryl Cunningham's Psychiatric Tales here given that it wasn't reviewed at Broken Frontier but Blank Slate supremo Kenny Penman did talk about the importance of the book in our multi-part interview in 2011. Psychiatric Tales is a book that excels in using the opportunities the comics medium provides to dispel the stigma and myths surrounding mental illness. A brave, honest and important offering that details Darryl's experiences of mental health issues from both a professional and personal perspective.
In Kenny's words: "When [Darryl] started doing his Psychiatric Tales online I jumped at the chance to publish it. I thought it was very strong work from the start and Darryl's pared down artwork is perfect for communicating difficult topics in a way that doesn't allow much ambiguity. He's also, I think, a fantastically good writer and he has a very good grip of pacing which also makes the work very readable for most people."
Read the full interview here.
Darryl Cunningham (W/A) • Blank Slate Books, £10.99