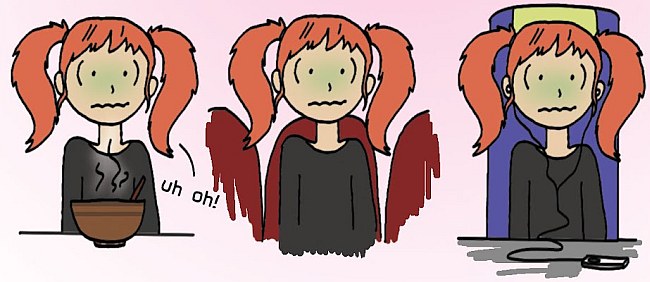 When her doctor suggested to artist Dani Abram to keep a "mood diary" of her progress, after a diagnosis of Generalised Anxiety Disorder, she approached the project from a distinctly comics perspective. Worry Wart is the result of that process; a print form collection of the subsequent online blog and comic strip in which she recreated her experiences with her illness. Falling firmly into the graphic medicine strand, Worry Wart traces a struggle with mental health issues that also had debilitating physical consequences – from her initial symptoms and a period of time living in denial, through the years of attempted treatment and how she slowly began to live with the disorder.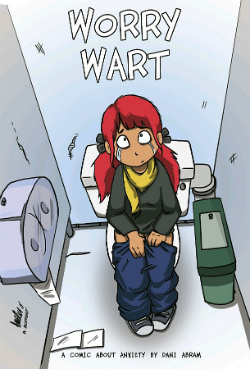 When Abram's condition first took hold it quickly evolved beyond the psychological trauma of extreme anxiety to related physiological symptoms. In this regard the effect it had on her digestive system became cruelly cyclical, being both caused by and exacerbated by her anxiety. A constant reliance on easily reachable toilet facilities made simple everyday actions like train journeys or spending time with friends a social nightmare, and panic attacks frequently curtailed her normal routine; that same sense of routine becoming something which, in itself, took on an over-importance in her life.
In around 40 pages in Worry Wart we observe Abram's efforts to alleviate the consequences of her disorder on her life. It's a comprehensive list as she exhausts every avenue in a search for something that will make a tangible difference. Along the way medication, herbal remedies, meditative techniques, cognitive behaviour therapy, an online mood tracking app and exercise all have varying degrees of success (or not) as her years long road to semi-recovery progresses..
Graphic medicine is an area of autobio comics that is hardly under-represented at the moment, signifying a growing understanding that the form has – as I say quite frequently in this column – unique storytelling opportunities in communicating personal experience to others. What marks Worry Wart out as a particularly engaging example of the form, though, is twofold. Firstly Abram's presence as host and narrator is an appealingly open, likeable, and self-deprecating one… to the point of painfulness at times. Secondly, Worry Wart has an emotional candour to it that could probably never have been achieved to the same extent had it been written primarily with an audience in mind.
Abram is blunt and to the point throughout about the extent of her ordeal and concentrates first and foremost on communicating the rawness of that experience rather than dressing Worry Wart up in any over-elaborate uses of the medium. From that perspective the book isn't necessarily pure comics in its strictest form but, rather, a hybrid of illustrated autobiography, comic strip and prose journal entries. Those written blog posts punctuate the visual sections, adding a sense of vulnerability and tender honesty to the proceedings that brings the reader further into Abram's story, and strengthens the rapport between author and audience.
Abram acknowledges that there is something a little random about Worry Wart's pacing in places and, indeed, it can feel like events are being presented in something of a muddled order at times but again this accentuates the sincerity of what she is attempting to achieve with this comic. To attempt to turn Worry Wart into a polished, structured narrative would destroy its integrity and I am glad that she resisted any temptations to re-work it along those lines. Mental health issues do not lend themselves to linearity or convenient narrative clarity and the slightly scattershot recounting of events and symptoms reflects that sense of disorder and struggle that characterised this period of her life. What is important is Abram's ability to express the illogical effects anxiety had on her life and the heartrending way in which she depicts how even the smallest upset could become a major challenge. Just check out that scene below of how a closed road became an almost devastating incident for an excellent example of this.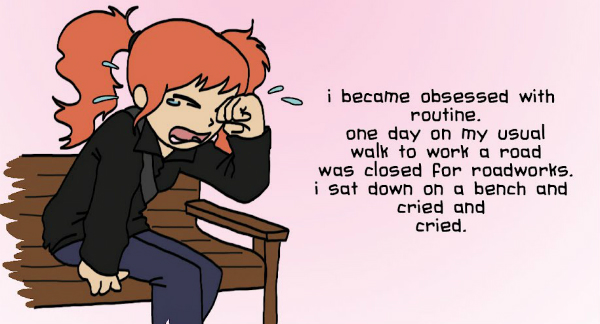 I would imagine there will be some who may miss the point entirely and take issue with the mentions of certain online services that Abram used – she herself apologises for sounding like a salesperson for them – but again it's important to remember that this is a project that was created for her benefit rather than that of an audience's. It's ultimately Dani's therapeutic diary and documenting every aspect of what worked for her and why is a vital and essential part of that process.
If there's one message to be taken on board from Worry Wart, though, it's to accept the need for support should you find yourself in a similar situation; not to enter a state of denial about the seriousness of your illness. I am always loathe to use words like "courageous" or "brave" when reviewing work of this nature for fear of sounding condescending or patronising  but there's no doubt in my mind whatsoever of the importance of comics like Worry Wart in sharing stories like Dani's in a way that is both accessible and direct. This is vital work that needs to be seen by those in similar situations because, sometimes, simply knowing you are not alone is half the battle.
For more on Dani Abram's work check out her website here. You can order copies of Worry Wart online here priced £6.00.
For regular updates on all things small press follow Andy Oliver on Twitter here.