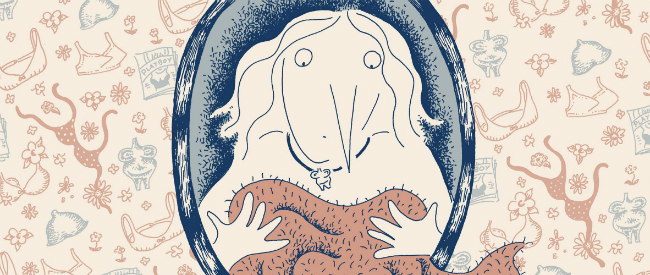 Here at Broken Frontier we're firm believers in the power of graphic medicine – the capacity of comics to explore the whole spectrum of issues and experiences surrounding healthcare, from the most personal of testimonies to the policy decisions that affect the care we can (and can't) receive.
So we were naturally excited to hear from Chris Staros at Top Shelf Productions about Jennifer Hayden's The Story of My Tits, a major work to be published later in the year.
When Jennifer Hayden was diagnosed with breast cancer at the age of 43, she realized that her tits told a story.

Across a lifetime, they'd held so many meanings: hope and fear, pride and embarrassment, life and death. And then they were gone.

Now, their story has become a way of understanding her story. Growing up flat-chested and highly aware of her inadequacies… heading off to college, where she "bloomed" in more ways than one… navigating adulthood between her mother's mastectomy, her father's mistress, and her musician boyfriend's problems of his own—not to mention his sprawling family.

Then the kids come along… As cancer strikes three different lives, some relationships crumble while others emerge even stronger, and this sarcastic child of the '70s finally finds a goddess she can believe in.

For everyone who's faced cancer personally, or watched a loved one fight that battle, Hayden's story is a much-needed breath of fresh air, an irresistible blend of sweetness and skepticism. Rich with both symbolism and humor, The Story of My Tits will leave you laughing, weeping, and feeling grateful for every day.
You might already be familiar with Hayden's work from her webcomic Underwire, a collection of which Top Shelf published in 2011 and which was included in The Best American Comics 2013. She has also produced a more occasional webcomic, S'Crapbook, as well as a daily diary comic, Rushes. You can follow her on Twitter at @JenhayGoddess
A 352-page paperback, The Story of My Tits is scheduled for release in September, just ahead of the worldwide Breast Cancer Awareness Month, which runs throughout October.
Jennifer Hayden's book is set to be an important addition to the canon of graphic memoir, and you can read an 11-page preview below (click to enlarge).