At the East London Comics and Arts Festival in 2019 David Biskup's There's Only One Place This Road Ever Ends Up won the ELCAF x WeTransfer Award. The prize gives entrants the funding to publish a comics project as a showcase book at the following year's event. Last year's winner was Jayde Perkin whose I'm Not Ready was widely acclaimed in 2019. In this year of no events, of course, There's Only One Place This Road Ever Ends Up could easily slip off the radar, and that would be unforgivable because this deeply affecting piece of autobio is an unforgettable example of the power of graphic medicine.
As Biskup elaborates on in the book's introduction, his partner Hannah's bladder stopped working in March 2018 following what should have been a routine medical procedure the year before. The condition could leave her in intolerable pain, she had to adjust to using a stick, and their world began to revolve around medical appointments and trips to A&E. In his words "We began to realise that our story was going to be one of attempting to dance through the tunnel, rather than the light at the end."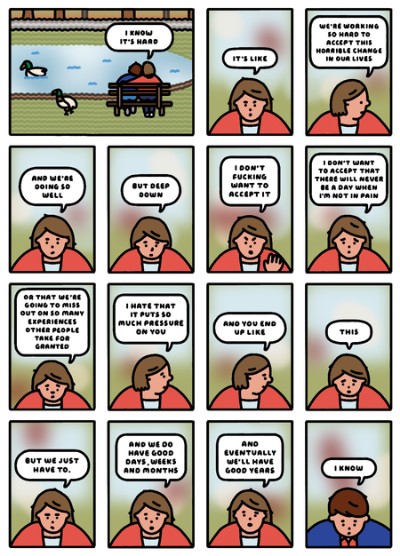 There's Only One Place This Road Ever Ends Up tells the story of the years since when thoughts of mortgages and weddings were abruptly pushed aside and dependency on opiates for pain control and concerns about infections became priorities. Biskup tells their story through both a flashback framing device with a therapist and also in small vignettes that concentrate on focused moments or events in their journey. It's a brutally honest account which never compromises in depicting the realities they face. These range from Hannah's problems with the sacral neural modulator device fitted internally to manage her condition through to the ordeals of dealing with an unsympathetic public unwilling to give up priority seats on transport or objecting to her presence at a music festival.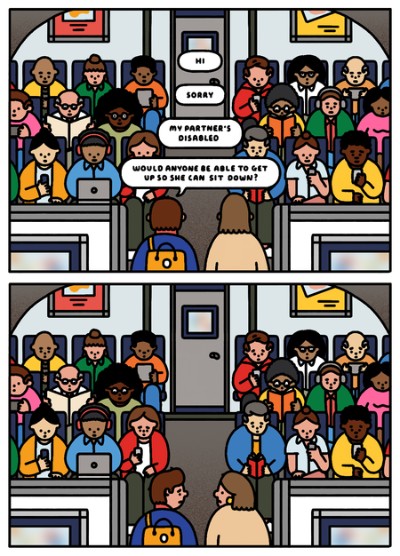 We watch as the couple slowly begin to realise that this is their life now; that there is no prospect of a return to the existences they had before; that the future is about adaptation not recovery. In one devastating sequence that will stay with the reader long after they have put the book down Biskup accidentally discovers a note to him on Hannah's phone meant for reading should the worst happen. In another, a viewing of a favourite festive film The Muppet Christmas Carol triggers depressive thoughts about the future. And always the spectre of the viability of parenthood hangs over the proceedings.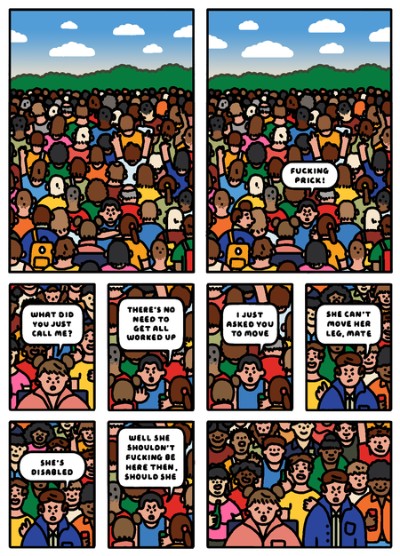 It's important to note, though, that There's Only One Place This Road Ever Ends Up goes beyond the direct impact of events. It's also about the moments of hope and the joy the pair find in less stressful times – a holiday abroad or a managed visit to Glastonbury. And there is humour here too. It's never an easy read but there's a beautiful humanity to the book that ensures it is always a rewarding one.
If you've read my coverage of David Biskup's worm before at Broken Frontier in projects like Seagram, @potus and Brief Encounters you will be aware of my admiration for his distinctive approach to the comics page. Here again he makes well judged use of varying page layouts to match the tone of each vignette. Multi-panelled pages for conversational scenes are tightly paced for maximum effect while occasionally he breaks out of the use of frames around panels entirely – scenes on the couch or pushing Hannah in a wheelchair – that foster a sense of far greater intimacy and immediacy with the reader.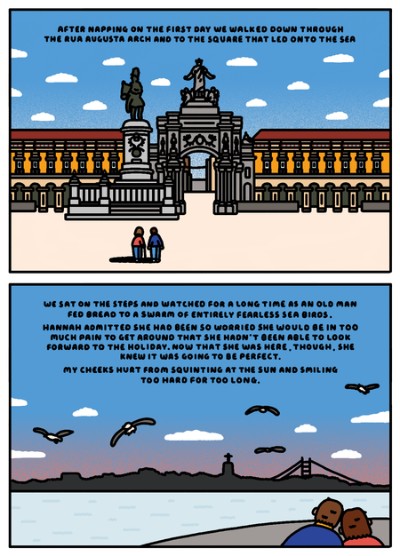 It's that frequent use of white space, though, that feels almost a signature element of his work now. Sometimes he uses it to frame a key emotional moment at the centre of a page. On other occasions entire pages will be blank to give the reader a moment to reflect on the impact of the scene they have just read, and then there are the sequences where backgrounds are removed so our sole focus is on David and Hannah. Characters are stripped back to a basic representational portrayal to ensure reader investment with their emotional cores at their rawest and most obvious. In the more relaxed and humorous sections, though, Biskup and Hannah take on a more caricatured, cartoony appearance to match the tone.
This account of adjusting to the realities rather than overcoming the odds is an exemplary use of graphic medicine to bring us directly into the experiences of others. There's Only One Place This Road Ever Ends Up is undoubtedly one of 2020's standout autobio offerings and a testament to David Biskup's command of the intricacies of the form. It's also a reminder of the excellent work that ELCAF does year in and year out in promoting exciting creative voices and championing the indie comics community.
For more on his work visit his site here and follow him on Twitter here and Instagram here. You can buy There's Only One Place This Road Ever Ends Up  in print or digital format here.
Review by Andy Oliver