ELCAF FORTNIGHT!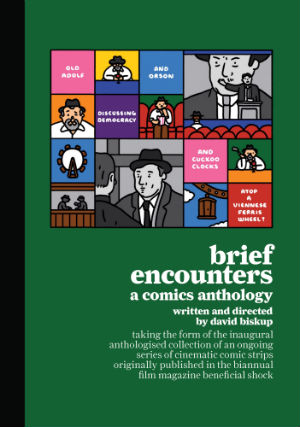 Originally published in the cinema-focused Beneficial Shock magazine, the strips included in David Biskup's Brief Encounters: A Comics Anthology see two famous figures from film heritage, and occasionally history, in discussions through which Biskup can explore wider themes and ideas. Biskup's distinctive approach to comics has featured at Broken Frontier on a number of occasions over the years, most recently in his powerful examination of Post Traumatic Shock Disorder in Seagram and last year's hauntingly touching @potus looking at Barack Obama's last days in office.
Structurally, Brief Encounters echoes the format of the latter book with Biskup utilising vast expanses of white space in order to draw the reader's eye in more carefully on either the individual images or the small collections of panels he places on each page. The original construction of these strips was very different with their arrangement being densely packed in presentation (you can see more on Biskup's site). Here, though, Biskup has reformatted the work, giving them an added pensive and reflective quality that seems most appropriate given the subject matter.
In the first story Biskup recreates a purported brief meeting between Orson Welles and Adolf Hitler in the years before Citizen Kane and the latter's rise to infamy. 'F für Führer' (an obvious play on Welles's 1973 documdrama film F for Fake) has an oddly rhythmic, even jaunty, pacing to it given its players as an older Welles looks back on his 1920s encounter with Hitler while on a hiking trip in Innsbruck. It's an intriguing monologue on the nature of myth, notoriety and the sometimes mundane realities behind it, all cast into sharp relief by Biskup's careful use of colour and rejigged pacing.
In the second tale we meet a recently departed Marilyn Monroe who has the opportunity to look back on her life and loves – courtesy of her spirit guide Albert Einstein – before moving on to the afterlife. Here Biskup's compositions are even more minimal, meaning panels almost seem to be swimming in a void of white, lending an even greater poignancy. Human tragedy is contrasted with Einstein's depiction of Monroe as some form of universal phenomenon.
Brief Encounters: A Comics Anthology condenses its subjects down to their pure essence and in so doing, perhaps ironically, makes their portrayal feel all the more authentic as a result. Biskup remains one of the most innovative and reliable creators self-publishing in the UK and his comics deserve a far wider readership. If you're not familiar with his work then please make sure to remedy that this weekend at ELCAF.
David Biskup will be exhibiting at ELCAF. For more on his work visit his site here and follow him on Twitter here and Instagram here. 
For more on ELCAF 2019 visit the festival site here and follow them on Twitter here.