ELCAF FORTNIGHT!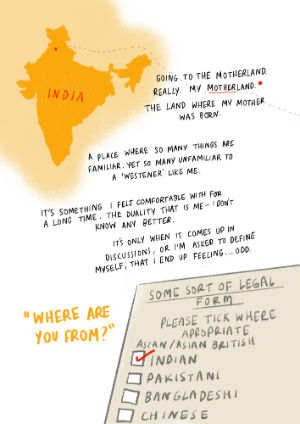 Aleesha Nandhra's Local Angrej depicts the 2019 Broken Frontier 'Six Small Press Creators to Watch' artist's experiences as she travelled alone in India for the first time. It's a minicomic that thematically ties into her recent 'Meet Me at the Market' exhibition in London with Francesca Tiley; one that explored both artists' dual cultural heritage. Local Angrej examines questions of identity; not simply of how others perceive us but also of how we perceive ourselves.
The title translates to "local English" and the comic opens with a reflection on that duality as Nandhra talks of India, the birthplace of her mother, as "a place where so many things are familiar. Yet so many unfamiliar to a 'Westerner' like me." Powerful in its understatement, Local Angrej poignantly captures the inherent contradiction of Nandhra's journey as she immerses herself in a world which she simultaneously feels intimately connected to and yet strangely isolated from at the same time.
There's something almost scrapbook-like in how her constantly changing presentational style here reflects the motifs of confusion and detachment that are so intrinsic to the story; as does the way in which we never see her face on in any panel. By portraying herself only from the back, or as a fleeting presence moving through panels, Nandhra becomes, paradoxically, almost a supporting character in her own narrative; something which cleverly echoes the comic's theme. From pure sequential art to travelogue-style illustration; to intuitive use of lettering and speech balloons to enhance her observational points, through to abstract symbolism; Local Angrej is a quietly sophisticated piece of comics storytelling.
In these pages we observe Nandhra's interactions with local characters, her struggles with language amongst a gracious populace ("So far 4 locals have told me that my Hindi is good. I know it's not") and her ongoing quest to explore a part of her identity that is contradictorily both nebulous and tangible. Throughout a sense of family is a constant travelling companion and, indeed, that comes to the forefront in a quite beautiful denouement that will bring a tear to the eye of many readers.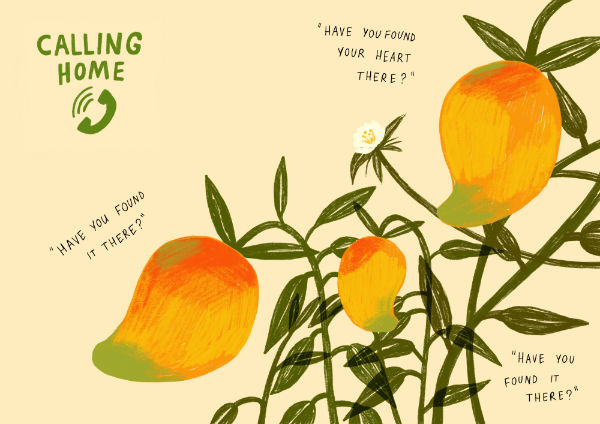 Local Angrej is impressive work and feels like it could be an opening chapter in a much longer-form narrative. With a gorgeously atmospheric use of colour to create a sense of place and time, and an admirable vulnerability to its narration, Local Angrej is one of your absolute must-purchase ELCAF debut books. Undoubtedly the strongest work yet from this 2019 'Six to Watch' artist.
You can visit Aleesha's site here, her online store here and also follow her on Twitter and Instagram. Aleesha will also be a panellist on the Broken Frontier Panel at ELCAF. 
For more on ELCAF 2019 visit the festival site here and follow them on Twitter here.