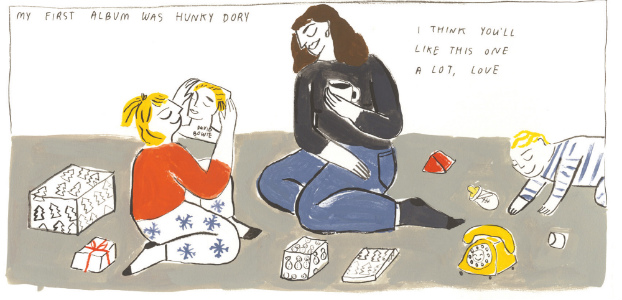 ELCAF FORTNIGHT!
In much the same way that Jayde Perkin's ELCAF-debuting I'm Not Ready is both a consolidation and an expansion of her previous comics work so too does this review feel like something of a revisitation and a celebration of the artist's practice to date. Perkin, of course, was the winner of the festival's ELCAF x WeTransfer Prize last year meaning her book – a deeply touching exploration of grief following the loss of her mother – will launch at the East London Comics and Arts Festival this weekend as one of its showcase events. And if you haven't been paying attention for the last couple of years Jayde was one of our 2018 Broken Frontier 'Six Small Press Creators to Watch'. So we did kind of tell you…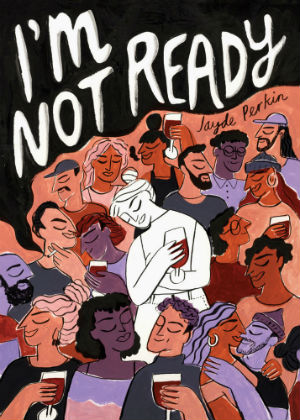 I'm Not Ready, then, brings together a number of Perkin's previous minicomics and short stories together with much new material to create a seamless narrative whole. In the process it more than underlines the obvious potential of her comics that has been so evident over the last few years. And that's also how I'm going to approach this review; by pulling together my own previous commentary on the formerly disparate parts of the book with additional new thoughts. It seems rather appropriate given how long we've been covering her work here.
Music is a constant touchstone of shared experience in Perkin's narratives and I'm Not Ready begins shortly before David Bowie's death, opening with a fleeting farewell to her parents as she leaves with her partner for her Berlin home – her mother's long-term battle with cancer very much a prominent backdrop to proceedings. The passing of the iconic popstar the next day brings memories of the mother-daughter relationship flooding back to her as she remembers those childhood times when his music permeated their lives.
A return to the UK, however, proves a necessity when Perkin learns her mother's cancer has returned. What follows is a reflective piece on loss, grief, the mourning process and the inevitability of our own mortality. By assimilating the work of Bowie in this opening section Perkin provides an additional point of empathy between reader and author but the story would succeed without that frame of reference for its moving visual storytelling, uncompromising honesty and quiet moments of careful pacing.
I'm Not Ready examines the many different ways in which grief impacts on us. Detailing a visit to her hometown after the death of her mother, Perkin underlines how loss can suddenly make us feel totally disconnected from what should be both the welcoming and the comfortable; how the familiar can be both recognisable and suddenly terribly alien, filled with the echoes of a past that suddenly seems remote and detached. One section on the coping mechanism of exercise is particuarly affecting as catharsis evolves into near obsession.
It's reflective of the powerful candour of the book and her profound and courageous self-analysis. In a short visual essay she talks about her own use of tobacco – especially resonant in the circumstances – and explores dependency and the reasons for it, self-deception, and how we can paradoxically both accept and be in denial about something. And again it's indicative of the way that Perkin bares her soul on the page with an honesty that is never less than admirable and always totally engaging in its openness. Grief is a subject that needs that approach, one that should be discussed not hidden away, and I'm Not Ready will no doubt resonate with many who have gone through similar experiences.
There's an expressive humanity embodied in Perkin's deliberately disproportioned figures and skewed perspectives that is undeniably powerful, and yet delicate and sensitive too. Her use of colour, as well, is a careful one, evoking conflicting feelings of nostalgia, loneliness, fondness and despair where appropriate. And there are those memorable moments of visual metaphor throughout as Perkin struggles to come to terms with a world without the pivotal figure of her mother in it.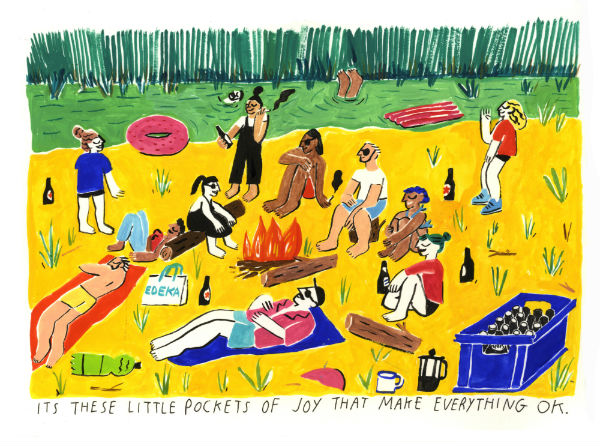 If you've been following Perkin's comics for any length of time, though, it's the final section of that book will act as a beautiful coda to her practice over the last few years. There are thoughts and discoveries here that I think are the readers to find for themselves for their maximum impact but they emphasise to me what is, perhaps, her greatest strength as a storyteller: she ensures that we don't as much experience events on the page as inhabit them.
It's been a privilege to have been able to follow this creator's journey from near the beginning and I'm Not Ready is undoubtedly our ELCAF 'Comic of the Festival' here at Broken Frontier. This consolidation of Jayde Perkin's comics practice to date is nothing short of a masterpiece of graphic memoir, visual metaphor and empathetic sequential art storytelling. A vitally important book from a major new talent in British comics.
Review by Andy Oliver
Jayde Perkin will be exhibiting at ELCAF and will also be talking about 'Comics as Graphic Medicine' and taking part on the Broken Frontier Panel. For more on Jayde's work visit her site here and her online store here. You can follow her on Twitter here and on Instagram here.
For more on ELCAF 2019 visit the festival site here and follow them on Twitter here.