ELCAF FORTNIGHT!
Another of our 2019 Broken Frontier 'Six Small Press Creators to Watch' to be exhibiting at this year's ELCAF, Olivia Sualdea will also be debuting her first ever self-published print comic at the festival. We reviewed that offering, Kolf, here at BF last week calling it a "magical journey of self-discovery." This year was the first in five years of our 'Six to Watch' initiative where we chose artists yet to have been published in a physical format. In Olivia's case, however, it was obvious from her social media postings that there was something very special at play in her short comics.
Ahead of the weekend, as part of our ongoing ELCAF Fortnight coverage, I spoke to Olivia about her first tentative steps into the small press world, that debut minicomic Kolf and what the future holds for this promising new face on the scene…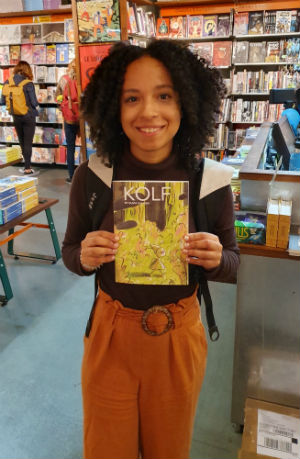 ANDY OLIVER: To begin can you tell us a little about your artistic background and your wider practice?
OLIVIA SUALDEA: Pursuing my love for drawing and storytelling since childhood, I completed my BA in Illustration at the University of Hertfordshire in 2017. I have always enjoyed creating little short stories and I would always try to tailor my projects so I could explore narrative and develop different characters in order to tell a story. As we were encouraged to experiment throughout our degree, I really wanted to explore different ways of portraying narrative which led me to create my own stop motion films from paper cut-outs and flip books which I thoroughly enjoyed making.
Following this, I now focus on creating short, silent comics and stories, which I post online. I really enjoy portraying emotion through my work and I often do this through a variety of different visual metaphors. It can be hard for all of us to verbally or literally describe how we are feeling as our emotions can feel indescribable at times. By creating visual metaphors, it can give the feelings we have an image, which I've always found rather therapeutic and so I really enjoy creating them. As of this year, I am now starting to put my comics to print and self-publishing my work.
AO: What was your entry point into comics? What first got you interested in the form?
SUALDEA: During my second year of university, my tutor, Thom Cuschieri, set up some extra sessions where we would create short comics and he would bring in lots of different comics for us to look at. I really enjoyed looking at all the different ways artists would create their comics and it completely changed my perception of what comics "should" be and really opened my eyes to a whole new way of storytelling. I've always loved creating stories completely through illustration, and these sessions really gave me the confidence to really give it a go, in particular creating my own silent comics.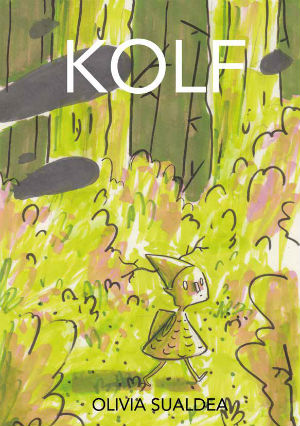 Having dyslexia, I was always put off books that had a lot of text, so I was completely drawn to this way of storytelling and how artists would communicate emotions entirely through pictures.
AO: You're debuting your first print comic Kolf at ELCAF. How would you describe the themes and premise of the story?
SUALDEA: Kolf was first born as a result of the prompts used for the Folktale Week Challenge in November 2018. Instead of creating single illustrations, I created little comics responding to each prompt, building up to a continuous larger story throughout the week. Once the challenge was over, I went back to build up the story further with the intention of printing it out as a comic.
The story follows a little creature called Kolf and his unexpected adventure in the woods throughout one night. Throughout his journey, Kolf has to come to terms with facing his fears and realising that things aren't always as they first appear as life often is. Sometimes the things that we are most afraid of can turn out to be fantastic and in time we are grateful to have experienced them or vice versa.
AO: ELCAF is a huge event for you given that 2019 is the year you first put your work into print. What else can readers expect to see on your table at the festival in terms of both comics and other material?
I am extremely excited, and nervous, for ELCAF this year! I have another comic, That One October, which is a collection of some of the short comics and illustrations I completed for Inktober in 2017. It is rather precious to me as I was going through the difficult transition stage from university to the harsh reality of real life that many students go through and other difficult moments I was going through at the time. I will also have some poster, prints and postcard sized illustrations, as well as some homemade pins!
AO: Your online comics make a powerful connection with the reader often through that very expressive form of visual metaphor to convey emotion and mood. What is it as a medium that makes comics such an attractive storytelling form for you?
SUALDEA: I love that you don't need words to tell a story. You can capture an emotion simply through pictures and subtle changes in the characters movement or expression, which to me can be more powerful than words.
Using pictures is completely universal and transcends language. Everyone has the opportunity to connect with the pictures, but also through the metaphors. People can come to their own interpretation of what the comic could mean or represent for them, which I really enjoy. Emotions can be so hard to capture and metaphors can be a fantastic and challenging tool in order to get that across to the audience.
Pages from That One October
AO: How vital a tool is colour in your work to enhance the atmosphere and themes of your narratives?
SUALDEA: Funnily enough, I used to be rather scared of experimenting too much with colour, which you can see in my older work. But since I've moved away from creating my illustrations digitally and started experimenting with marker pens & watercolours, I have felt bolder in my choice of colour.
Often, I want the colours to reflect the character's mood and allow the reader to understand it easily, which is an important aspect due to the lack of words that my comics usually contain.
AO: Could you describe your artistic process to us? What mediums do you work in? Are there any digital elements to your comics?
SUALDEA: Most of my ideas come from doodling ideas in sketchbooks during my long commutes to and from work. I enjoy having parts of stories or a character on there so I can expand on when I get home. I try and envision why the character looks and feels the way they do and throw them into various different places or envision them in many different scenarios. There's always a mish-mash of different things.
There is also something about the woods I enjoy drawing about, something relaxing. Although I should probably start putting my characters in places other than by trees!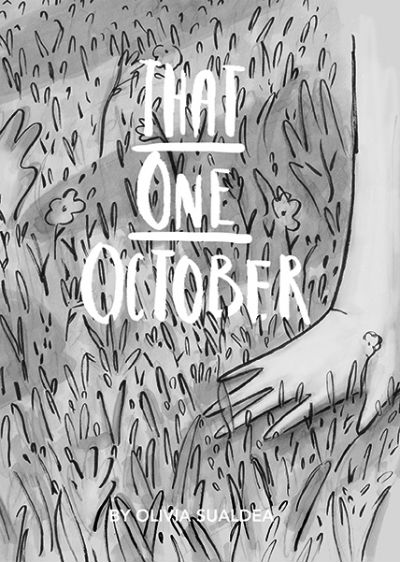 Since leaving university and starting my graphics job, I work predominantly with marker pens and watercolours. Digital elements are reserved predominantly for clean ups as the majority of my work is done by hand. Working in graphics puts me in front of the screen so much that the pen takes me away into a therapeutic and relaxing atmosphere. I want to get back into digital at some point in the future because there is an element of enjoyment to it.
AO: Outside of comics where might readers have seen your illustration work to date?
SUALDEA: A stop motion film I created during my last year of university, Somni (below), is something I'm really proud of. A lot of blood, sweat, tears and more tears went into creating it but a real learning experience for me. I also got the amazing opportunity to intern on Wes Anderson's Isle of Dogs, and got to hand paint tiny miniature protest signs which you might have seen for a millisecond. I have also been commissioned for a couple of posters for a local association.
AO: One of the more standout elements of your work is the diorama-style scenes you've posted online. What inspired their creation?
SUALDEA: They started as a self-promotion project at university with the intention of sending them out to publishing companies. I wanted to get across my love of storytelling and thought this would be a good way to condense that into a small, and hopefully, fun, interactive package. I am tempted to create some more in the near future!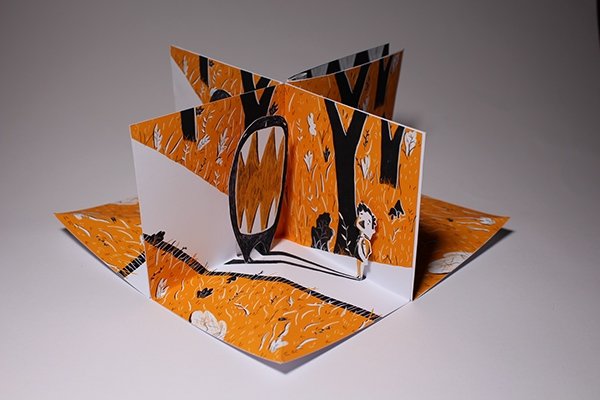 AO: Do you have any plans for a longer-form comics narrative? Is a full-length graphic novel one of your dreams?
SUALDEA: I have a few stories and ideas that I would love to turn into a long form story, possibly a graphic novel story, which would definitely be a longer term dream of mine! But nothing concrete just yet.
AO: And, finally, what else can we expect to see from Olivia Sualdea in 2019?
SUALDEA: I am very excited to be exhibiting at the Hackney Comics and Zine Fair in September created by the awesome Joe Stone.
Olivia Sualdea is exhibiting at ELCAF. For more on her work visit her site here and also follow her on Twitter and Instagram.
For more on ELCAF 2019 visit the festival site here and follow them on Twitter here.