ELCAF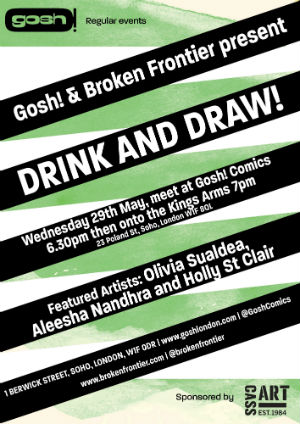 is coming and we'll be celebrating this year's East London Comics and Arts Festival in style at our next Gosh! Comics and Broken Frontier Drink and Draw! And, as ever, we have a fabulous threesome of small press artists on Wednesday May 29th joining us for our regular monthly meet-up, sponsored by Cass Art.
You can find us upstairs in The King's Arms on Poland Street and, as ever, your co-hosts for the night are myself (Broken Frontier Editor-in-Chief Andy Oliver) and Gosh's very own Nora Goldberg. The fun begins at 6.30pm at Gosh! on Berwick Street before we head off for our sketching and drinking antics at 7pm. Don't forget you can join the official Facebook event here.
Let's introduce you to our guests, all of whom will be exhibiting at ELCAF in June…
Aleesha Nandhra is one of this year's Broken Frontier 'Six Small Press Creators to Watch'. Here's what I said about Aleesha's work when we made the 'Six to Watch' announcement earlier this year:
Illustrator Aleesha Nandhra's deeply resonant slice-of-life comics work first came to my attention in the pages of street press anthology OFF LIFE back in 2016 with a short story about grief that had an immediate impact on me. Last October I looked in more depth at Aleesha's hauntingly fragmentary Thinking in the Dark, a zine series that portrays "the thoughts and feelings that come to mind when you can't sleep at night."
Aleesha's comics work is powerfully connective in its visual eloquence, juxtaposing atmospheric imagery with affecting commentary to create visual poetry that speaks to us of shared and recognisable experiences. These mini-narratives are subtle yet potent, and show an ability to communicate with her readership on the most instinctive level.
Outside of comics Aleesha's rich and varied practice has seen her shortlisted in the 'Design' Category of The World Illustration Awards 2018 and contribute the April 2018 Google Doodle celebrating the 148th anniversary of Dadasaheb Phalke, the creator of the first silent film in India in 1913.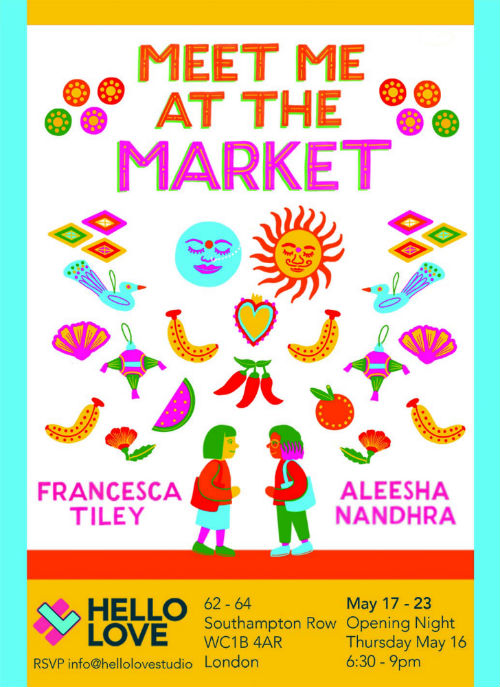 Since then Aleesha has been part of the 'Creating Heroines' event with the British Council in Nepal, had a joint exhibition called 'Meet Me at the Market' exploring her dual cultural heritage with Francesca Tiley, will be a part of the Kadak Collective's anthology Bystander and has some exciting new work coming at this year's ELCAF!
Fellow 2019 'Six to Watch'-er Olivia Sualdea will also be a guest artist. Here's what I said about Olivia's work when we announced her inclusion in the initiative:
It's especially pleasing to be able to feature an artist here this year who is yet to self-publish work. But if you've been following Olivia Sualdea's social media feeds you will know exactly why her name is on this list. From sequential art to physical diorama her posts are indicative of a truly exciting and emerging new voice in comics and illustration.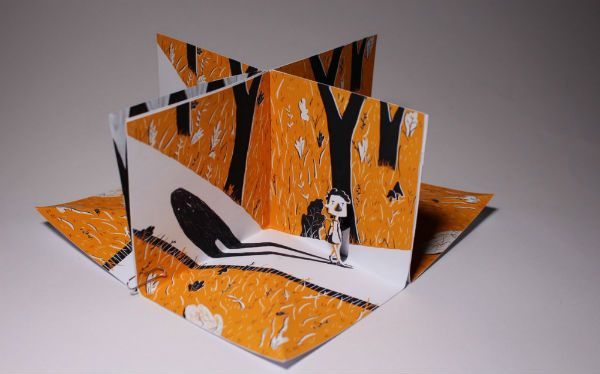 Olivia's expressive cartooning and gorgeous use of colour to create mood and enhance theme, alongside an occasional line in highly effective visual metaphor, really marks her out as a genuinely inspiring up-and-coming prospect. One I hope we can take to entirely new and much deserved audiences over the course of 2019!
Olivia has some fantastic work coming at ELCAF including the self-published comic Kolf which we guarantee you're going to love.
And, finally, we have yet another ELCAF exhibitor in Holly St Clair among this month's guest artists. Holly works in illustration and animation and her clients have included Lazy Oaf, Lululemon, Slow Down Studio, Camden Town Brewery and Bailey Nelson. Holly has created zines like Love is Temporary and Good Hair. You can see more examples of her jaunty and engaging style on her website here.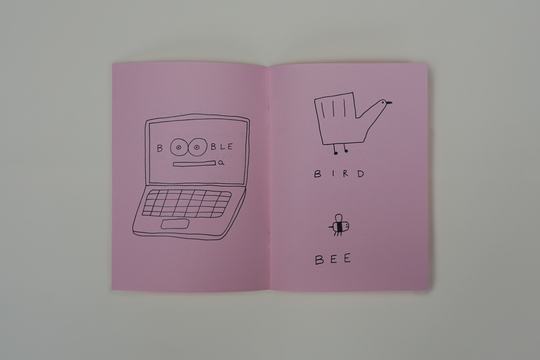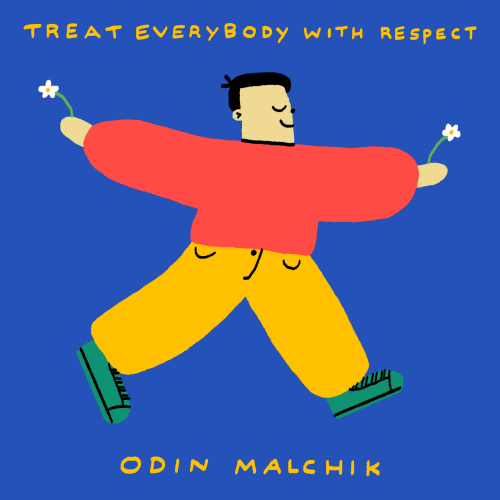 Join us on Wednesday May 29th, then, for another fun evening of drinking, drawing and comics camaraderie. We kick off at 6.30pm in Gosh with a chance to get hold of signed comics and books from all our featured creators before moving over to The King's Arms for 7. We look forward to seeing you then!
The Facebook event page for the night is here.