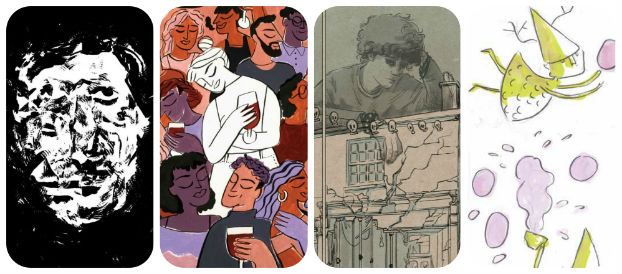 We supplemented our annual Broken Frontier tradition of rounding up just ten UK small press comics representing the diversity of approach in self-published comics practice this year with an additional feature last week when I looked back on the entirety of the 2010s last week here on the site.
In this 2019 recap you'll see a little bit of crossover of projects and creative names but hopefully you will also be reminded of some of the key small press comics you didn't pick up over the last twelve months and follow the store links to do just that. If you've Christmas spending money invest in comics goodness then you will find plenty of excellent material here.
As ever, a reminder that this is not (and has never been) a "best of" list. It's a collection of projects that I believe are worthy of your time but also ones that embody the scene in 2019. I have not included micropublished comics, anthologies or comics that were self-published online but not in print but you can find plenty of examples of those in both our Reviews section and Small Pressganged column at BF should you wish to investigate further.
Once again, whittling this down to just ten comics was a near impossible task but there are some true gems below. Read, enjoy, follow the creators listed on Twitter and Instagram and please consider picking up some of these books from the creators' online stores.
Read our previous annual round-ups here at Broken Frontier.
ØMIT
Nic Mac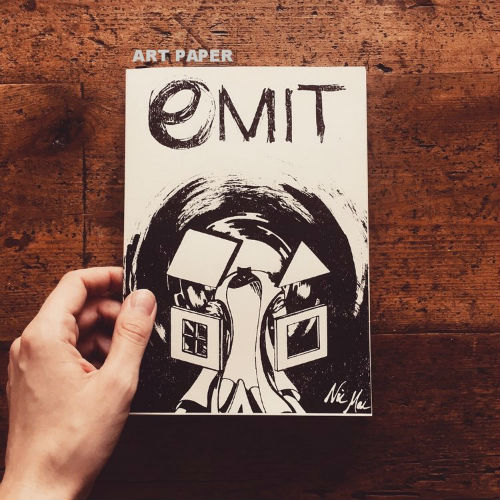 As regular Broken Frontier readers know we have bookmarked all our resources on mental health awareness in one tagged list of reviews and features here on the site. Comics have proved to a highly effective tool in communicating personal experience regarding depression and anxiety, and Nic Mac's zine ØMIT is one of the most distinctive and original approaches to this area of graphic medicine that I have seen in some time.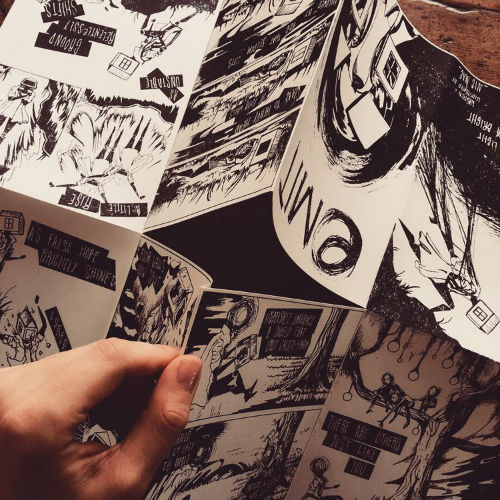 Employing utterly surreal yet eerily familiar visual metaphor to convey its protagonist's experiences, ØMIT follows a young woman with a symbolic house for a head on a strange journey of self-discovery. With its tactile, fold-out presentation playing into the narrative experience this comic signalled the arrival of an exciting new voice on the small press scene who you'll be hearing a lot more about at Broken Frontier in 2020.
Small Pressganged review here
Small Pressganged soundbite: "ØMIT is unsettling but not unhopeful, dreamlike but nevertheless rooted in a symbolic reality that many readers will no doubt find familiar."
For more on the work of Nic Mac visit her site here and her online store here. You can also follow her on Twitter here and Instagram here.
Stagdale
Frances Castle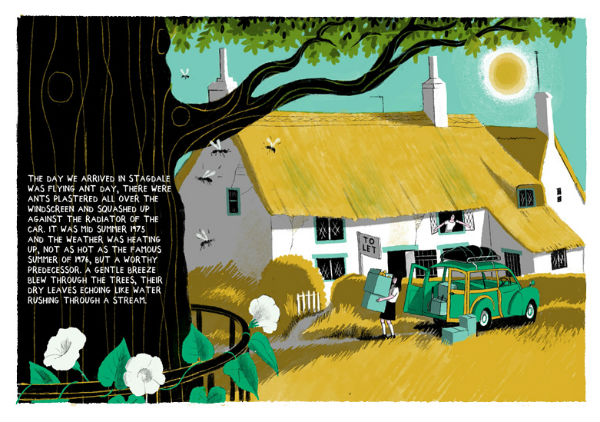 Frances Castle's Stagdale brings together the stories of two children decades apart in the small rural village of the title. A nostalgic gentle drama set in 1975, and full of pop cultural references, it follows 12-year-old Kathy who has recently moved to the area with her mother and who quickly becomes embroiled in the local mystery of the Saxon jewel stolen during the Second World War.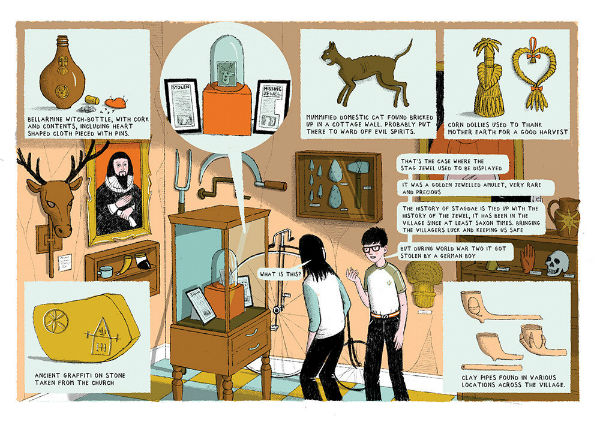 Presented in a landscape format, Castle's gorgeous use of colour and inventive layouts are an absolute joy in an opening chapter of a book publishers should be queueing to pick up. One of the self-published finds of the year.
Small Pressganged review here
Small Pressganged soundbite: "Stagdale is a wonderful evocation of a past that is tangible but still seems slightly alien in its comfortable simplicity. We get to see many exciting new projects here at Broken Frontier at their inception but this one is very, very special."
For more on the work of  Frances Castle follow her on Twitter here, visit her site here and her online store here.
Park Bench Kensington
Peony Gent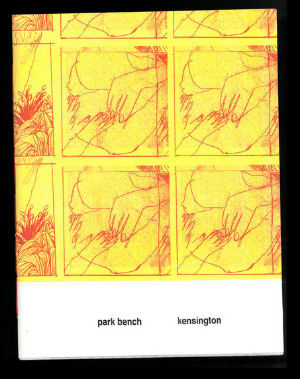 This one will come as no surprise given that I have spent the last year promoting the visual poetry of Peony Gent at every opportunity on social media. Park Bench Kensington is another Gent offering that combines physical presentation, abstract imagery and poignant text to deeply resonant effect.
Recreating fragments of a conversation on "the difficulties of immigration [and] the pain of love" Park Bench Kensington employs a fractured narrative style and displaced layouts to emphasise the poignancy and empathy of the piece. If you are entirely new to Gent's work then this is a perfect entry point to the practice of a creator employing the properties of the form with such unique vision.
Small Pressganged review here
Small Pressganged soundbite: "Over the years that I've been covering Peony Gent's graphic poetry I've come to the firm conclusion she genuinely takes the form into entirely new narrative territory with a pensive, abstract lyricism that represents some of the most exciting, boundary-pushing and challenging approaches to the medium in contemporary UK indie comics."
For more on Peony Gent's work visit her site here and follow her on Twitter here. and Instagram here. You can visit her online store here.
Kolf
Olivia Sualdea
One of the great joys of 2019 was seeing self-published work from our 2019 Broken Frontier 'Six Small Press Creators to Watch' artist Olivia Sualdea in print for the first time. After all, Sualdea's delicate use of colour and quietly powerful visual metaphor deserved to be seen by a far wider audience.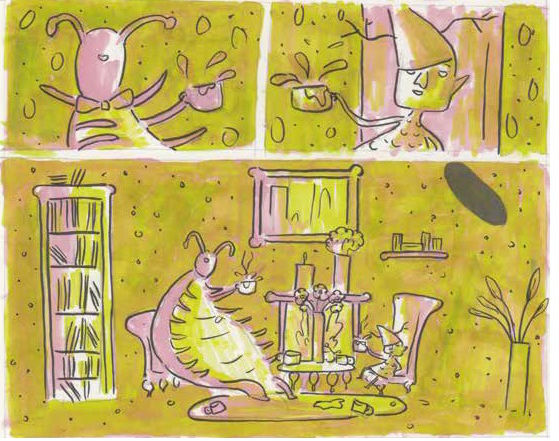 Ostensibly  Kolf is a magical tale in a fantasy woodland following a strange elf-like creature who lives in a hollow high up in a tree. Encountering  spectral entities in the forest, Kolf's explorations will lead to encounters with witches, subterranean dwellers and more in an oddly existential minicomic offering.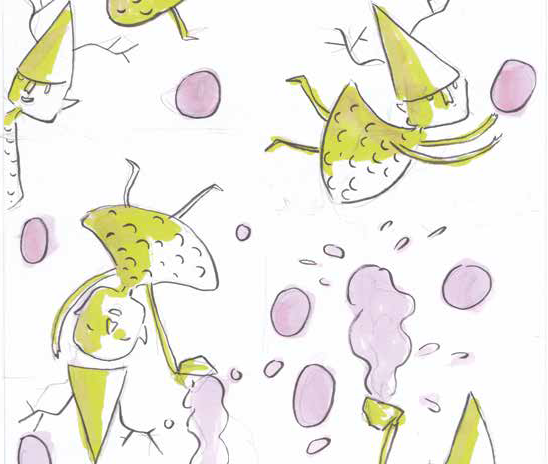 Small Pressganged review here
Small Pressganged soundbite: "There's something very allegorical here in an existential way as Kolf broadens his horizons, interacting with a wider plane of existence and perhaps discovering something about himself in the process."
For more on the work of Olivia Sualdea visit her site here and also follow her on Twitter and Instagram.
Class of 1922
Douglas Noble
Class of 1922 is a testament to the disquieting quality that permeates much of Douglas Noble's graphic narratives. It's an account of events surrounding the titular class's graduating photo that turns a moment of supposed hope and celebration of potential into something altogether different; a creeping nihilism that echoes backwards and forwards in time.
Juxtaposing the classmates' thoughts on that fateful day with accounts of their own demises in the years and decades later it deftly plays with comics' relationship with the passage of time through static imagery that nonetheless proves sequential in its own right. Another example of a self-contained comic that will prove a perfect introduction to its creator's practice.
Small Pressganged review here
Small Pressganged soundbite: "Class of 1922 is a bleak comics short that has an unassuming brutality to it; a stark and uncompromising reminder that ultimately we will all be consumed by time's cruel whims. Flirting with the futility of life and the darkest existential slapstick, this is prime Douglas Noble at his disconcerting best."
For more on the work of Douglas Noble visit his site here and his online store here. You can follow him on Twitter here and Instagram here.
Local Angrej
Aleesha Nandhra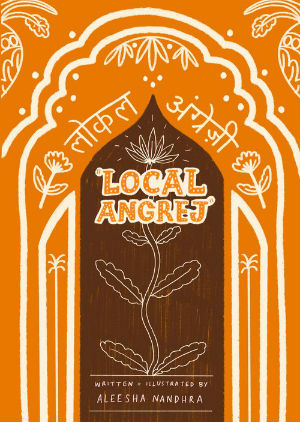 This was one of my favourite small press releases in 2019 and, as such, this entry also appeared in last week's Celebrating the 2010s column. But this comic is so good it deserves the double exposure.
Local Angrej depicts the 2019 Broken Frontier 'Six Small Press Creators to Watch' creator's experiences as she travelled alone in India for the first time. It examines questions of dual cultural heritage and identity – not simply of how others perceive us but also of how we perceive ourselves.
The title translates to "local English" and the comic opens with a reflection on that duality as Nandhra talks of India, the birthplace of her mother, as "a place where so many things are familiar. Yet so many unfamiliar to a 'Westerner' like me." Powerful in its understatement, Local Angrej poignantly captures the inherent contradiction of Nandhra's journey as she immerses herself in a world which she simultaneously feels intimately connected to and yet strangely isolated from at the same time.
Small Pressganged review here and interview here
Small Pressganged soundbite: "In these pages we observe Nandhra's interactions with local characters, her struggles with language amongst a gracious populace ("So far 4 locals have told me that my Hindi is good. I know it's not") and her ongoing quest to explore a part of her identity that is contradictorily both nebulous and tangible. Throughout a sense of family is a constant travelling companion and, indeed, that comes to the forefront in a quite beautiful denouement that will bring a tear to the eye of many readers. Local Angrej is impressive work and feels like it could be an opening chapter in a much longer-form narrative."
For more on Aleesha Nandhra's work visit her site here and her online store here, and also follow her on Twitter and Instagram.
I'm Not Ready
Jayde Perkin
In many ways this was the comic I was most eagerly anticipating in 2019 given it came as a result of our 2018 'Six to Watch' artist Jayde Perkin winning the ELCAF x WeTransfer Award. This consolidation of her previous work exploring themes of loss and grief following the passing of her mother brought together both material from her minicomics with all-new sequential art in one of the most acclaimed UK indie offerings of the year.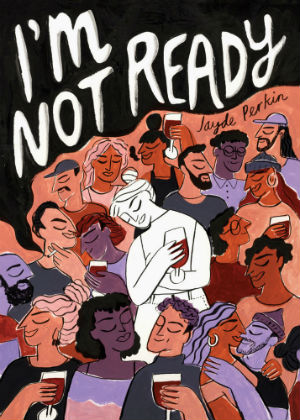 It's a study of the many different ways that grief can impact on us that is both deeply personal and yet entirely universal as well. Perkin's use of visual metaphor, expressive visual characterisation and raw but profound narration is simply beautiful in its delivery. A comic that underlines just what an eloquent form the medium is when it comes to communicating personal experience.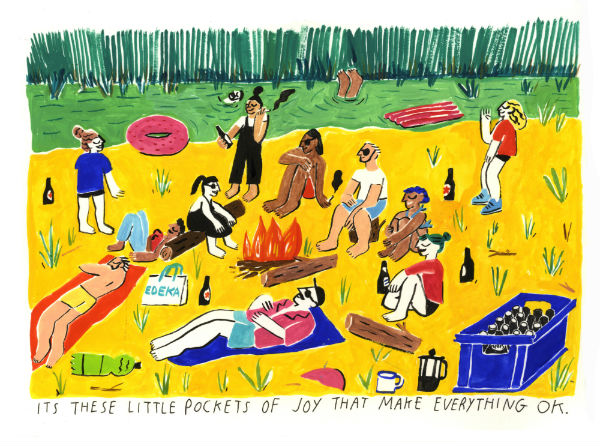 Small Pressganged review here
Small Pressganged soundbite: "This consolidation of Jayde Perkin's comics practice to date is nothing short of a masterpiece of graphic memoir, visual metaphor and empathetic sequential art storytelling. A vitally important book from a major new talent in British comics."
For more on the work of Jayde Perkin visit her site here and her online store here. You can follow her on Twitter here and on Instagram here.
The Bones of the Sea
Gareth A Hopkins
I found myself constantly drawn back to the abstract comics practice of Gareth A Hopkins in 2019, representing as it does just how versatile and multi-faceted comics can be in the language of their narrative structure. The Bones of the Sea is just one comic from a prolific year for Hopkins but its existential, almost nihilistic, meditations made it the one I gravtitated towards the most.
Juxtaposing the minutiae of his own life (sitting in a car park waiting to collect the kids, arguing with his son about Marvel Comics) with a dark reflection on millennia of fossilised sea life, The Bones of the Sea plays out against the visual backdrop of his signature abstract imagery. A comic that invites readers to interact with its pages by forming their own individual relationship with the narrative.
Small Pressganged review here
Small Pressganged soundbite: "It's a reminder of the illusions that we wrap around ourselves about the importance of our place in the world; of the constructs of hope, achievement and relevancy that we place on our actions and dreams when, ultimately, we too are simply biding time until we become part of that selfsame sea of bones."
For more on the work of Gareth A Hopkins on his site here and his online store here. You can follow him on Twitter here and on Instagram here.
Who Killed JoJo? Episode Two
Cathy Brett
The second instalment of Cathy Brett's supernatural mystery didn't just equal the promise of the original. It surpassed it. Jumping between the events of 1985 and 2015 it focuses on Tom and Tilda, two teens dragged along to the village funeral of one of their respective parents' childhood friends. The pair slowly discover the links between their mother and father's peer group three decades before and the local legend of a young murdered woman called JoJo, whose spirit is alleged to have visited a poetic revenge on her murderer Ed.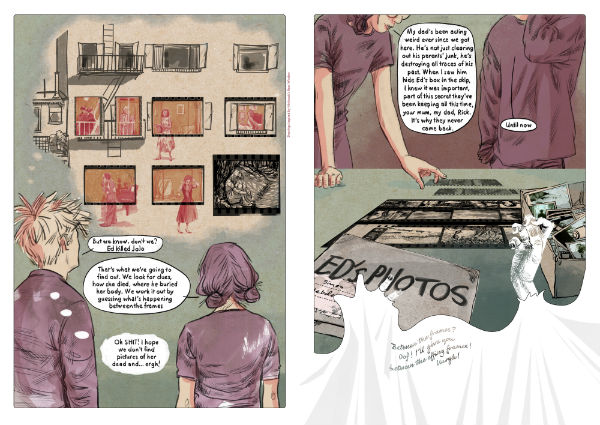 What really makes this project stand out though is Brett's astonishing employment of the tricks of the medium to create a narrative that is remarkably eloquent in its meta approach. There's an intriguing mystery at its heart but the way that the creepy presence of the ghostly Ed creeps through the very structure of the page needs to be seen to be fully appreciated. Brett is a major new talent in the making.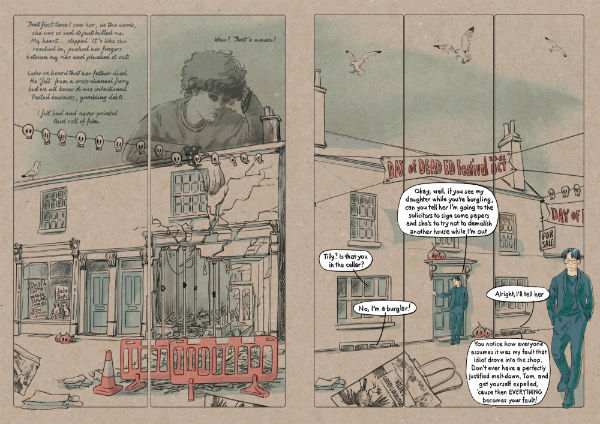 Small Pressganged review here
Small Pressganged soundbite: "Who Killed JoJo? is living up to its promise and I remain hugely surprised at this point that a year after that initial issue was published it still, as far as I'm aware, hasn't been snapped up by a publisher. It needs to be. And soon."
For more on the work of Cathy Brett visit her site here and  follow her on Twitter here. and on Instagram here. 
Minor Leagues
Simon Moreton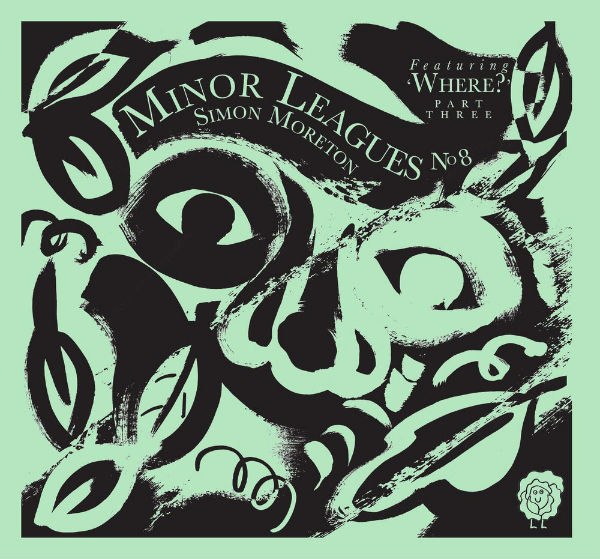 In lieu of the unpublished major piece I have been working away at on the final two issues of Simon Moreton's magnum opus 'Where?' (which has been serialised in the pages of his zine series Minor Leagues over 2018-2019) I have linked instead here to a previous review this year by Broken Frontier's Tom Murphy, another huge aficionado of Moreton's oeuvre on the site.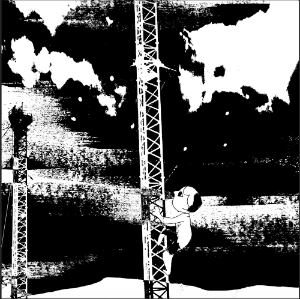 As I said when I included this series in my decade retrospective last week 'Where?' combines the history of the hill Titterstone Clee and the communities that have lived within its presence, an exploration of Moreton's own identity and childhood, and also takes in Moreton's own study of the grieving process following the recent loss of his father.  Told through a mix of illustration, prose, photography, collage and comics it's quite simply Moreton's masterpiece.
Please someone out there pick it up and publish it within the confines of one spine before the year is out…
Broken Frontier review here
Small Pressganged soundbite: "Universal in theme but deeply personal in specificity it's an outstanding and expansively structured piece of autobio work; a zine that underlines that within that particularly rich seam of UK small press practice Moreton remains its most innovative, important and, crucially, most relatable artist."
For more on the work of Simon Moreton follow him on Twitter here and Instagram here. You can order Minor Leagues from his online store here.