One can never second guess the exact details of the collaborative process between creators Douglas Noble and Sean Azzopardi. Behind the scenes they have worked in a number of fascinating and wildly different ways to build their comics narratives over the years. From something more akin to a traditional script/art breakdown on the eerie Sightings of Wallace Sendek to Noble's reconstruction of Azzopardi's sketchbook images into unsettling horror story in Built of Blood and Bricks, through to Noble illustrating and building a tale round Azzopardi's text outline and sample images for Pirouette, the background of their various partnerships can be as intriguing as the comics themselves.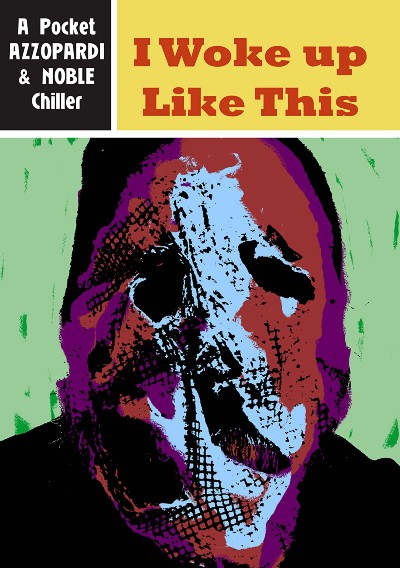 Noble's latest project from his Strip for Me imprint is inspired by British publisher Thorpe & Porter's 1970s digest-style horror comics Pocket Chiller Library. It pays homage to the trade dress of that series but rather than mimicking the hoary old standards and retreads of those comics this is very much in the vein of Noble's contemporary experimentation with the genre. While I'm looking at Noble and Azzopardi's first issue of A Pocket Chiller today (published in the latter part of 2020), around half a dozen issues have been published to date with a multi-creator line-up that has also included Chris Reynolds and Robin Barnard.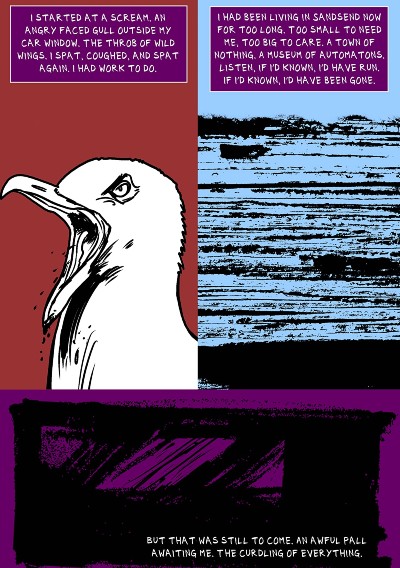 A Pocket Chiller debuted with 'I Woke Up Like This' set in one of those seaside towns that, as the song goes, they forgot to close down. A horror noir genre synthesis, it's a retrospective account of a detective's assignment to report back on the comings and goings of a local businessman's daughter. But, despite the mundanity and routine of both his job and the area, there's an ominous sense that something is very wrong with reality in the coastal locale of Sandsend. And that come the morning nothing will ever be the same again for its residents…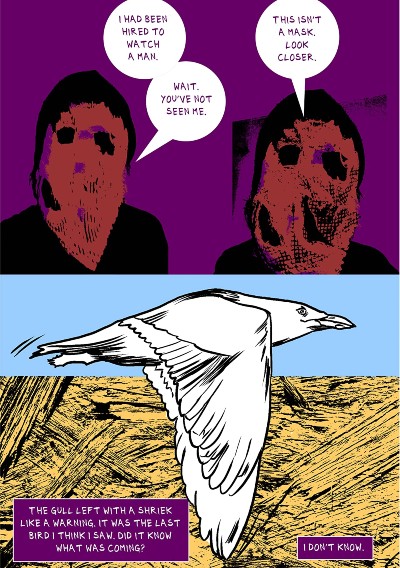 The greatest strength of 'I Woke Up Like This' is that like all the best supernatural horror it juxtaposes the pedestrian with the otherworldly to unnerving effect. Noble's command of language has always been a key component in the brooding atmosphere of his grittier works and here's he's on sparkling, if disquieting, form: "He laughed. But it was a dry, awful thing. Like the rustling of autumn leaves on tarmac." That mood is accentuated by a harsh but lurid choice of colours and the sometimes obscure nature of Azzopardi's imagery.
If I had to make an informed guess I would say that 'I Woke Up Like This' was created by a similar process to that of Built of Blood and Bricks with existing, repurposed art proving the foundation the story sits upon. While build-up and denouement do perhaps feel slightly disconnected as a result that's more than made up for by the creepy sense of foreboding that soaks into every page, especially through the disturbing repeated profile of the story's protagonist.
Noble has always been a prolific creative force and we will no doubt return to A Pocket Chiller again in the near future. With several issues published so far, the potential of this experimental horror series for showcasing the work of not just Douglas Noble but also some of the other exciting voices in small press alt genre work is a delicious one indeed.
You can buy the Pocket Chiller series through ComiXology UK or ComiXology US. 
Review by Andy Oliver