THOUGHT BUBBLE FORTNIGHT! The fourth in Douglas Noble's Horrible Folk series, the Thought Bubble-debuting Really Horrible Folk is another collection of brief but unsettling monologues from "a choir of desperate voices" and follows on from previous one-shots Horrible Folk, More Horrible Folk and Other Horrible Folk. Each entry in the series has provided fragmentary commentary from a procession of shadowy figures transported from the backgrounds of British horror films (the first two editions) and folklore documentaries (the third). Really Horrible Folk brings extras from a more global selection of movies to new life (including Valerie and Her Week of Wonders, The White Reindeer, Ghost of Banana Tree, Bunjako and more), underlining Noble's notoriously encyclopedic knowledge of cinema. The locales that act as backdrop coming from Jennifer Westwood's book The Atlas of Mysterious Places.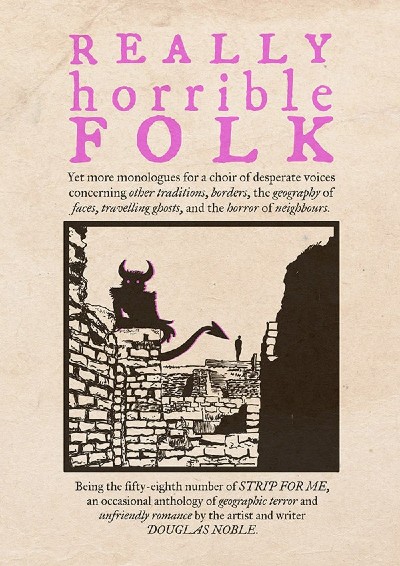 When I last reviewed a Horrible Folk comic I described it as "folklore draped across a pop cultural backdrop and pulled together to create something even stranger and darker." That sense of something distinctly "other", a brooding malevolence apparent but just out of definable sight, is a thread that pulls all four of these comics together. In Really Horrible Folk, as with its sibling publications, we encounter a new character on each page addressing us cryptically and talking of ancient stories, strange encounters, the oppression of environment, and the hidden places that surround us.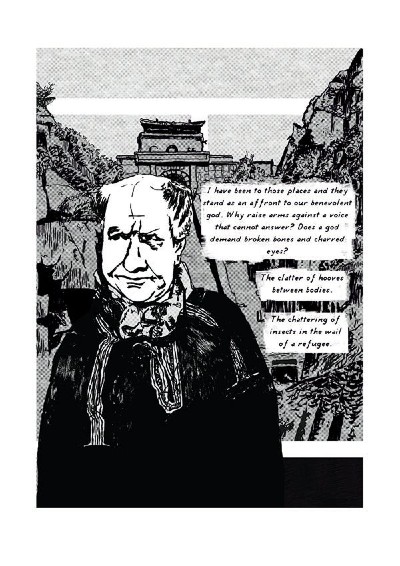 Really Horrible Folk is a comic that will reward constant re-reading. Not because it will make the reader appreciate the narrative more because there isn't an overarching one. But because every new interaction with it will allow the audience to find new stories, new interpretations, and new responses to the multiple shards of individual narrative that each page represents. In that regard it's not about knowing the minutiae of the characters' back stories; it's about finding one's own meaning in these splinters of time, of the disconcerting atmosphere that these wisps of uncertainty envelop us in, and the forbidding hints of secret lore that remain just out of our grasp.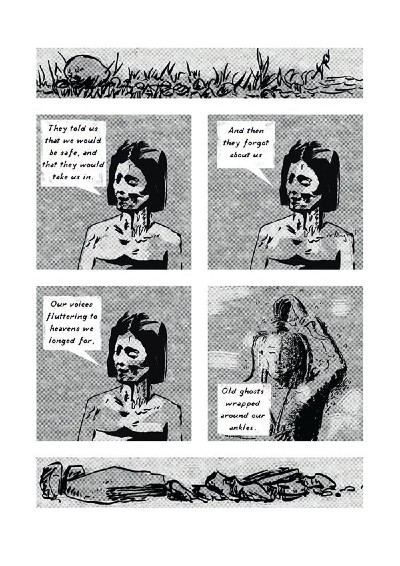 As with previous entries in the run the stark imagery of the locations and haunting profiles of the speakers are broodingly intense. The output from Noble's Strip for Me imprint has been particularly strong over the last year and a half, whether from its print or digital-only publications. Those wanting to investigate further should visit Table 26B in the ComiXology Originals Hall at Thought Bubble.
Douglas Noble (W/A) • Strip for Me, £4.00
Visit the Strip for Me store here
Review by Andy Oliver