THOUGHT BUBBLE 2019!
"They see what they want to see, don't they? The Devil in the long grass and old gods scratching behind the moon."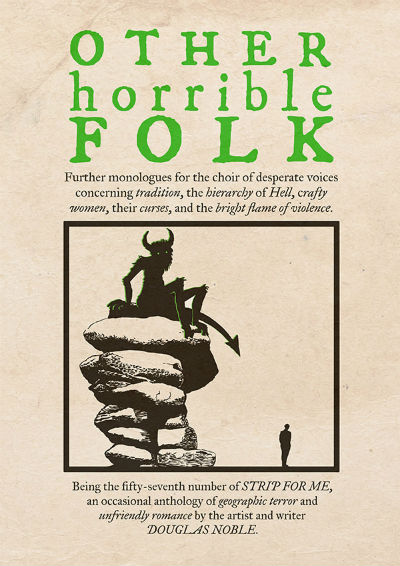 Other Horrible Folk dances through time, and takes the reader dancing up the hill and beneath the standing stones, into the caves, down old, old streets and through the cultural memory of British Folklore. The characters we meet on this dance describe some of the pagan practices of the UK with quiet intensity, apt to send the odd shiver down your spine.
The third instalment in small press veteran of the macabre and oblique Douglas Noble's Horrible Folk series, this other edition does not disappoint. If you find Douglas at Thought Bubble or elsewhere this festival season (he'll also be at Catford Comic and Zine Fair), you'll see from his well filled table that his prolific creative output is full of invention and intrigue. Broken Frontier has covered his work over the years and if you're curious about some of Noble's motivations and thoughts (and the graphic design of our site 7 years ago) you could take a different trip down memory lane with this interview from 2012.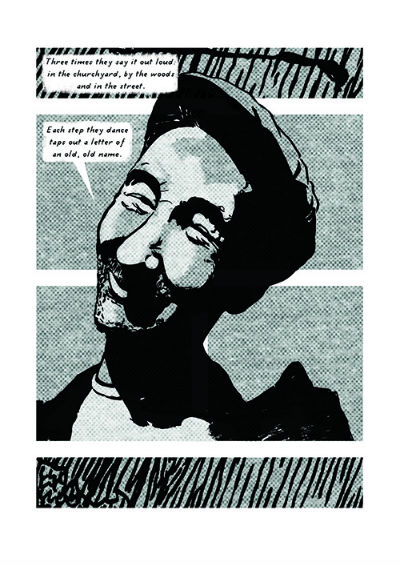 I'm far too busy to read all of that though, so I'm just going to talk about this one new book. To do which I would like to ask you a question. What is cultural memory? That which we hold common in our imaginations with our fellow humans? Stories round campfires reaching back and forward through generations picking up new inflections, new meanings? Fairy tales and ghost stories that subconsciously tell us to mind our manners, know our place, or chase our dreams? Weaponised intertextuality? The web of associations from pagan traditions whose meanings are long lost, through Bible stories, Shakespeare, late night TV specials glimpsed when we were too young to handle them, retellings of stories from other cultures seen through biased and blasé lenses, Disney, Harry Potter, ad infinitum, ad nauseam? All these things? What we have forgotten and yet still know?
Douglas Noble knows, but he's not just going to tell you straight. Obviously.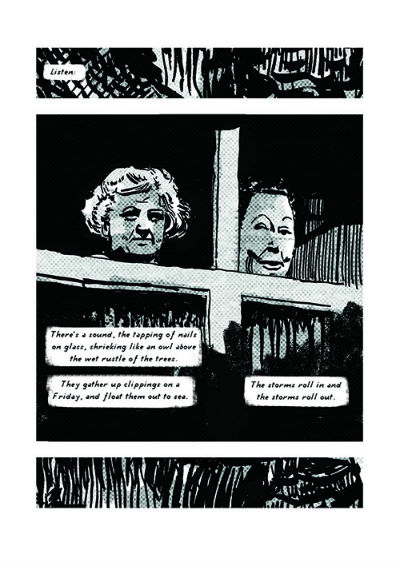 Beautifully reflexive ink drawing combined with textures reminiscent of old TV static, the Horrible Folk comics tune the reader in to a hind-brain frequency of good old fashioned Celtic creepiness. Where previous instalments harvested reference imagery from extras in classic British horror films and TV programs, Other Horrible Folk takes one step further into meta-commentary using background characters from British folk documentaries, including Here's a Health to the Barley Mow, Walk in St George, OSS OSS WEE OSS, Children of the Moor and The Face of a Country. Accessible on the BFI's DVD set Here's a Health the Barley Mow. Backgrounds meanwhile, are taken and inspired by the 1979 book by Ralph Whitlock In Search of Lost Gods: Guide to British Folklore.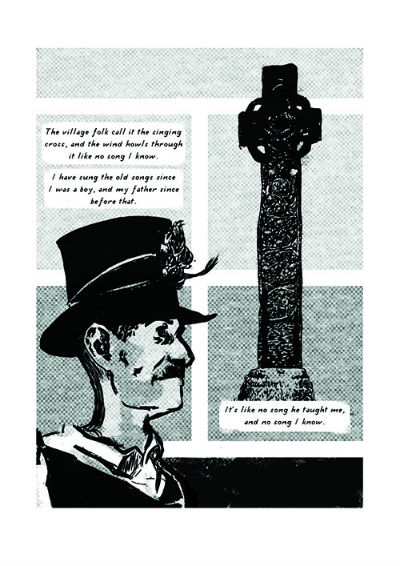 Such work would be worthwhile of course, all well and good, ruminating on and dissecting the past, but could be easily dry and inaccessible to a contemporary sensibility, without good and poetic pacing – which thankfully, Noble has nailed. Other Horrible Folk is both readable and atmospheric, and evokes a creeping wistfulness. The characters we see and the rituals they describe were old in the 1970s, their ghosts now brought back via old books and documentaries, refusing to fully die, their echoes rattling on. Many of us have had occasion to contemplate questions of what it means to be British in recent years. Cultural memory may be written in the bones of our land, the standing stones, the steps of the dance around the maypole. It's also written on BFI DVD, mankind's technology having long exceeded mere campfire genealogy in its capacity to record, and so via slanted means, some of it is written in this book. Comics being, of course, the peak of that technological evolution, what better medium to curl up with in front of a roaring fire this winter and take a trip back into the past, via the past, via the present, and contemplate who we are.
Review by Jenny Robins
For more on Douglas Noble's work visit his site here and follow him on Twitter here. You can find his online store here. Douglas Noble will be exhibiting at Thought Bubble 2019 at Table 15A in the ComiXology Originals Hall.