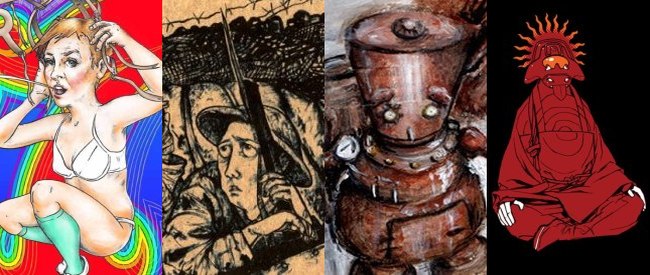 Broken Frontier's 'Small Pressganged' column – our regular spotlight on the worlds of small press, self-published and micropublished comics – will be two years old this weekend and, at the risk of being seen to be indulging in some unbearably smug and grotesquely contorted, spine-cracking, self-backslapping, I thought this would provide the ideal opportunity to look back fondly on what we have achieved with the column since its inception in 2011. I'm sure, in the circumstances, you'll forgive the self-indulgence just this once…
Here we are two years on, then, with nearly 200 small press comics reviewed, around twenty creators interviewed in full-length, in-depth conversations about their work, and with comics practitioners from four continents featured here. Below I'm going to focus on ten talking points/favourite articles from both the current BF (relaunched in May) and our old, archived Broken Frontier site. It's been an amazing 24 months and I hope in that time we have persuaded you to pick up some top self-published work. It's been our aim to raise awareness that there are so many fantastic comics out there with a pure creative vision untainted by editorial interference, crass gimmickry and corporate cynicism. I sincerely hope we have succeeded.
Let's jump in at the very beginning and then continue in no particular order of publication…
Tom Humberstone Talks Solipsistic Pop – November 2nd, 2011
"When Solipsistic Pop started out it was created out of frustration that such a book didn't already exist. It was a modest attempt at creating a supportive infrastructure in the small press scene. Since then SelfMadeHero, Blank Slate, and Nobrow have all made enormous progress as unique, successful UK comics publishers and lots of creators are getting the sort of exposure and attention they deserve." – Tom Humberstone, Solipsistic Pop publisher
And just look at how far we've continued to come on since…
The launch trailer for Solipsistic Pop #4 back in 2011
'Small Pressganged' debuted on November 2nd, 2011 with an interview with Tom Humberstone, publisher of the critically-acclaimed Solipsistic Pop, the themed showcase anthology for small press creators that combined the cream of the crop of self-publishers with a distinctly tactile reading aesthetic. Tom's efforts with Solipsistic Pop played a huge part in this column's existence. Indeed it was while reading Solipsistic Pop #3 in the bar before the first BD Comics Passion festival in October 2011 that I became so inspired that I started scribbling down some notes for a BF feature that would combine regular small press reviews with comprehensive creator interviews.
To use a trite but apposite idiom, the rest, as they say, was history…
Read Tom Humberstone's interview on Solipsistic Pop here
Unearthing the Gems of the Small Press: Rebecca Bagley's Tick – May 3 2012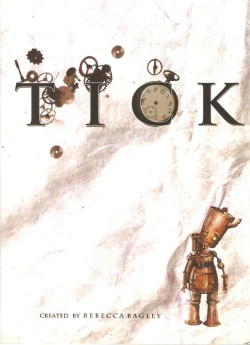 On the old Broken Frontier site "Unearthing the Gems of the Small Press" was the tagline I often used for the column to signify that 'Small Pressganged' wasn't just about covering the more established names on the scene but about bringing our readers exciting work from newer creators they may not have been aware of.
Nowhere were the opportunities to do just that more apparent than at the twice yearly Comica Festival Comiket in London which is always an Aladdin's cave of British indie treasures. It was at Comiket in 2012 that I was first introduced to the work of Becky Bagley in the form of her quite wonderful modern fable Tick, the story of a tiny steampunk mechanical man from another age discovered abandoned in an old house by its new owner.
I commented back then that "Younger readers will love it as an enchanting tale of a lost robot in a contemporary world. Adult readers will find it speaking to them on much deeper levels because Tick is as much a story about feelings of redundancy and isolation, of the importance of a sense of purpose and of knowing our place in the world, as it is an urban fairy tale" and concluded by saying "If you don't instantly fall in love with Tick after a first reading then, quite frankly, you have no soul…"
It's great praise indeed, given how many comics I have covered here, but Tick remains my favourite piece of work to be featured in this column in the two years of its existence, one I have consistently championed, and an excellent example of the 'Small Pressganged' commitment to introduce our audience to the next generation of incredibly talented creators. It sums up everything we are trying to achieve here in bringing lesser known lights to your attention and to make a tangible difference to the profile of up and coming comickers.
Read my review of Tick here and my recent interview with Rebecca Bagley here.
Those Small Press Spotlight On… features
From the very beginning I wanted to use 'Small Pressganged' to provide small pressers with  an opportunity to chat about their work to a degree that they might not get elsewhere, and to do so with carefully researched and focused questions that went well beyond the usual formulaic templates so common across the online world. I mention a couple of interviews I was particularly pleased with below but every creator who has taken part has spoken at generous length, and with a palpable passion about their process, technique and what the medium means to them.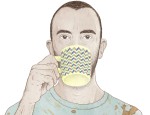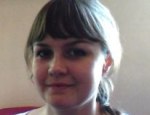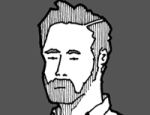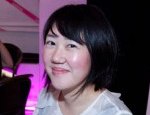 Just some of my interviewees over the last two years – AJ Poyiadgi, Katriona Chapman, Owen D. Pomery and Zarina Liew
When we moved to the new BF site I was able to group together interview coverage more logically under the 'Small Press Spotlight On…' banner and the last five months of interviews can be easily accessed in one place now (all the older ones are, of course, still available on old Broken Frontier).
You can access all the 'Small Press Spotlight on…' interviews since May 2013 here
Douglas Noble on his Strip for Me Comics – July 26th, 2012
"I think anything that a reader finds… is theirs to take away" – Douglas Noble
It's always rewarding to get a set of interview answers back where the interviewee has really engaged with the process and this 2012 conversation I had with Douglas Noble, that master of the dark and self-consciously obscure narrative, remains one of my personal faves. It embodies everything I was looking to achieve in this strand of the column.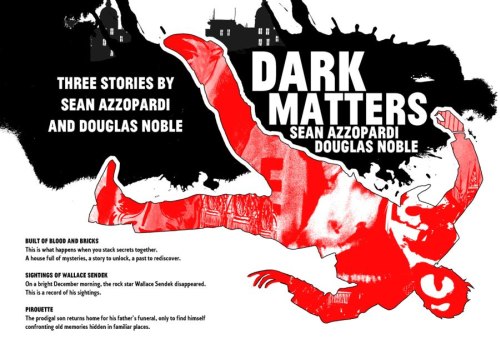 Being the fiercely intelligent and fascinating individual that he is, Douglas responded with gusto and the result was one of the most interesting discussions on process, narrative structure and storytelling intent I have ever had with a creator at Broken Frontier. Check out Douglas's site for more on his range of comics including the chilling horror anthology Dark Matters, the mechanised madness of Robotnik, and the end-of-the-world ennui of Complex.
Read my interview with Douglas Noble, 'Noble Intentions: The Eerie World of Strip for Me', here
The Rise of the UK Small Press Anthology
As mentioned above we kicked off 'Small Pressganged' with an interview with Tom Humberstone on Solipsistic Pop. The rise of the UK small press anthology has been a most noticeable phenomenon over the last couple of years and I've covered a plethora of them here. Rather than glut the market, however, and despite often drawing on a similar pool of talent, they have all managed to retain their own unique voices and approaches to anthology publishing.
ink + PAPER, Team Girl Comic and Wu Wei, edited respectively by David O'Connell, Gill Hatcher and Mike Medaglia
From the newspaper style presentation of Paper Science and the underground vibe of The Comix Reader, to the community spirit of Team Girl Comic and the artzine approach of the graphite-based Tiny Pencil, through to the "Sunday supplement"-stylings of ink + PAPER and the kick-ass, in-yer-face attitude of Bimba, each and every one has been a delight to review.
Avery Hill's knowingly old school small press Reads, Mike Medaglia's spiritual Wu Wei, the street press freebie Off Life, all-woman anthology The Strumpet… I could just sit here typing titles but this column is already going to be well over word count as it is, so apologies to anyone I've forgotten! What is always a pleasure when reading material like this is the chance it affords for discovering new talent that you can then investigate further. As I've said on numerous occasions here, all of these anthologies provide the perfect entry point for anyone wanting to make their first forays into the UK SP scene and richly display the splendid diversity of the creative styles involved.
Jade Sarson Announced as Best Emerging Talent Nominee in the British Comic Awards – September 2013
"With Cafe Suada I wanted to do what tea and comics do for me: make people feel good." – Jade Sarson
This was exactly the sort of news that warms the cockles of an old small press promoter's heart. Back in September, when the British Comic Awards nominees were announced, I was immensely pleased to see the name of Jade Sarson on the list for the Emerging Talent award. I believe we were the first site to review the print editions of Jade's Cafe Suada series and to see another creative voice we had done our modest part to push being recognised was a joy.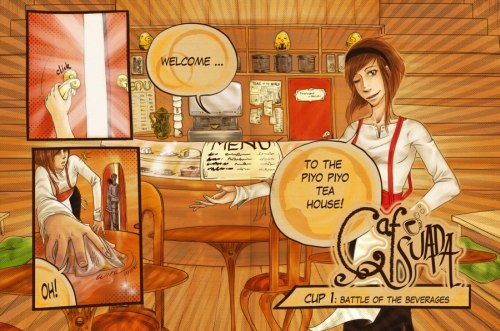 The manga-influenced Cafe Suada is an uplifting feelgood comedy centring on the rivalry between a tea shop manager and her coffee house rival next door, published as a webcomic first before it makes the transition to print later. Well worth your time, and congratulations again to Jade on the nomination!
Read my review of Cafe Suada #1-2 here and my interview with Jade Sarson here.
A Global Perspective: Widening our Outlook
When we first started out our focus was heavily UK-centric. As the months have gone by that's something that has evolved organically as interest in what we were trying to achieve spread far beyond the British Isles. Since 2011 we have covered comics and creators from across the globe including the U.S., Canada, Australia, Italy, Finland, Mexico, Germany, Latvia, Sweden, Spain and Argentina. (A particular thank you to Latvia's Kus! comics for their sterling efforts in bringing a host of international creators to a larger audience!)
One of the Latvian publisher Kus' mini kus offerings, Kevin Budnik's autobio Our Ever Improving Living Room from Chicago-based Yeti Press, and Lou from the U.S. minicomics specialists Oily Comics
And if the British small press scene is ably represented by the anthology format then it's the rise of the micropublisher that has summed up its North American equivalent in the time we have been publishing 'Small Pressganged' with 2D Cloud, Oily Comics, Retrofit, Yam Books, Yeti Press and Koyama Press output, all getting coverage here.
I'm always on the lookout for more books outside of the UK to cover and international small pressers can get in touch with me via the Broken Frontier Contact page here.
The Broken Frontier Relaunch: Alys Jones and Beyond the Wire – May 8th, 2013
"I'm fascinated by exploring the position of the reader within a narrative, and the power struggle that exists sometimes between authors/artists and their characters." – Alys Jones
When we relaunched Broken Frontier in May, with a more defined mission statement to expand our already established commitment to diversity in comics, we led with a review of First World War graphic novelette Beyond the Wire and an interview with its creator Alys Jones.  It was a book that was thought-provoking and experimental in terms of both storytelling and physical presentation and the article was an excellent fit for that statement we were trying to make about the new BF.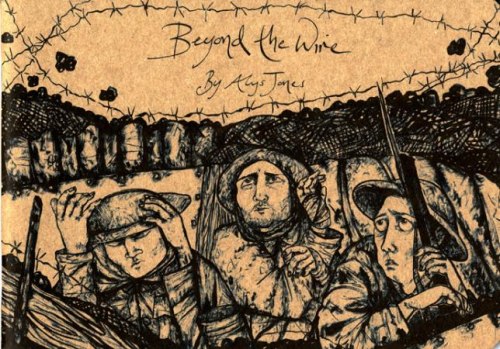 And that was entirely down to writer-artist Alys Jones who spoke so thoughtfully about the crafting of the project, its metafictional leanings, unique physicality, and its delicately constructed narrative framework. An absolute must-read interview and a creator you should be keeping a careful eye out for in the future…
Read 'Small Press Spotlight on… Alys Jones and Beyond the Wire' here
Celebrating 2012: Ten UK Small Press Comics You Need to Own! – December 20th, 2012
At Christmas last year I rounded up a list of 'Ten UK Small Press Comics You Need to Own!' looking back on some of the British books I'd covered that year that every self-respecting small press fan on these shores should have in their possession. It was an incredibly difficult list to compile given how many wonderful comics I had read that year. Including it here gives me a chance to namecheck a number of creators and projects who I might not have squeezed in otherwise including Howard Hardiman and The Lengths (recently collected by Soaring Penguin), Lizz Lunney's amazing minicomics, Philippa Rice's My Cardboard Life, Simon Moreton's Smoo Comics, and Sean Azzopardi and Douglas Noble's Dark Matters among others.
Work from Howard Hardiman, Lizz Lunney and Simon Moreton – three 'Small Pressganged' favourites…
Re-reading that column now I am reminded of just what exciting times these are in UK comics and just how difficult a task it will be to come up with a 2013 list in just a couple of months…
Read Celebrating 2012: Ten UK Small Press Comics You Need to Own! here
Rol Hirst on Two Decades of Self-Publishing – November 24th, 2011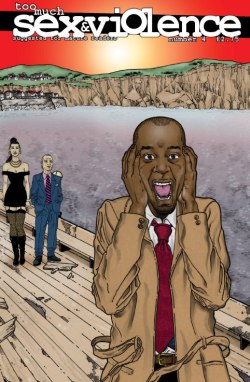 "All of the fun is in seeing how each artist interprets the script – and there have been some wonderful surprises along the way." – Rol Hirst
It may amuse some of you to read this but, in another life and another world (a dark, soul-destroying and quite terrible place that we called "the 1990s"), I was a semi-regular "face" on the lettercols of Marvel and DC comics. Ironically enough it was through that selfsame world of super-heroes that my initiation into the joys of the small press began when fellow letterhack Rol Hirst spotted my letter in an issue of Spectacular Spider-Man and sent me his self-published comic The Jock – a dystopic tale of freedom-fighting D.J.s taking on the might of the evil YOURENT corporation.
The Jock opened up my eyes to the possibilities of small press books and it's no exaggeration to say that it became one of my very favourite comics during the '90s.  In that respect my interview with Rol Hirst – one of the most under-appreciated writers in the UK small press – felt like things had come full circle. I spoke to Rol about what then was his new book Too Much Sex & Violence, a gloriously dark and twisted black comedy in the vein of Psychoville and The League of Gentlemen. You can buy Rol's comics here.
Read my interview with Rol Hirst entitled 'The Coastal Town that they Forgot to Shut Down' here
And there we go. Just a few highlights from an incredibly exciting chapter in the history of self-published comics.
There's a handy comparison I drag up every time I want to make the point that the boundaries between the small press and pro publishers are shifting and blurring, and that's to point at the way in which at the time the last incarnation of DC's WildCats series was reaching its final issues two or three years back, our own The Comix Reader had a print run that was nearly double that of that one-time sales titan of the 1990s. Just comparing the small press section in Gosh! Comics last week with the Marvel/DC area I was immediately struck by how, in terms of presentation, most of the self-published books were indistinguishable or even superior to the "self-covered" cheapness of their professional counterparts.
Putting aside such comparisons for a moment, though, let's never forget the true heart of small press comics publishing: its democracy, its ethos that if you have a story to tell then you can just get out there and tell it, and its sense of supportive community. Whether its been a comic with slick production values, or one that has been lovingly photocopied and assembled with a stapler in someone's front room, it has been a pleasure and a privilege indeed since 2011 to be able to spotlight work/creators that may have had only limited coverage otherwise, to celebrate the vitality of the D.I.Y. culture that the small press scene embodies, and to promote the unfettered creative vision therein.
And this love of self-published material is hardly just the niche interest of the devotee. Just look at Myriad's publication of The Black Project and Billy, Me & You, or Soaring Penguin collecting The Lengths, or Fantagraphics doing the same with The End of the Fucking World, or Blank Slate's championing of Joe Decie, Lizz Lunney, Donya Todd and more, or Titan picking up Spandex and Harker. I could go on and on but it's clear that work originating in the small press is making the transition to professional publishing with a regularity that would have been inconceivable even a decade ago.
Thank you, then, to every creator and micropublisher who has engaged with us to date, every person who retweeted on Twitter or shared a link on Facebook, and every reader who got in touch with me directly to say how much they had enjoyed something they bought on the strength of a 'Small Pressganged' recommendation. Please don't be shy about sharing your thoughts in the comments section below. And here's to the next few years of small press comics coverage at Broken Frontier.
Trust me, we've barely scratched the surface so far…