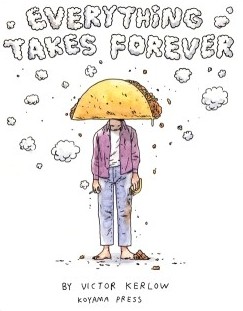 Victor Kerlow's Everything Takes Forever, published by Koyama Press, is a collection of the Manhattan-situated artist's splendidly peculiar and dreamlike comic strips. Characters with tacos for heads compete with the ultimate embodiment of mini-me for the title of oddest Kerlow creation in 60-odd pages of some of the most gloriously freaky comics it's been my pleasure to be subjected to this year.
The theme of dreaming, and fading in and out of reality, is a frequent one in Everything Takes Forever. There's a definite 21st century Dream of the Rarebit Fiend vibe to some of the work on offer here and a distorting of the boundaries between the conscious and the subconscious. The five-pager 'Weird Things Downstairs' is a brilliantly discomforting evocation of the frustration of a sleepless night, for example, and 'Big Mouth' embraces that familiar cyclical element of the dreamscape in popular culture to disquieting effect.
There's something more than a little Kafkaesque to the longer form 'Little Guy' wherein the strip's protagonist wakes up as a miniature version of himself in the same bedroom as the "real" him and his girlfriend. This somewhat Freudian flight of fancy is probably the most intriguing piece on offer here although the several appearances of the character Taco Head, the book's cover star so to speak, will no doubt stick in most reader's minds the longest. This unrestrained exercise in being ludicrous for ludicrousness's sake is a triumph that deserves further exposure immediately. There simply aren't enough representations of people with fattening fast foods for faces in the modern comics scene.
With its self-indulgently surrealist approach and those ink wash visuals Kerlow's work reminds me a lot of Joe Decie in both tone and presentation. A kind of markedly more vulgar Joe Decie, admittedly, with the bizarre factor dialled up to '11' and unleashing the very darkest corners of his soul onto the drawn page, but that's certainly no bad thing. If you're a fan of work like Decie's The Accidental Salad or A Pocket Full of Coffee you'll find something to inspire you here I'm sure. I'm also reminded of other U.K. small pressers like Craig Collins whose Roachwell has a similarly dark and fantastic humour to it, or the utter randomness of some of David 'Ziggy' Greene's strips.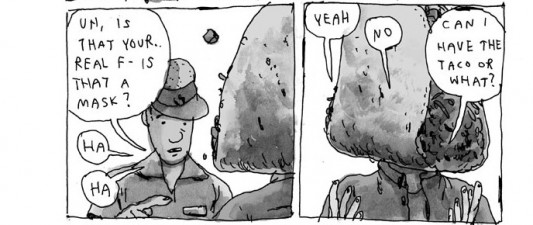 Coverage of Koyama Press output has been long overdue in 'Small Pressganged' here at Broken Frontier, as the Canadian publisher's rather wonderful output sits somewhere between the U.K.'s own Nobrow Press and Blank Slate Books in terms of its eclectic indie publishing approach. Victor Kerlow's Everything Takes Forever is an excellent starting point for those wanting to investigate their books further. An unmissable, eccentric oddity just perfect to enjoy with a pint or three of your favourite tipple…
Everything Takes Forever is published by Koyama Press priced $10.00. For more on Victor Kerlow check out his site here.