Just keep running, and maybe they'll give you an Oscar. Or is it all a Mirage? This surreal and engaging trip through the centre of American glitz and glam from Koyama Press is all kinds of fun. Don't worry if you don't know much about Bradley Cooper.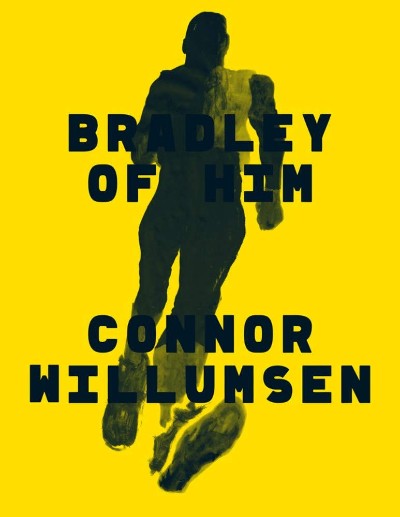 Bradley of Him by Connor Willumsen follows a semi-mostly-fictionalised version of a few days in the life of Bradley Cooper. In a parallel near-future the actor is bald, and wears a disguise of a moisture-wicking skull cap and mirror shades as he runs long distance through Las Vegas and the surrounding countryside – presumably method-preparing for a role. At the same time he's staying in the hotel The Mirage, where he partakes in some light slot machine action, and he's waiting to find out whether he has won an academy award for a fictitious film. Also he's writing a letter to Robert De Niro. It is quite pretentious and I enjoyed it a lot.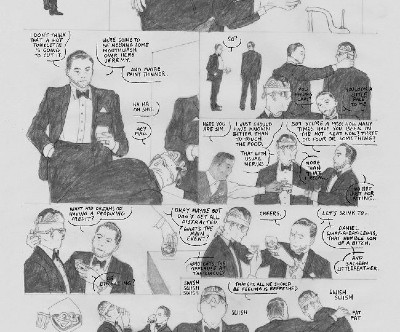 I guess with this kind of work, what you get out of it does depend on how much you know about the subject matter that's alluded to. I enjoyed it a lot without knowing much about Bradley Cooper, and never having been to Vegas; just a very basic sort of background knowledge I suppose. Afterwards I was moved to do some research because I knew I had to write about it, but I don't think I would have bothered otherwise. Bradley of Him works well as an oblique piece of surrealism, you don't need to know a lot about the actor. But if you do, yeah, there's more layers. Ultimately it's not at all a book about Bradley Cooper. Cooper is a vessel that Willumsen uses to personify our perceptions of celebrity – how the identity of famous people exists in a shared space between reality, the audience and the media. In this way all the way through the book feels not like the central character's experience, or an objective story of what happened to him as told through panels of story, but rather like the adrenaline rush of voyeurising a celebrity in real life. Like if you realised that you were actually at the next table to a movie star and in a position to eavesdrop on their conversation over dinner. Very specific but without context or boundary.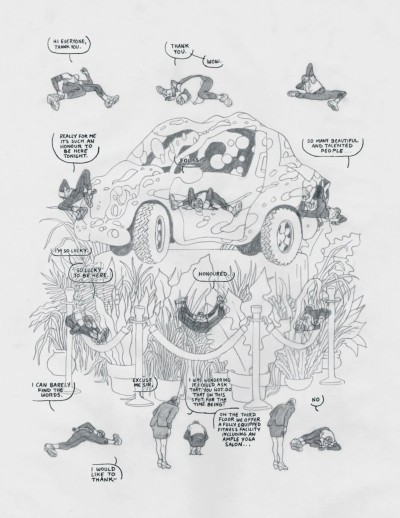 There are also almost no panel borders in the comic at all, but there is never any question of the order of events, the images run very smoothly. The pages were created on several layers of tracing paper, working with ink and graphite on both sides and then combined digitally
A fever dream running through Vegas, the desert, memory, award ceremonies, hallucinations, it's also about how it feels to run, and how it feels to stand still. Images and words weave around and through each other, sometimes in synch, other times quite out of kilter. It's quite a heady experience, being in the scene, of the scene, above the scene etc. simultaneously.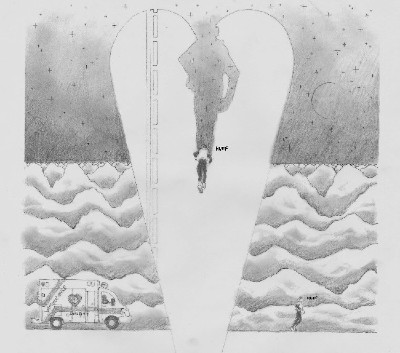 This comic evokes the tension between the mythic status of celebrities and the fact that they still experience life in a, no matter how warped, reality the same as ours, with boring bits and day to day events. And in another way it looks at how everyone's day to day lives interact on some level with the capitalist surface of things; the high intensity commercialism and superficial construction of places like Las Vegas are never completely separate from messy human banality.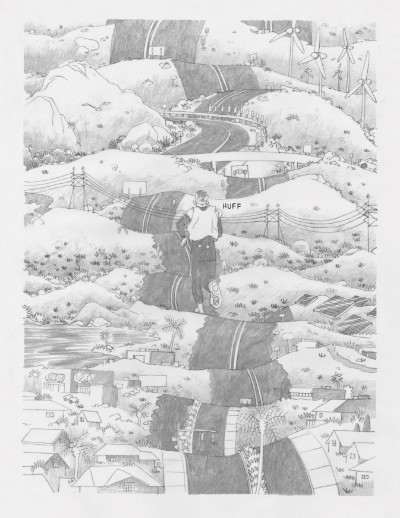 Visually there are echoes of Windsor McCay in the ponderous, characterful images of characters walking; in the layered multi-storey page compositions. Willumsen studied alternative uses of perspective in ancient Chinese hand scrolls, but this is more of an almost cubist approach to recording a narrative. It's a fully embodied observation. Sometimes focusing on rolling vistas, other times on small details. The depiction of a shower is particularly poetic. I can't get over this one drawing of the droplets emerging from the showerhead. Dialogue with members of the extended cast is almost too on the nose. Excruciatingly, surreally real. Another of my favourite parts is where a casino official explains to Cooper the status and process behind the creation of a one of a kind car that is offered as a prize in the casino. Peeling back the layers of how absurd and unattainable the vision of such items is, like celebrity status or awards, but how this is all part of experience and no-one seems to mind.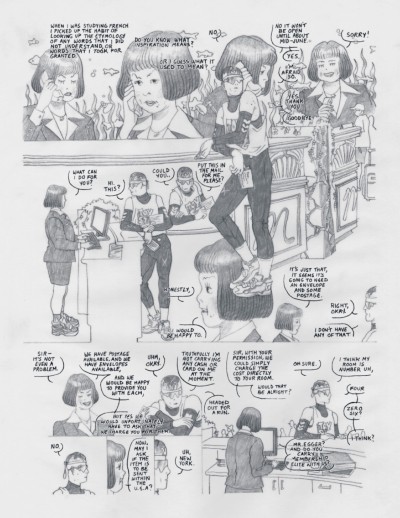 It's funny because, as this book highlights, the awards culture around movies is all kinds of skewed. There's this intense focus on the lead actors and actresses while a movie is a thing that is made by so many, many people. In contrast a comic is often a thing made by just one person, or at most a handful of people. That creative control is very intense. So in a way comic artists are the only people who really should have the celebrity status of movie stars, right? I'm joking. But maybe our egos are comparable. In a way you could compare this to the way that an individual's experience of the world interacts with the shared cultural experiences of society. Who was I accusing of being pretentious again?
Bradley of Him is both strange, wondrous and immensely readable. Another high quality offering from Koyama press.
Connor Willumsen • Koyama Press, $15.00
Review by Jenny Robins