The North of England in the Nineties and teenage student Iris's life is fast becoming defined by her experimentation with drugs in Mardou's slice-of-lifer from Yam Books…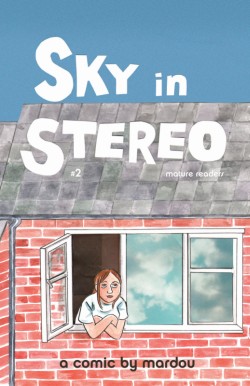 Last year I reviewed the first issue of Mardou's coming-of-age tale Sky in Stereo here at Broken Frontier describing it as "powerful but subtle character-led storytelling; like gritty '60s British kitchen sink drama but with a compelling contemporary twist." We've had a long wait for this second instalment of the story of Iris, a 17-year-old young woman growing up in 1990s Manchester, but the interval between issues has clearly been well spent because what we have here is an outstanding and nuanced look into the confused mind of a teenager standing on the brink of adulthood.
That first issue had a significantly different narrative approach in that it established Iris's world for us, carefully building up the drudgery of her dead end job in a fast food franchise, the sometimes superficial social structures that make up our relationships with our peers at that age via its depiction of a large cast of supporting players, and the reckless behaviour that often typifies that period in life's great journey. That final theme was exemplified by her fixation on her workmate Glen whose initial dabbling in drugs had intensified, becoming something far more disturbing by that episode's end.
In contrast to the scene-setting opening this second issue is far more insular and takes place over the course of just two or three days. The main thrust here is both the experience and the aftermath of Iris's first acid trip and, as such, the interactions with other characters outside of her immediate family are far more limited this time round – the subplot surrounding Glen's deteriorating condition, for example, is put on hold for the moment (beyond him being the supplier of the microdot she takes). Sky in Stereo #2 is a much quieter character piece in many ways, then, focusing on how the boundaries of Iris's perception are challenged by this experience and how, for the moment anyway, her perspective on her existence is changed.
It's a solitary piece of storytelling wherein Mardou brilliantly captures her protagonist's detachment from reality both through her inner dialogue and some playful visual representations as she wanders around her hometown. A mindbending soliloquy on the chaos of the universe that is slowly encroached upon by the mundanities of life as the issue progresses, culminating in a row about her drug use with her mother that is a stark reminder of both the thoughtlessness of youth and how Iris's attitudes have been shaped by the negativity of her strained relationship with her unpleasant stepfather.
The power of Sky in Stereo is that the reader doesn't just recognise Iris… they almost feel they know her. There's a familiarity about her outlook that will take you back to those last intoxicating days of youth with all its insecurities, doubts and overt self-analysis. Mardou is a masterful purveyor of mood and atmosphere and, in her Sky in Stereo, we have slice-of-life comics at their most insightful.
Sky in Stereo #2 is can be bought here from Yam Books priced $6.00 with the first issue available on Mardou's online store. For more on Mardou's work check out her blog here.
Follow Andy on Twitter for regular small press updates.