A future dystopia, a likeable loner who can talk to God, and the re-animated corpses of the Nazi undead all feature in the first offering from Dapper Chimp Press.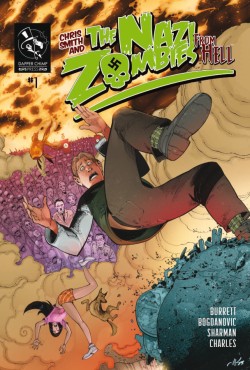 There are two things I need to say upfront about this book before launching into some quick discussion of its contents. Firstly, a comic called Chris Smith and the Nazi Zombies from Hell does lend itself a little too easily to being prejudged and dismissed on that nomenclature alone. That would be a shame because behind that rather brash title there's a new creative voice in debut writer Julian Burrett that shows some definite potential. Secondly, this is the first issue of a serial comic series and the basic premise, as embodied in that aforementioned title, doesn't finish setting itself up until the final page of this opener so it's impossible to discuss the book without positively bombarding you in spoilers.
It's Britain in the year 2020 and the far Right has swept to power across Europe. In Swindon, downtrodden nice guy Chris Smith has a secret or two that he's keeping  – he can apparently talk to God, bring dead animals back to life and has a peculiar link to the whims of fortune. In short, "it's like the universe owes him a favour." When, fleeing an abusive relationship, Tina Tandy enters his life as his lodger then events take an even more bizarre twist. Tina's mother, an outspoken critic of the fascist regime, is abducted by the authorities and her colleagues involve Chris in their discussions about the situation. Unfortunately for all concerned, and while in a drunken state, our hero decides the best way to deal with one group of right-wingers is to face them up against a worse ensemble. That's when his odd relationship with the powers that run the universe kicks in and a hungover Chris wakes up in Hell with the forces of the Nazi undead at his command…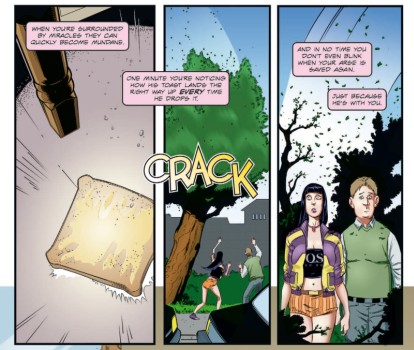 As I said we have a comic here with a title that's as likely to deter as many people as it attracts with its unrepentantly, tongue-in-cheek  B-movie overtones! However, it's worth mentioning that it comes from Pete Rogers's new Dapper Chimp Press imprint so there's a solid pedigree of small press publishing behind it (and if you have very long memories you may remember I had positive things to say about Rogers's graphic novel The Interactives a couple of years back here at Broken Frontier).
This is an assured first published project from writer Julian Burrett – in places it feels very much like one of those oddball curve series that 2000 AD has thrown out from time to time over the years – and the newbie writer does a fine job in providing us with an identifiable and sympathetic protagonist. Indeed, our titular hero seems to stumble blindly through his own comic in a most endearing and likeable way, always reacting to events and never initiating them until those final, fateful last few pages…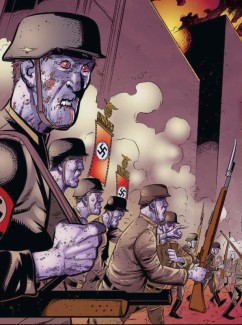 The art team of Vik Bogdanovic (pencils) and Ian Sharman (inks) ably bring this world to life, especially in the realms of characterisation. Poor dishevelled Chris has a haunting quality to him, particularly in his facial expressions and Ffording, the villainous fascist leader of the U.K., has such a smugly villainous presence visually that the reader can't wait to see him get his (hopeful) eventual comeuppance. While the netherworlds of Hell are seen only briefly in this issue they do have an impressively sinister majesty to them. A final mention to John Charles's meticulous colouring: eye-catchingly vibrant when it needs to be and grimly atmospheric when a more muted tone is necessary to advance certain scenes.
As with any serial story the true moment to fully assess it will be when the final part is sitting in our hands but as an opening issue this is a promising start, combining a kind of existential slapstick with very real topical concerns about the rise of the extreme right-wing. Just as a book should not be judged by its cover neither should this comic be judged by its title alone….
You can order a copy of Chris Smith and the Nazi Zombies from Hell here priced £3.00 plus postage.