Rebecca Bagley is a name that will be familiar to long-term readers of 'Small Pressganged'. She's the creator behind the contemporary fable Tick, much championed in this column here and a choice for my '2012 Ten UK Small Press Books You Need to Own' round-up last year. She's also the artist behind the boxing-themed zine Rumble reviewed here at BF, as well as The Day I Met a Fatty, The Performer and Bears: Don't Like 'Em, amongst others.
In the near two years that 'Small Pressganged' has been running at Broken Frontier it's been a privilege to play our modest part in bringing worthy small press projects to a larger audience. Every so often, though, a book has come along that has particularly excited me and re-ignited that sense of awe and wonder that attracted us all to this medium in the first place. Tick was one such comic in April of 2012 so it's a pleasure to be able to speak in depth with Rebecca (self-portrait below right!) today about that strange little steampunk homunculus, the mechanics of communicating ideas on the comics page, and her extreme case of ursaphobia…
BROKEN FRONTIER: Regular Broken Frontier readers may recognise your work from past 'Small Pressganged' reviews including the 'Ten UK Small Press Comics You Need to Own' round-up from the end of last year. Could you give us a little background on your route into the world of comics?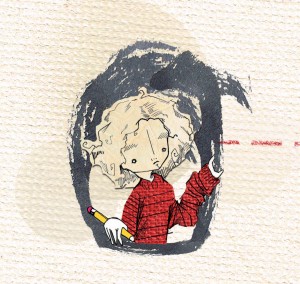 REBECCA BAGLEY: It was a slow burn for me, slowed further by an ignorant prejudice I'd developed from somewhere. I'd grown up always aware of and supportive of comics but I was never particularly a collector, to be honest I mainly just watched those '90s cartoon adaptations! Throughout school I was studying fine art and definitely I had that teenage phase where I picked up a few mangas here and there, mainly for the interest in contemporary eastern art. I had a bunch of Calvin and Hobbes too, but I can't say I ever really took it seriously.
I'd never much cared for the traditional, American art style that I guess I assumed was what comics were, it didn't fit in with the kinds of art I was being exposed to. I think the way art is taught in schools narrows your perception of what it can be. I've always had a love of and passion for narrative, I read a lot growing up and I played a lot of RPG video games, always for the story, but comics for me were all about the art and the two things seemed separate.
It wasn't really until I was studying my foundation diploma in Art and Design that I really discovered what the term "comics" could actually mean. That discovery changed everything; the fact that it didn't have to involve pants over trousers or primary colours. That it could actually be an intelligent collaboration between image and story: my two real interests. From then on really, I just wanted to marry the two and discover all the different ways it could be done.
BF: What's the specific appeal of this medium for your storytelling? And how did you become involved in the small press circuit?
BAGLEY: So this realisation that there was a platform for marriage of written narrative and art pretty much blew my mind. Seriously, through school I just thought I wasn't good at "art" because everything I did told a visual story! I thought I was supposed to be more vague and conceptual! And from here I developed interests in typography and layout and how to get your reader to have the response you want. I love that. Trying to control how the reader is going to look at something.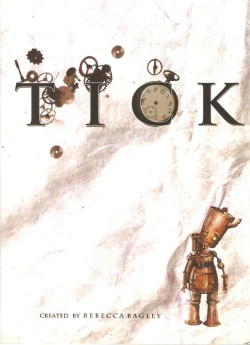 I try to use the number of frames and the arrangement of them and the text on the page to speed up and slow down how they read. I see it as a little bit cinematic, trying to create movement in stills and getting them to see that movement you've invented. It's tough to get that balance. It's why I find collaborating harder, it's so common to find a comic where you're either really into the text and miss the pictures, or vice versa. Tick was my first attempt at striking this balance. I'd written The Day I Met A Fatty the previous year, but it had been without words which is a challenge in itself, it felt like an introduction to comic visual structure, then with Tick I could look more at the way image and text could work together. I guess a lot of visual communicators do it without realising, but I felt I'd just uncovered it, so knew I had to give it a go to see if I could. I don't know if you ever get it perfect, but I'm trying to learn!
So having written it I knew I wanted to do something with it. During my diploma, I'd been introduced to the idea of zine fairs and art shows so I thought I'd get it printed to see how people responded to it. I took it down to my local comic shop, Whatever Comics in Canterbury. That place is amazing, it's run by the nicest people you'll ever meet. The owner, Manny, got pretty excited about it and agreed to sell a few and send a few out to some contacts. People seemed to respond pretty well to it, so I followed the trail of zine fairs and ended up booking tables at conventions and things. So I guess, here I am!
BF: The single work you're probably best known for is Tick – a captivating story about a tiny long-lost, steampunk-style robot discovered in an old house who finds himself trapped out of his own time. As I said in our Broken Frontier review it's a beautiful tale about redundancy, loneliness and the perceived importance of knowing our place in the world. What was the inspiration for this very personal story?
BAGLEY: It sounds like a cliché. That's because it is a cliché, but pretty much growing up there's this idea throughout the school system that you do education, further education, get a job, die. That's the correct order of things. I finished my diploma and took another year out before starting uni (in which Tick was written) and realised that I didn't HAVE to go to uni if it wasn't going to help me. I think a lot of kids take for granted they're going to go, then get out and are just as lost as they were when they went in.
I thought a lot in that year about my options and what I could and couldn't do and I guess it was the first time I'd really thought independently of that very linear sequence of events you grow up taking for granted. I suppose I'd been thinking about what I wanted to achieve in my life and what steps were going to help me get there. I was working a job I hated while a lot of my friends were moving on and surrounded by really nice people who were often in hard situations and I just thought "these people are more than this." I suppose in that year, I was thinking a lot about what it is that defines your social and personal value. I guess now I don't think it's any one thing, but it can often be judged as such.
Sample pages from the amazingly rendered Tick
BF: I've described Tick as containing "stunningly composed, unforgettably atmospheric visuals" at BF in the past. In terms of your illustrative process could you talk us through the composition of those poignant and emotionally charged pages?
BAGLEY: Like I touched on earlier, I like art, I like words and I think composition is vital for working the two together. I'd drafted a storyboard based on what had to happen on what page so the breaks when you turn the page were comfortable in the story. Then every page ran in my head like a film. I saw the scenes as moving and read the text over the top like I was watching a movie. So I knew how I wanted people to see it, I wanted to control the whole thing like that so the right image was read with the right line of text with the correct speed and pauses etc.
I had it all figured out and just broke it down. I'm very into language and I think I understand how punctuation works in terms of creating the correct emphasis when you read, so I just used that same system and applied it to the visuals. For example, I broke the moving image I imagined down into what I deemed the necessary stills to communicate that movement (often you don't need many, brains are good at filling in the blanks) then built it back up when things were moving too quickly.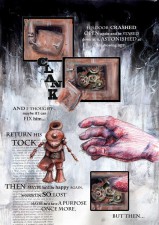 For an emotional section (such as the page where his cog falls out, right) you want to slow down the reading to give an action emphasis. I slowed down the movement of the hand by "zooming in" I guess, so there was build up, ended the page with text and an ellipsis so it directly leads on to the next page, and used the image of the fallen cog in conjunction with his saddened face to allow the reader to work out what happened. The text then comes in to solidify this point, but doesn't say so directly, and the reader does the rest simply by reading left to right.
I always make use of the natural way people read. If you can ask people to change the natural way they do things as little as possible, I find your work is stronger. People should always know which frame follows which, and they'll generally assume it's left to right, up to down. Mind you, that's not hard in my work. I use so few cells it's rarely up for debate! I suppose I'm a bit of a lazy artist like that. I like the drama of full page work. When it's appropriate, of course.
BF: Tick has that genuinely all-ages appeal to it in that adults and children can enjoy it on different levels – as an allegorical tale or as a touching urban fairy tale. What sort of feedback have you had about the book, particularly from younger readers?
BAGLEY: It's funny, I never considered children when I wrote it. But then, I never really considered anyone. I wrote it as an experiment for me and then hoped liked-minded people will get it. Not sure what the fact it's so suitable for kids says about my mind but there we are! I wanted "people", whoever that may be, to care about Tick the character and I guess the easiest way to do that is to make something cute, vulnerable and childlike. Once he was designed like that, it didn't seem appropriate to treat the story in any way other than making it comparatively child friendly.
I like that kids like it. It proves to me what I've always suspected, kids can handle the truth. They like an element of dark seriousness, I hate the way children's tales are often so bloody cheerful, it's not realistic and it's not interesting. Sure, a lot of kids probably miss a lot of what I wanted the story to be about, but I think the tone is fairly unmistakeably dark, purely as a result of the amount of black pastels in the artwork…
Actually, I had one girl like the design of him so much, she came to a book signing I did having done loads of little drawings of him and asked me to sign it. It was great! I remember doing that, copying my favourite character designs. That was such a nice thing, realising I'd invented something that spoke to her.
BF: Your zine Rumble was another Bagley creation that was reviewed here at BF last year. What feelings were you looking to evoke with those bestial re-imaginings of famous boxing matches?
BAGLEY: I won't lie. I kinda just thought it was a bit funny. Like I've said, I like language and a good, cheesy pun is no exception. I've always had an odd fascination with boxing and how differently people view such severe violence based on its context. And it does weird things to my psyche. It makes me really aggressive when I've been watching it, I get really drawn in. It's quite frightening!
I see that behaviour in animals, especially my cat. He's such a loving pet, but you get him wound up when he's been hunting and his eyes go black and his manner completely changes. We're not used to seeing that in people, polite society has beaten it out of us, yet it's allowed and encouraged in that context. It's a simple link to make, between us and other beasties, but the simplicity seemed to work for Rumble.
BF: Thinking more broadly, who do you count as influences on your style, both within and outside the world of comics?
BAGLEY: SO MANY. I'm awful, I collect things from all over. I take nicely designed menus from restaurants. Seriously, I have a folder of well designed booklets and promotional material.
My book shelves are stuffed. I sort of think you should take in and learn from everything, even things you don't really like. I analyse everything I buy/see and work out why it does and doesn't work in the hope it will help improve my work. I love a lot of artists/designers/writers who all work in different ways. I have Batman comics from various points in his lifespan, I have David Mack comics, a host of children's books, Calvin and Hobbes comics, pop-up books, anthologies, compendiums, Lewis Caroll, Grimms, German cautionary tales… I love it all.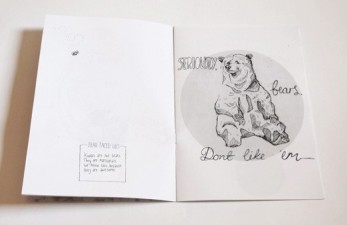 The Bagley dislike for all things ursine can be experienced in her zine Bears: Don't Like 'Em
People have said Tick reminds them of Dave McKean's work. That's always a real jaw dropper. He's obviously the oracle of visual communication. And Shaun Tan too, he's a personal hero I've been likened to. I'm influenced hugely by the way they tell stories, but really I'm influenced by everything around me. If it's printed or visual, I'll learn something from it. 
BF: The U.K. small press scene is in a robust state of health at the moment with festivals like Comica Comiket, ELCAF and an upsurge in zine fairs for creators to showcase their work, and supportive shops like Gosh!, Orbital, Page 45 and others all doing their bit. At the same time, the rise of small press publishing also means that competition for those all-important readers has probably never been so fierce.  As a self-publisher yourself, what are the particular challenges you've found in getting your comics under the noses of readers?
BAGLEY: For me it's mainly been time. I've been at uni while trying to keep it going and, as much as you'd think comics and a Graphic Communication course SHOULD go together, I often find myself splitting the two into separate parts of my life and I'm grateful when they do cross over. I'd like to give the small press scene all the attention it warrants, but I keep having to pop back to get on with uni stuff.
I guess, while studying, I'm trying to learn as much as possible, so I want to try new forms of design in the educational field that don't necessarily fit in in a comics environment, while balancing my storytelling passion separately. It's nice though, to get a bit of both. I'm always happy to return to the conventions in London and the Zine fairs in Bristol etc and see all the new work that's popped up. That's the buzz at conventions, the possibility of finding new talent to feed off of, and hoping you do the same for others.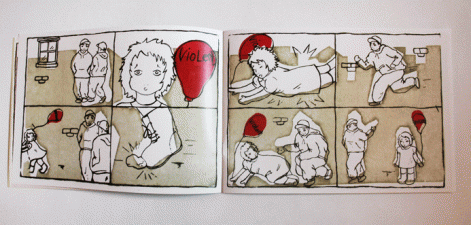 BF: From the screen printed The Day I Met a Fatty (above) to the illustrated playing cards of your Propp Up Theatre Deck (below right) through to the tactile nature of Bears: Don't Like 'Em, one thing that's very obvious about your comics/zines is their diversity in both creative form and physical format. Is that constant experimentation with methods of presentation something you have consciously pursued in your work?
BAGLEY: I get bored easy! Yeah I love to try a bit of everything, how do you know what you want to do if you haven't given the other options proper consideration? I just love making work, be it for kids, for adults, stories, images, products. The creative industry has a wealth of options, you just have to decide where you fit. I've considered this idea of getting one, recognisable style, and I can certainly see the merits of being known for doing one thing really well, but I've struggled so far to commit to anything really strongly. I guess my main thing is narrative and concept, I like my work to say something. I do hope to settle at some point, and really focus my energies on getting a style or a format perfected, but I also want to know I CAN do something else if I feel a job requires it. I'm trying my hand at flat out kids books next. That should be fun!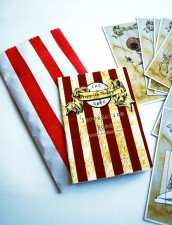 BF: And, finally, what can we expect from Becky Bagley in the future? Are there any upcoming projects that should be on our radars?
BAGLEY: Well, I'm now heading into my third year of uni so if I can't produce something now, I'm really buggered! I've got a few small projects on the horizon as well as a children's book I've just written. I think it's about time I do something to rival Tick in popularity so hopefully I can better it. I can't say exactly what will have been done this time next year, but I'm pretty sure it will involve pictures and am hoping desperately it won't involve bears.
For more on Becky Bagley's work check out her site at Bagley Books. The comics and zines mentioned in this interview can be bought from her online store here. You can also follow her on Twitter here.