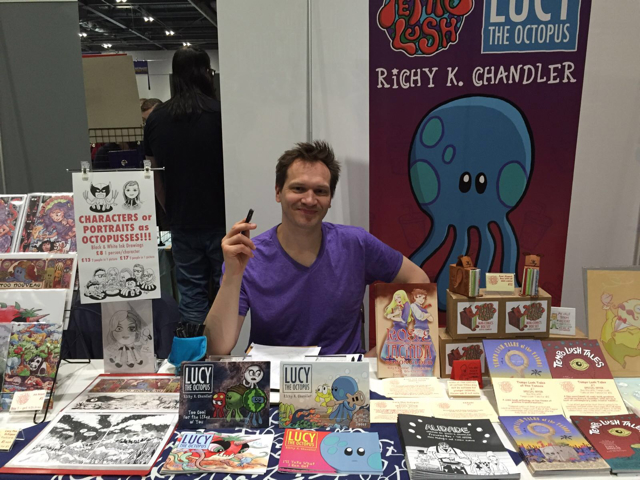 Richy K. Chandler has been self-publishing comics online and in print through his Tempo Lush imprint for a number of years now. Outside of his Lucy the Octopus webcomic, he's curated two Tempo Lush Tales anthologies, co-created Rosie and Jacinda with Zarina Liew and collaborated on Alidade with Francesca Dare, Mike Medaglia, Karen Rubins and Tim Hassan.
With Lucy the Octopus reaching its 212th and final instalment this week, I chat to Richy today about saying goodbye to his flagship creation, this week's celebratory tie-in Small Press Live Show launch night at London's Gosh! Comics, and just what the future holds in store for the ever popular artist…
ANDY OLIVER: We're primarily spotlighting Lucy the Octopus today so for those who may not have read the strip before now could you give us a rundown on the comic and its cast over the last few years?
RICHY K. CHANDLER: Absolutely! Set in the town of Stoneydip, inhabited primarily by octopusses, the strip tells the story of Lucy, a teenage girl so unpopular at her school that there's a stigma associated with any friendly interaction with her. She is bullied and ostracised without any known justification. In spite of this, she doesn't seem to bear much resentment to her tormenters and manages to stay patient and kind towards those around her, dreaming of acceptance rather than revenge.

The meanest kids such as Jessica and Kate seem to be the most popular of course.Plus we have a whole heap of more average kids following the crowd, trying to make sure they are not associated with the likes of Lucy just to survive the school day.

Then there are other teenagers who meet Lucy and seem to get on with her straight away.  However, it's a real test of character when they realise how uncool she is with her peers.  Sandra, the new girl at school, and Sydney the Blue Sea Dragon both have very different reactions to discovering how she is seen by others.

Compounding Lucy's difficult school life is her equally horrible home life. Her parents fluctuate between hostility towards her and complete indifference, while caring for their four other children much more…
Yasmin is vein and shallow, always trying to improve Lucy's dress sense in the hope that it would be less embarrassing if anyone ever found out they were related. Larry is detached and fascinated by the way people treat Lucy, but merely for reasons of scientific research. Justin, as it gradually becomes apparent is also picked on at school, though unlike Lucy, he deals with it by taking out his frustration and anger on others, usually Lucy.

While most characters use Lucy as a scapegoat to pick on, her final sibling Patricia has a genuine loathing for her. Patricia's view is that Lucy is treated far better by their parents than any of the other children in the family and as such really resents her. Her internal logic will justify this axiom in any situation. While Lucy has ended up with the smallest bedroom, Patricia sees this as the cosiest and most desirable. When Lucy's mum makes the children lunch boxes she never bothers to give Lucy a treat such as chocolate biscuit. Patricia sees this as a sign of her mother caring about Lucy's health more than the other children rather than overlooking her.

The saving grace for Lucy and what helps her deal with all the difficulties in life is her guitar playing.  Music is a vital means of escapism and self-therapy for our protagonist, as well as ultimately providing an escape from her isolation, in a way at least.
She also has the support of her pufferfish, Puffy.  While her parents may have deliberately bought the pet for Lucy knowing he was particularly dangerous, Puffy has been a much needed companion and confident to Lucy, even though he can't answer back. The other siblings' pets also seem to warm to Lucy, unshackled by the concerns of what the general opinion of the little blue octopus is amongst the other octopusses.

For all its anthropomorphic fantasy fun and its vibrant colourful world Lucy the Octopus is a strip that deals with some difficult issues. Can you tell us about some of those themes and why you felt this style of comic was an effective way of exploring them?
Essentially the strip is an anti-bullying comic, so tries to shine a light on the ridiculousness of prejudice. It touches on how cruelty can spread and become part of a culture, through the ease of which characters can overlook kindness and loyalty to friends in order to fit in.  Lucy's school is a kind of micro-reflection of society, where our central character is a lonely, harassed outcast. I specifically avoid giving any reason for Lucy being picked on (except in the case of her sister Patricia) in order for as many people as possible to relate to her, and many people seem to. Hopefully, no readers' lives are quite as hard as Lucy's but most people have been through some of the same emotions at some point.

The positive message of the strip is that if don't feel you fit in with the people around, it doesn't mean there aren't a group of people somewhere who would accept you with open arms. There's a lyric in one of the songs I've recently written about for the Lucy the Octopus musical which sums up this idea:
"You haven't found your people yet, but they're waiting somewhere…"
I'm aware that many people have dismissed the comic assuming it must be aimed at very young children based on the visual style. Other readers have commented on the look of the strip contrasting with some of the darker themes but I never set out to make the style a visual joke or point based on that dichotomy. I like cute and funny looking anthropomorphic characters. I was raised on them and never really stopped enjoying them, and have no reservations relating to them.

I'm of course conscious that, along with the humour, the look of the strip can sugar coat the story topics. In the first episode of the strip Lucy imagines her own suicide. We see her dead body as a funny looking fossil. This gives a very different take on that idea than if the characters were drawn as realistic humans in a bleaker colour palette. The whole tale could be reimagined as a more grounded drama in that way.
There are hints in the second half of the story arc that the cute and colourful world Lucy sees herself in may just be a her personal way of looking at the world, perhaps as a coping mechanism. There's very little too suggest the story needs to take place in a world of octopusses. For one year of WASP (Webcomic Artist Swap Project), Manga artist Zarina Liew took my script (below) and did a beautiful human take on the characters, which worked really well.

Lucy tries to re-envision herself and the world around her in different styles to give herself a fresh new outlook on life, but the folk around her still see her the same way and she gets dragged back into her old way of seeing things.

Two hundred and twelve Lucy the Octopus strips is quite an achievement. How does it feel to be saying goodbye to Lucy and her world now?
Thank you!  It feels good at the moment. It's satisfying to put a lid on my biggest work to date after four years. I think I've bought the story to a satisfying conclusion for both myself and hopefully the readers. I will miss the new strips going online every week though and reading the reactions.
Did you always have a finite plan for Lucy? Was there a definite end planned from the start or would you ever consider returning to the characters in the future?
I had an idea of how Lucy's situation would evolve including many key moments years in advance. I knew the story would be finite and that the there would be a progressive arc to the story rather than everything circling back to a status quo, but perhaps if the strip had been picked up by a magazine or something I would have taken longer to get to the conclusion.
There's something very organic about a strip of this nature where you're creating each episode one after another, as oppose to a graphic novel where every plot point can be planned in advance. The downside is you see things you would have liked to do differently.  For example there's a couple of early strips where Lucy's parents and Puffy the Pufferfish act in a way that doesn't seem true to the characters as they became more concrete. I also wish I'd introduced the idea of Lucy being a fan of the band Lamington Fuzz earlier on so it would have had more impact when she had a chance to audition for them.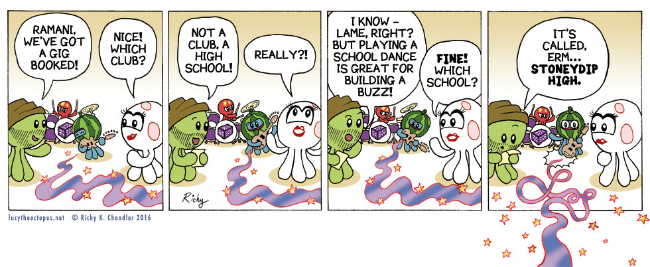 On the plus side you have these lovely serendipitous moments as a writer where characters develop in a certain way you don't expect and take the strip in a different direction. This is certainly the case with cool girl Kate and Sydney the blue sea dragon. I also knew I wanted to tease the idea of Aloof Judy early on though wasn't quite sure how useful she'd be to the story later.
I think it was after drawing around 130 episodes I decided I needed to plan to finish off the strip.  gave myself enough time to work towards the ending without it feeling forced. I would have regretted it otherwise. I've done my best to tie up loose ends in the story but am not against the idea of returning to the world of Lucy and the town of Stoneydip in the future, possibly in a different format like a graphic novel. Seeing the world through other character's eyes could be interesting.

In terms of craft one of the most notable elements of the Lucy the Octopus strip over the years has been your continually inventive playfulness with panel structure, use of colour and presentational styles. Given that sense of experimentation, how much do you think both your own approach to the page and storytelling skills have developed in that time?
Well, part of that is just trying to commit to telling the story as effectively as possible, using all the tools at my disposable. Strips still often fall into place using a simple three or four panel structure but it's great not be tied to it. I was definitely influenced by Tom Gauld's short-lived but wonderful newspaper strip Hunter and Painter which often featured many tiny panels.

There are also points where I just want to mix it up for a bit of visual refreshment for the reader, and a break from drawing in the same style for myself.  As long as it serves the story then I'm fine with it. I really enjoyed doing strips in the style of Bill Watterson (Calvin and Hobbes), Tove Janson (The Moomins) and Alfons Mucha.



While working on the part of the story where Lucy and Kate fall off their school bus into a chasm, I'd been thinking of submitting something to Tiny Pencil (Amber Hsu's all graphite art anthology) and what that might look like. I ended up drawing the strips set in a chasm with lead pencil, playing with texture. It was fun and a challenge but as was often the case working in new styles, took so much longer than the typical strips, drawn with pens / coloured with Photoshop, so I was relieved when the characters finally escaped the chasm!

Now it will be interesting to work outside of the weekly strip format and do more stuff on a portrait comic book page. Allowing the reader's eye to read down a page as well as just across (as with a comic strip) frees up a lot of possibilities I can explore.
As for my story telling skills, again the working outside the confinement of the strip format should be interesting. I'm currently developing a graphic novel and it will be helpful to know exactly how many pages I have to use and plan the whole story very carefully before starting to draw the finished art, freeing me up to pace things as I wish and set plot points up knowing exactly when and how they can pay off.
You have a very special evening with a cross-media approach planned at Gosh! Comics to mark the Lucy finale. Who else can we expect to see there and what kind of performance pieces will be a part of the proceedings?

Yes, very excited about this! I'm lucky enough that two of my talented friends are sharing the Small Press Live Show launch night with me on Thursday 6th October!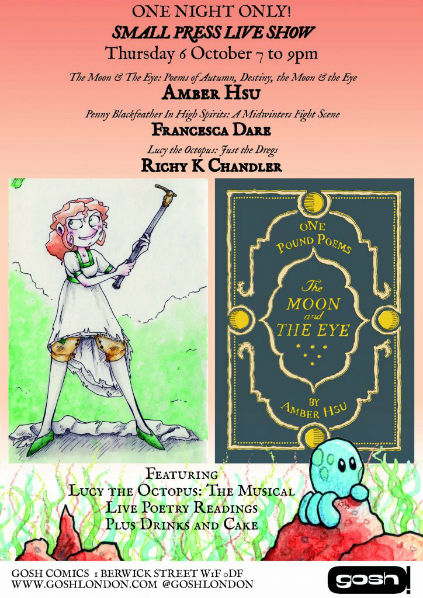 Firstly, one of my frequent collaborators, Francesca Dare is launching her newest Regency Punk adventure comic, Penny Blackfeather In High Spirits: A Midwinter Fight Scene.
Secondly Amber Hsu is showcasing her new beautiful looking poetry zine under her One Pound Poems banner entitled The Moon & The Eye: Poems of Autumn, Destiny, the Moon & the Eye and will be doing some live poetry readings from it!
The night will also feature the world premiere of Lucy the Octopus The Musical! This should be fun, though perhaps calling it a musical is a bit of an overstatement! Basically, it's a few songs performed by myself and a handful of musician friends with narration, telling a very compact version of Lucy's story in about fifteen minutes, against a backdrop of imagery from the strip.
I love musical performance and its great to explore the themes of the Lucy comic in another medium, with lyrics like this…
            "Welcome to Stoneydip High, And if you want to survive
Don't look no-one in the eye
Coz the outlook is bleak, And you won't last a week
If you get labelled a freak."
Last year you self-published Tempo Lush Tales of the Tanoox (review here at Broken Frontier), an anthology I believe was one of the most under-rated small press books of the year. For those who missed it what was the premise of the collection and who were some of the names involved in its pages?
Aw!  Thanks for saying that! I was very proud of that book and the fact that so many talented creators were willing to bring their A-game to contribute to it. The idea of Tempo Lush Tales of the Tanoox was to create an anthology highlighting ideas of positive change. It can be a bit of a challenge to create comics focussing on positivity and hope that they don't feel sugar-coated and seem to maintain credibility, but the amazing range of people that joined in managed it!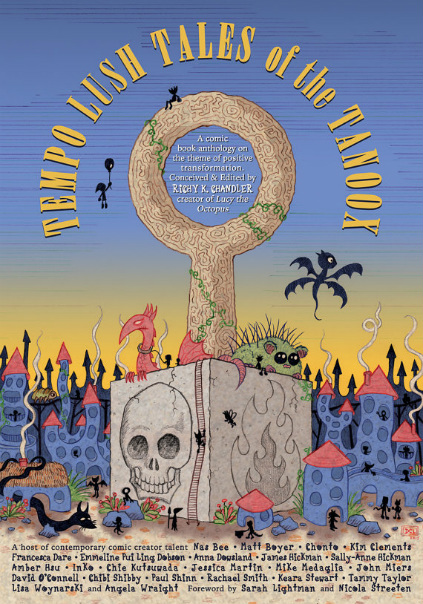 There are original stories touching on all sorts of topics including meditation, the NHS, depression, romance, magic, friendship and environmental care with a line-up of talent including Nas Bee (Paper Houses) & Angela Wraight (Circuit Breaker, Yoshitoki is Making Waves), Francesca Dare, Emmeline Pui Ling Dobson (Knights of Eve, Wu Wei), James Hickman (Score & Script), Amber Hsu, Inko(Go! Go! Metro!, Manga Cupcakes, Rosie and Jacinda), Chie Kutsuwada (Go! Go! Metro!, Hagakure: Code of the Samurai, Rosie and Jacinda, Manga Shakespeare: As You Like It), David O'Connell(Monster & Chips, Tozo, The Public Servant), Keara Stewart (On The Escalator, A Bit of Undigested Potato) and Lisa Woynarski (Performance + Ecology) & Mike Medaglia (One Year Wiser, Wu Wei, Last Days of Nobodies).
Inko and Chibi Shibby's Tales of the Tanoox pages
Even though the creators were left to do their own thing based on the theme, and came up with a diverse range of stories in their own styles. I wanted the collection to feel unified, so focussed on that in the design of the book with its story title pages, as well as the object of the Tanoox itself appearing in each tale, to varying degrees.
The book also features a jam comic where twelve different artists illustrate some lyrics from an old song I wrote called Bugleberry Tree… Matt Boyer (Running), Chonto (acclaimed Japanese Artist), Kim Clements (Rabbit Thoughts), Francesca Dare (again!), Anna Dowsland (Don't Feed the Pigeons), Sally-Anne Hickman (Bang! Crash! Whizz!, Black Diamonds and Blue Scars), Jessica Martin (It Girl, Elsie Harris Picture Palace), John Miers (Score & Script, How to Train your Robot), Chibi Shibby (Stories about Me and You), Paul Shinn (March of the Penguins), Rachael Smith (The Rabbit, House Party, Flimsy the Kitten) and Tammy Taylor (Bon Appetit, 18 This Summer).
I was also honoured that Sarah Lightman (Graphic Details: Confessional Comics by Jewish Women) and Nicola Streeten (Billy Me and You, Becoming of Age) of Laydeez Do Comics wrote a fantastic foreword!
Matt Boyer's Tales of the Tanoox page and a special look at the original colour version of Kim Clements' page
Another rather unique project you were involved with in the last twelve months was Alidade . What was the starting point for that distinctive creative collaboration?
I had my home to myself for a weekend in August last year and wanted to make the most of it.  For me, this meant inviting a handful of comic creator friends over to create something unique and special.
So Tim Hassan (To Arms), Karen Rubins (The Phoenix Comic, Urban Beasts) and Mike Medaglia turned up on Saturday morning with Francesca Dare joining us the next day. The simple rules were that we couldn't pre-plan anything and it had to be ready to print by the time we slept on Sunday night!
It was intense and hard work, but an amazing experience. The antidote to waiting for client responses and sending files back and forth by email, we all sat around one table writing and drawing together, often working on the same pages of art.
This year we did another creator retreat weekend. Mike couldn't join us this time around but Paul Shinn was an amazing addition. Of course, we were bound to be influenced by the Alidade experience and all agreed that one of the most interesting aspects of that project was working on each other's pages, so this time we focussed on that, creating a series of prints – each a collaboration of us five artists. It's soon to be released under the title Space Pilgrim.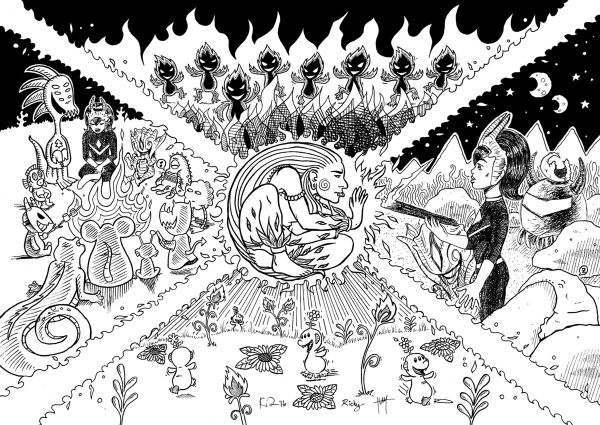 I want to talk a little bit about comics and community now because Tempo Lush Tales of the Tanoox was a book that, at its heart, brought creators together in a very positive way and I think everyone on the London small press scene is well aware of the role you play in connecting people and giving them a supportive group platform for their work. How vital has that sense of collaboration and peer input been to you personally over the years as a creator?
Wow!  That's lovely to hear but I really feel like I'm far less involved in the comics community than I'd like to be. Not that I'm complaining but parenthood keeps me busy much of the time so I can't make it to as many comic events as I feel I should. I'm usually at Laydeez Do Comics every month – that's a much needed staple for me, but there's so much going on via Gosh and Orbital as well as plenty of cons that I just can't make it to.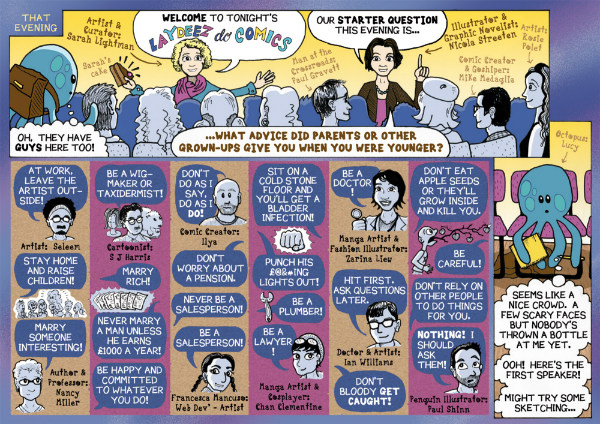 With that in mind it does feel amazing when I get to connect with so many people heading up something like the Tempo Lush Tales  anthologies. The launch nights for these books are celebrations of work which very often isn't printed until the last minute, so it's a wonderful feeling where people have all been working hard in their little corner of a project, finally seeing the full extent of what they are a part of.
It's brilliant if creators are connected and supported by these projects but my motivations are entirely selfish. It's a joy to work with talented people – I learn a lot from each of them, and feel all that much cooler for counting them as my partners-in-crime!
Similarly, when I started WASP (Webcomic Artist Swap Project) a few years ago, it was because I was looking for ways to promote Lucy the Octopus. The cross-promotion of all the other strips involved was a bonus!  Nice to see Sarah Turner (Folklore) and Francesca Dare are running WASP for its fifth year, joined this time by Paula Albanaze (Tamino and the Magic Flute) over in the States. For the first time I won't have a webcomic to be involved but will be designing the WASP 2017 logo at least!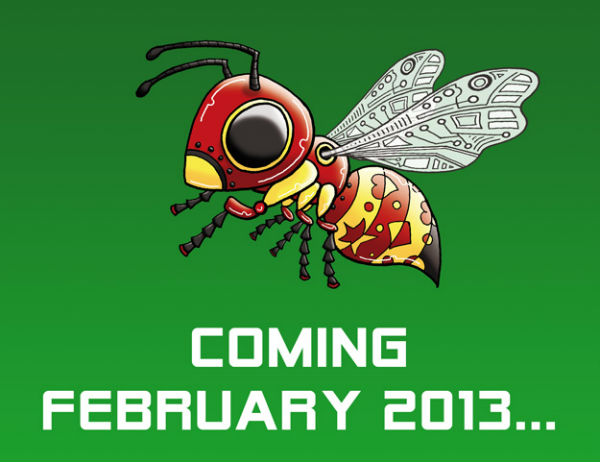 Now that Lucy has wrapped up, it would be good to get a chance to do more collaborations.  There's certainly lots of story ideas bubbling away and not enough time to draw everything so working with others that I get on well with is a perfect practical and creative solution.  It also helps with the isolation us comic creators often feel!
You're working on some longer-form projects at the moment as well. Is there anything you can share with us about what's coming from Richy K. Chandler post-Lucy the Octopus?
Well, the big project that will keep me busy over the next few months is a graphic novel, of sorts, called When Are You Going to Get a Proper Job? to be released through Jessica Kingsley Publishers in 2017. It's very exciting to be working with a publisher using my own set of characters, especially such a well renowned and positive thinking organisation as JKP.
The story looks at the day-to-day life of a comic artist struggling to balance parenthood with artistic ambition.  It's an issue I face myself and I've spoken to many other creators in a similar boat, so hopefully the book will connect with a lot of readers.
Beyond that I have a fantasy tale to be told exploring the idea of death, which would involve working with several other artists. I'd also like to make one final instalment of Rosie and Jacinda, the teenage Manga comedy I created with my friend Zarina Liew  (Le Mime, The Art of Sleep).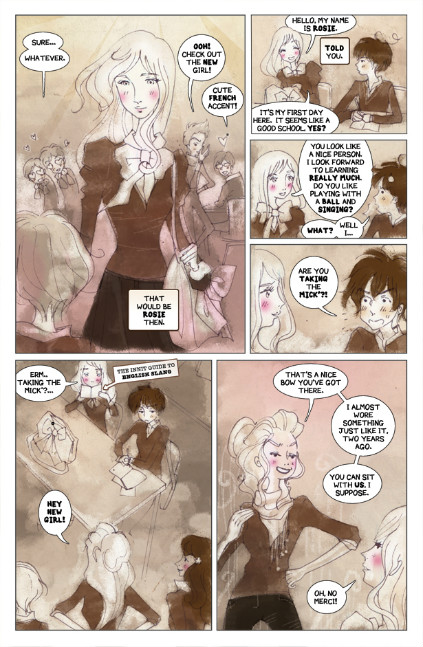 And, finally, where can readers hope to see you as the Autumn UK comics festival season begins?
I'll be at my table at both MCM London in October and Thought Bubble in Leeds the following weekend.  Come and say hi – look for the banner with a big blue cute octopus on it!
For more on Richy K. Chandler's work check out the Tempo Lush website here. You can order his comics from his online store here. You can also read Lucy's adventures online here. Follow him on Twitter here.
For regular updates on all things small press follow Andy Oliver on Twitter here.