With seven issues published since the group was founded in 2009, the Scottish all-woman collective behind anthology Team Girl Comic have become an established presence on the U.K. small press scene. With a regular publishing schedule now in effect, and a true sense of co-operative spirit in place, the TGC philosophy of providing a platform for promoting women creators with a comics tale to tell is one of the most rewarding small press success stories I've witnessed since we began 'Small Pressganged' back in 2011.
As part of our ongoing series of 'Small Press Spotlight on…' interviews at Broken Frontier I caught up with Team Girl Comic editor Gill Hatcher to discuss how the TGC community came into being, their plans going forward, and the social side of the comics scene…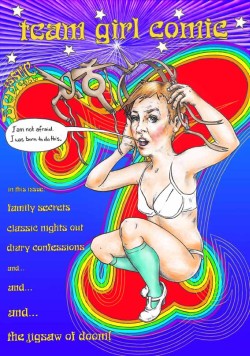 BROKEN FRONTIER: To begin, can you reveal the secret origin of Team Girl Comic to us? How was your collective of creators founded?
GILL HATCHER: Back in 2009, I'd been making my own comic zines for a few years, selling them locally in Glasgow, and felt like I was the only girl on the scene, and that my stories didn't really fit in with the other small press comics coming out of Glasgow at the time (inexplicably naked women and outdated drugs jokes aren't really our scene!). So I thought it might be fun to try and create a local women's anthology.
The problem was I didn't know any other women in Glasgow making comics! Turns out they were out there, just not printing and selling their stuff. So at first I just roped in some friends who were into drawing and up for giving it a go, and very quickly word got round, and there are about 30 of us today.
At first I only expected it to last a couple of issues and to be sold mainly to friends and family, but people from all over seemed to really like what we were doing. My original idea with the name and design was a pastiche of 90s tween magazines like Girl Talk, which was my generation's replacement for girl comics, but as we've developed as a group and with the influence of each other's ideas and perspectives, we've moved on somewhat from that vibe.
BF: How would you describe the mission statement of TGC?
HATCHER: To make comics, make friends, have fun, promote women's stories and inspire others to give comics a go!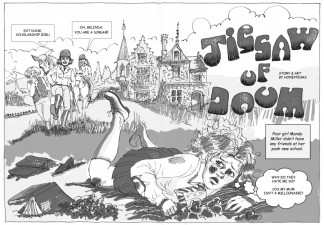 'Jigsaw of Doom', a wonderful homage to comics for girls of yesteryear by HoneyPears in Team Girl Comic #7
BF: For readers discovering the world of Team Girl Comic for the first time via this interview could you give something of an overview of the remarkably diverse range of genres that any one issue can contain?
HATCHER: We tell our contributors that they can submit more or less any genre, theme, or style, just whatever story they want to tell. We also make it clear that stories don't necessarily have to feature female characters, have a feminist message, or have a 'girly' vibe (although all those things are good with us). This means we've had a whole range of genres over the 7 issues, from humour to horror, and even history.
As the comic has evolved we've seen an increasing trend towards autobiographical, diary- style and often highly personal stories. I think it's a sign that we're maturing as a group and becoming more confident as storytellers. However, it's still great when someone submits something delightfully silly or surreal.
More thought-provoking comics from TGC #7 – Gill Hatcher's 'Bruises' and Cacachute's 'Pretty Ugly'
BF: One of the observations I've made about Team Girl Comic on the occasions I've reviewed it at Broken Frontier is that it's a book that champions creators of varying technical abilities; that there's a feeling of "democracy and the sense that anyone with something they want to say can make comics that say it". How important is that sense of inclusivity to the TGC philosophy?
HATCHER: While we're always working towards improving the quality and professionalism of our publishing, inclusivity is still at the heart of TGC's values. We believe that everyone has a story to tell, and what makes a good comic is how that story is communicated.
BF: I used the term "collective" before but from your site and blog it does sound like Team Girl Comic has actually become a thriving social community in its own right. Is that something that evolved organically or did you always envisage that as a broader development?
HATCHER: It's definitely something that evolved organically. In the early days I really had no big plan for the comic or the group of contributors. For the first couple of issues I was compiling and promoting the comics myself, but gradually as the comic took off and more people took an interest in actively getting involved, it became more than just a printed book. These days we have social get-togethers, road trips to comic conventions and organise events together. It's become a great way to make friends with like-minded people.
BF: Seven issues in and you feel very established now as a fixture on the U.K. small press scene. Looking back what have been the particular challenges, both logistically and creatively, in compiling an anthology book?
HATCHER: It has been very much a learning curve. In the early days, editing and compiling the comic posed a challenge for me, partly because many of the contributors were relatively new to making comics and often needed a helping hand with scanning, cleaning artwork, etc. I was still developing my own Photoshop and InDesign skills too, so it was a lot of work to get the books looking the way I wanted them to. However, these days we've got the whole process pretty streamlined. Since Claire Yvette joined as a co-editor about a year ago we've been able to get a lot more done a lot faster than before.
BF: You've also recently launched a weekly online strip. What was the thinking behind the Team Girl Comic webcomic?
HATCHER: The webcomic features an autobiographical/diary style strip by a different TGC member each week. Originally our big idea was that they would all be set within a 'TGC Universe', complete with a Super Marioland 2 style map, featuring locations such as our local pub 'The Boozy Barmaid' (drink n draw 7 nights a week!) however maybe that was a bit ambitious for our first attempt!

We started the webcomic because we felt it was a great way to promote our artists, and encourage them to be creative between issues and try out ideas in a quick format. We also wanted to get more of our work out there online, and direct more traffic to our website.
BF: As far as the future is concerned how do you see the TGC "brand" developing? Do you have publishing plans beyond the anthology?
HATCHER: Our main challenge for the future is to reach out to new readers, particularly women, who are not already 'comic fans'. It's fantastic to be able to sell books in comic shops and appear on panels at conventions and get reviews on comics websites, but what about all those people who don't think comics are for them? We want to show how diverse comics can be as a storytelling medium.
In the future we also see ourselves expanding our publishing range to include solo projects and graphic novels by our members.
Look out for issue 8 in July!
For more on Team Girl Comic check out the website here. Copies can be ordered online from the Team Girl Comic store here.