BROKEN FRONTIER AT 20! Before the pandemic hit the Gosh! Comics and Broken Frontier Drink and Draw had become something of an institution on the UK London comics scene. Launched in June 2015, our regular monthly pub meet-ups featured guest artists ranging from emerging small press talents to big-name US serial comics creators. We were always oversubscribed and our room above The King's Arms bar would be packed to the point where people elected to sit on the floor just to get a space! 
The Drink and Draw fostered a true sense of comics community. Friendships were formed there, comics collaborations began at those nights, and many projects and publications would probably never have happened without the bonds that were formed on those evenings. Since the pandemic began we shifted to an online version that runs every two weeks on a Thursday night, allowing us to reach an even greater audience and make the D and D more accessible. In the meantime we have also run a small number of in-person events around fairs, festivals and panels, and let's hope in 2023 that becomes a more regular phenomenon. Below find details of our special '20 Years of BF' Drink and Draw to mark our 'Broken Frontier at 20' event on the site. 
A sense of community is cool. A sense of comics community is the coolest. 
The very first Gosh and BF Drink and Draw, June 2015, left to right eventual co-host Nora Goldberg, BF's Andy Oliver, and guest artist Tom Humberstone
Your favourite online comics social is back! Our fortnightly Gosh! Comics and Broken Frontier Drink and Draw returns this Thursday, October 27th with guest artist for a very special celebration of 20 years of Broken Frontier. We have Tom Humberstone and Danny Noble onboard, the two guest artists from our very first Drink and Draw back in 2015, plus rising stars of the US indie scene Nicole Goux and Dave Baker. Not only do our online D&Ds keep all those who would meet at The King's Arms in Soho, London every month (in those fondly remembered pre-March 2020 days) in regular contact, they also allow us to expand our reach for the event to a more global audience.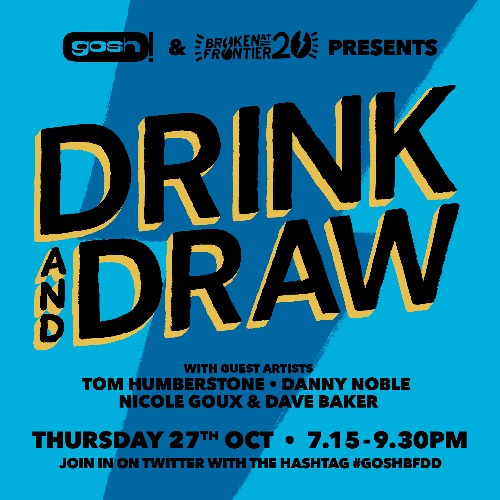 (Poster art, above, by Joe Stone)
We'll be starting this week at 7.15pm to give everyone taking part on Twitter the opportunity to introduce themselves to each other as we look to continue fostering an even stronger sense of community. Drawing rounds begin at 7.30pm UK time as usual.
So, once again if you're joining us online, here are the "rules"…
We're using our regular pub format, adapted for a digital platform. So if you've never attended one of our monthly sessions this is how it will work. Our guest artists will each choose a drawing theme for three sessions across the evening. We'll post each of these prompts with the hashtag #GoshBFDD in three batches at 7.30pm (UK time), 8.15pm and 9.00pm from both the Gosh! Comics Twitter account and the Broken Frontier Twitter account. You have 30 minutes to draw something fitting that theme, after which we'll spend 15 minutes picking a winner before the next round begins. Don't forget to post your drawings with the #GoshBFDD hashtag so everyone can see and join in. And also so we can easily retweet!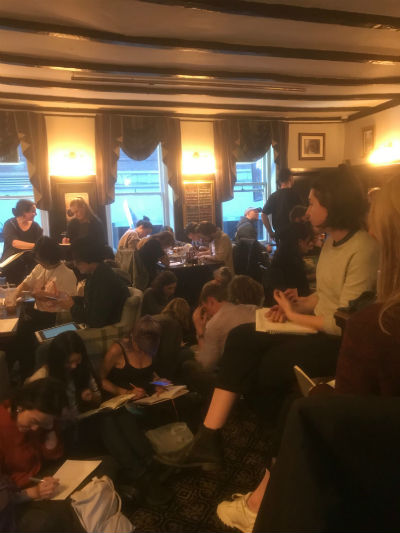 Another packed night in The King's Arms back in 2019!
Let's meet our guest artists!
Tom Humberstone's most recent book Suzanne: The Jazz Age Goddess of Tennis debuted this month from Avery Hill Publishing, chronicling the life of forgotten tennis star Suzanne Lenglen. Tom was the editor of the hugely influential UK small press anthology Solipsistic Pop in the early 2010s and the co-editor of graphic poetry collection Over the Line. Among his body of work is the social commentary of In the Frame, originally published in the New Statesman.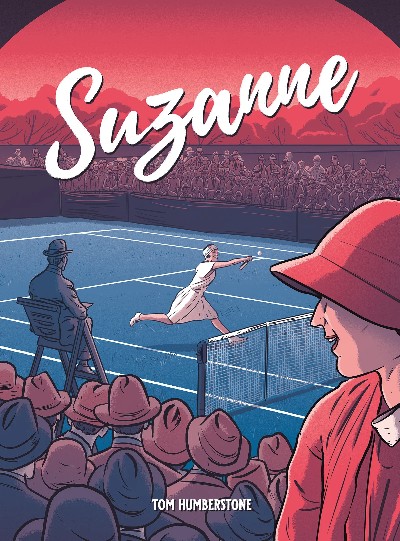 Danny Noble was one of our very first Broken Frontier Six Small Press Creators to Watch back in 2015. Since then she has self-published the popular Ollie and Alan comics, illustrated comedian and actor Adrian Edmondson's children's novels, and had her own graphic memoir Shame Pudding published by Street Noise Books. Danny's latest project was as the artist on Class: A Graphic Guide from Icon Books.
We love the language of comics at BF and so do our final guests this time Nicole Goux (Shadow of the Batgirl) and Dave Baker (Halloween Boy). The duo have collaborated on Fuck Off Squad from Silver Sprocket and Everyone is Tulip from Dark Horse Comics. Their latest graphic novel Forest Hills Bootleg Society was released recently. Nicole's next book Pet Peeves is part of the current Avery Hill Kickstarter for their Spring 2023 titles.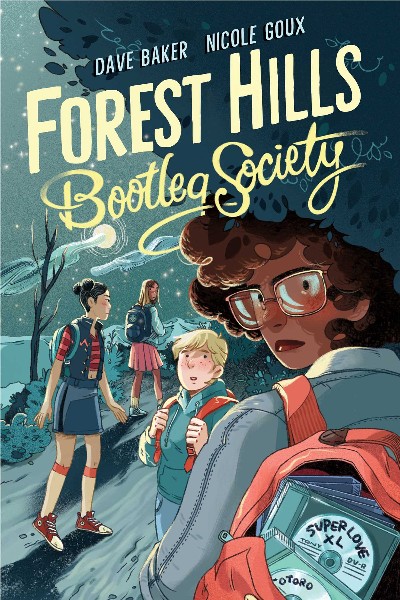 Whether you're a regular or a newbie all are welcome so please do join in and be part of our international Drink and Draw fun! And if you enjoy this event why not check out the Gosh! Comics webstore here?