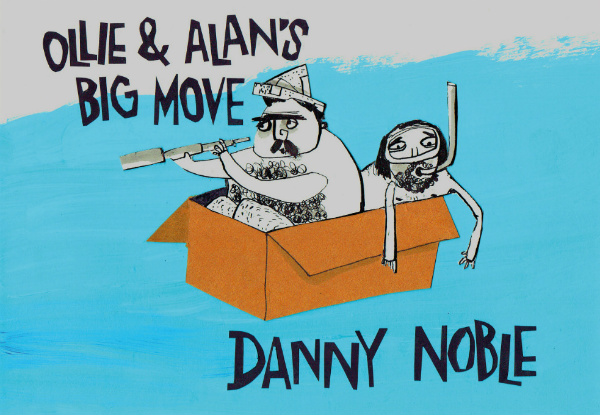 Bringing talented artists to a wider audience via this column is one of the great privileges of writing 'Small Pressganged' here at Broken Frontier. Indeed, this year I significantly expanded our philosophy of actively championing exciting and distinctive players on the small press scene with the first of what I hope will prove to be an annual feature. Our ongoing 'Six UK Small Press Creators to Watch' series of reviews, interviews and articles has followed half a dozen comics practitioners over the course of 2015 who I firmly believe are deserving of publisher attention.
Out of all the 120-plus small press comics I've reviewed since January, though, there's one person whose work has stood out for me time and time again. 2015 has, undoubtedly, been Danny Noble's breakout year. Last October I reviewed an older collection of Noble's humorous autobio Monday Morning strips here and described them as "a genuinely laugh-out-loud catalogue of booze-related personal disasters, resigned reflections on modern living and inadvertent public slumber".  I'm reliably informed by the artist herself that it was that very review that was the catalyst for her return to the world of sequential art after a period of time away. I count that as my greatest personal achievement in 'Small Pressganged' over the entire four years of this column's existence.

And what a return it's been! Her Was it… Too Much for You? comics – featuring the parallel universe incarnations of naked flat-sharing actors Oliver Reed and Alan Bates – have built up a huge social media following that has bridged the divide between traditional comics readers and a wider audience less familiar with the medium with an enviable ease. Consistently inventive and innovative, she has that oft hyperbolically touted – but rarely actually ever seen – quality of being a genuinely original voice in comics.
Ollie's & Alan's Big Move – debuting at the Lakes International Comics Art Festival this weekend – is the second print compilation of the Was it… Too Much for You? strips originally published online via her social media accounts. You can read my review of the first volume here at Broken Frontier but the basic premise is as follows: "In 1969 Mr. Oliver Reed met Mr. Alan Bates in the film Women in Love. When they wrestled naked in front of a roaring fire the frisson was so great that they have been unable to dress themselves since. This is their story…"

The previous edition introduced us to the fumbling foibles of the lumbering men-children Alan and Ollie and their supporting cast, including the somewhat off-centre versions of a continually bemused Tom Selleck and a never seen but always influential Glenda Jackson. It was a riotous collection of interweaving running gags, metafictional madness and inebriated  indolence all topped off with a few good cock jokes.
This time around we have a more obvious story arc as Alan and Ollie move house in their own incomparably aimless manner, fail for most of the book to unpack the sea of cardboard boxes they now live amongst, briefly acquire a terrifying but much loved canine companion, and generally live down to the glorious excesses of their perpetually plastered partnership. If you've encountered the debauched duo before you will be pleased to know that their muddled misadventures are as mirthfully madcap as ever. If this is your first meeting with these alternate reality versions of Robert Oliver Reed and Alan Arthur Bates then you have no idea how much I envy you…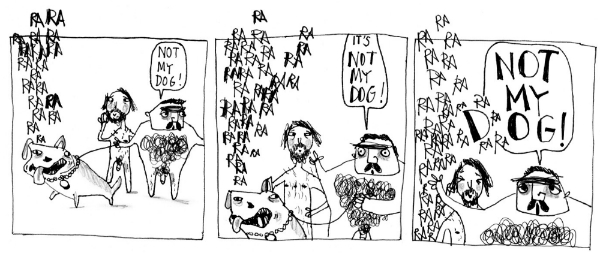 Noble's acute understanding of the medium's potential is her greatest strength as a storyteller. Whether her comedic panel-to-panel pacing is concerned with the moment, or with playing with greater chronological gaps between images, her comedy timing is utterly sublime throughout. This was one of the first things I noticed when reviewing Monday Morning in 2014 and you can see an example of just how perfectly pitched it is in the first strip above, wherein the boys' packing plans go drunkenly awry.
But it's her ability to not just manipulate the narrative traditions of the page but to totally subvert them that most impresses. Check out the second offering above with Ollie, Alan and Tom Selleck. Here the audience finds themselves being asked to interpret the significance of the gap between panels in a wholly unexpected way, with a deft twist to their assumptions in that final image. Ollie & Alan's Big Move is chock full of such visual prestidigitation, whether it's the box that Ollie adopts as his personal comfort zone becoming a panel in its own right, sound effects interacting with the on-page action rather than being simply a result of it (above), speech balloons moving across panels adding a profound connection and a skilful juxtaposition of linked timeframes, or the inflections of punctuation being toyed with to provide extra layered meaning (below). And, if that all sounds too off-puttingly analytical to you, take solace in the fact that the knob-based ribaldry hasn't gone anywhere since volume 1 (see bottom strip)…

It seems bizarre to describe anything in Danny Noble's repertoire as being subtle but her intuitive comprehension of how she can bend the very structure of comics to her will is just that. It's incredibly clever in composition but it's easy for the casual reader to miss the sheer craft of the work on offer here given the ostentatious thematic outrageousness at the surface of Alan and Ollie's world. It's important to note, though, that newer readers should consider Was it… Too Much for You? as their entry point into this universe as by Ollie & Alan's Big Move the jocularity has become so splendidly self-referential, and Noble's meta-narrative so involved, that it's impossible to pick up on all the droll nuances without that fuller grounding. Both volumes are available from her online store.
Danny Noble's comic genius is surpassed only by her comics genius. In a decade of Broken Frontier reviewing I have never encountered an artist with a more naturally instinctive command of the unique storytelling possibilities of the comic page. If you're at LICAF this weekend then make sure her table is your first stop. Those not making it to the Lakes can pre-order Ollie and Alan's Big Move from the link below.

Ollie & Alan's Big Move debuts at LICAF on Saturday 17th October. You can buy it from Table 19 'Everything and Monday' in the Clock Tower. It can also be pre-ordered from her online store here priced £5.00. You can follow Danny on Twitter here and 'like' her Facebook page here. 
To find out more about Danny Noble's work read my Broken Frontier interview with her here. 
For regular updates on all things small press follow Andy Oliver on Twitter here.