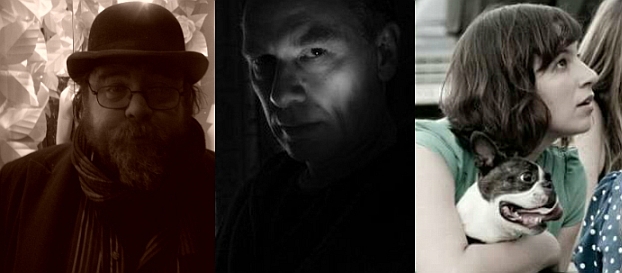 After last month's hugely successful inaugural evening, the Gosh! Comics and Broken Frontier Drink and Draw night returns on Thursday July 30th hosted by BF Editor in Chief Andy Oliver and Gosh's Tom Oldham. As ever our regular artist-in-residence Danny Noble (Was it… Too Much for You?, Monday Morning, Hangover Farm and one of Broken Frontier's 'Six UK Small Press Creators to Watch in 2015') will be on hand, and she's joined this time by those masters of the macabre, David Hine and Mark Stafford.
Hine and Stafford, of course, have collaborated on a number of memorable projects including their adaptation of Victor Hugo's The Man Who Laughs for SelfMadeHero and 'The Bad Bad Place', currently being serialised in Soaring Penguin Press's Meanwhile… anthology, as well as their story in the upcoming Broken Frontier Anthology. Some of Mark's other work has included Cherubs! with Bryan Talbot, Ravi Thornton's HOAX Psychosis Blues, and Moose Kid Comics.
David's body of work includes the critically acclaimed cult classic Strange Embrace, The Bulletproof Coffin with Shaky Kane for Image Comics, and writing a number of characters from the Marvel/DC universes including X-Men spin-off District X, Spider-Man Noir and Batman in Detective Comics.
The evening will begin at 6.30pm in Gosh! with a chance to pick up work from the featured creators at a discounted price before heading down to The Phoenix Arts Club around 7pm. Drinking is not compulsory! And don't forget Gosh! also runs the ever popular monthly Process Group for those wanting to meet with fellow artists in a less Bacchanalian environment. But whether you're a dabbling doodler or a seasoned sketcher all are welcome at this latest entry in the regular London comics calendar! The Drink and Draw is sponsored by Cass Art.
You can join the Facebook event page here. You can also buy Danny Noble's comics online here.
We look forward to seeing you on the 30th! In the meantime here's some pictures, courtesy of comics creator Sean Azzopardi (Tracks, Necessary Monsters), from the last Drink and Draw in June…
Broken Frontier Editor in Chief Andy Oliver proves why he should stick to writing about comics rather than drawing them while Soaring Penguin/Knockabout's Nora Goldberg looks on (left), and last month's guest artist Tom Humberstone (In the Frame) sketching away on the right…
Attendees – including the Backwards Burd team – in the zone at last month's meet-up