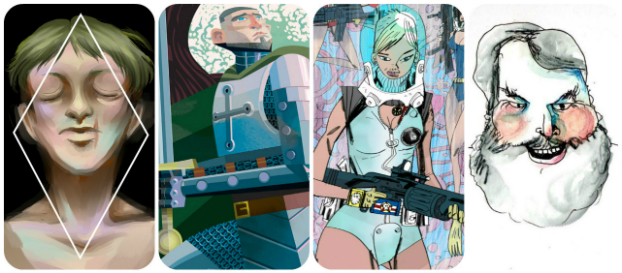 It was all about the awards when it came to our fantastic foursome of celebrated guest artists at last night's Gosh! Comics and Broken Frontier Drink and Draw…
To start with, the 2013 British Comic Awards Best Comic winner Robert M. Ball (Winter's Knight: Day One) was joined there by Warwick Johnson-Cadwell, his collaborator on 2014 BCA-nominated Dangeritis. WJC himself was also part of the creative collective behind 2012 British Comic Awards Best Book winner Nelson, published by Blank Slate Books.
Of our other featured creators at the Drink and Draw, Alice Urbino is one of the Comic Book Slumber Party crew whose Fairytales for Bad Bitches anthology was shortlisted for the 2015 British Comic Awards, while Danny Noble was nominated in the hard-fought category of Breakout Talent in last year's 2015 Broken Frontier Awards for her gloriously outrageous Was it… Too Much for You? and Ollie & Alan's Big Move collections. Both Alice and Danny are, of course, members of our 'Six UK Small Press Creators to Watch in 2015' and featured contributors in this month's upcoming Broken Frontier Small Press Yearbook.
Our guest artists weave their magic alongside the bonus presence of John Allison (Giant Days, Bad Machinery)…
After the usual preliminary signing at Gosh! Comics the fun continued in the basement bar of The Royal George pub just off Charing Cross Road, co-hosted by myself (Andy Oliver, BF Editor-in-Chief) and Gosh's Nora Goldberg. As ever, the evening was split into themed drawing rounds with intervening "show and tell" sessions allowing the more courageous souls to share their work with the assembled masses.
This month's themes were suggested by our guest creators and included "anthropomorphic characters" (this was a round that became more difficult to pronounce the later evening went on…), "Prince Charmless", "Something on an Elephant", and the final subject of "Embarrassing Illnesses".
If you're interested in finding out more about the work of this month's guests we have a number of links on the site to direct you to. To begin with you can read the playful back and forth of last week's interview with Robert M. Ball and Warwick Johnson-Cadwell at BF here. For more on Alice Urbino we have an insightful interview with her here here and a creator's commentary on her work here, while Danny Noble's fabulously entertaining 2015 Broken Frontier interview is here with her creator's commentary here.
You can catch up with last night's antics in visual form above and blow. Don't forget you can like the Gosh/BF Drink and Draw Facebook page here…
Photos courtesy of Nora Goldberg. Click to enlarge.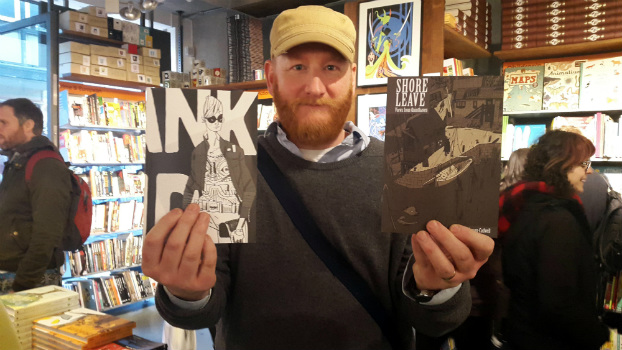 Warwick Johnson-Cadwell displays his wares, available for purchase at Gosh!…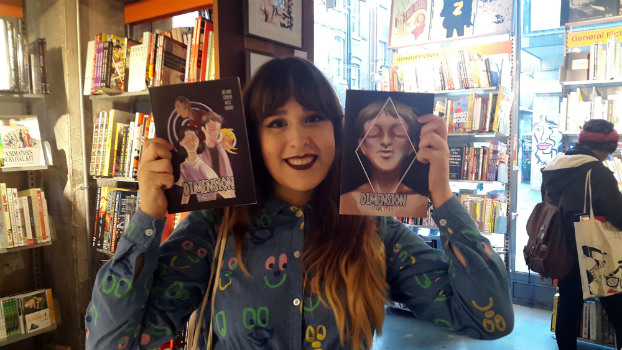 Alice Urbino with copies of her critically acclaimed series Dimension…
More pre-Drink and Draw pics from last night at Gosh! – Robert M. Ball and Danny Noble's books are also available in the shop…
Warwick Johnson-Cadwell's takes on all four themes – Anthropomorphic Characters, Prince Charmless, Something on an Elephant, and Embarrassing Illnesses…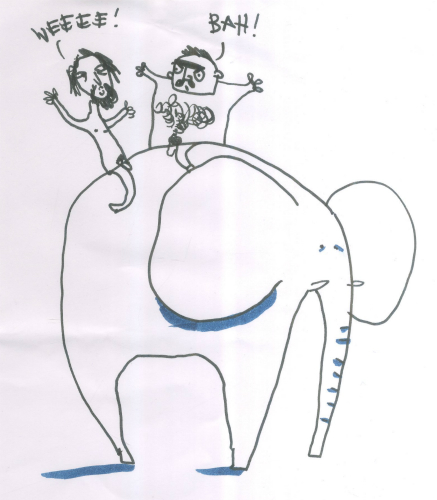 Who else but her Alan and Ollie characters would be on top of an elephant in Danny Noble's world?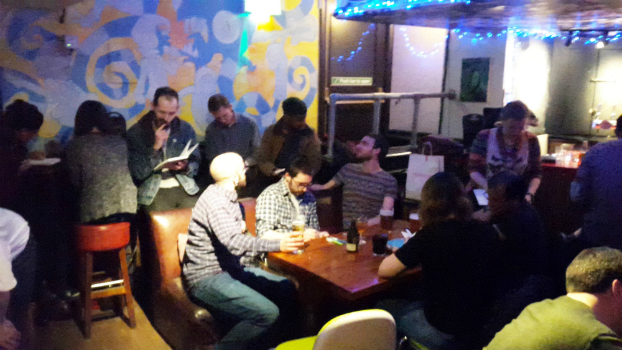 Our Drink and Draw attendees finding their respective muses…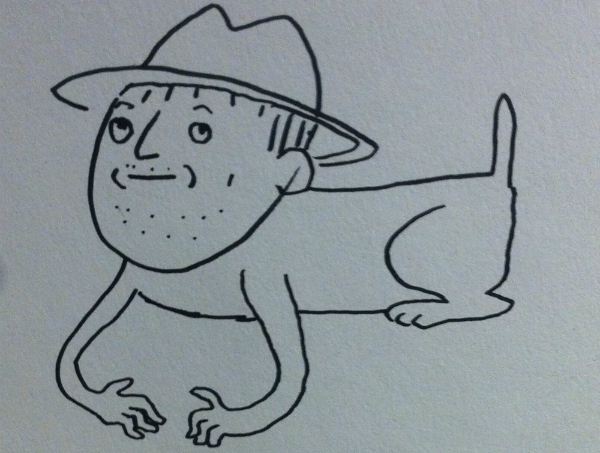 Your favourite Editor-in-Chief in canine form by Alice Urbino…
For more on events at Gosh! Comics visit their site here. 

For regular updates on all things small press follow Andy Oliver on Twitter here.