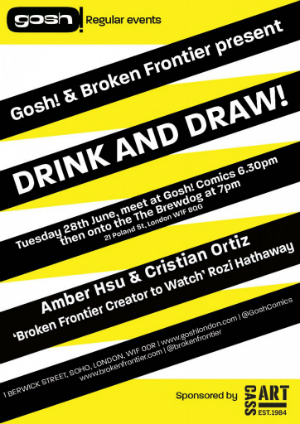 It's nearly Gosh! Comics/Broken Frontier Drink and Draw time again as our popular collaborative event returns next week on June 28th. We're returning to last month's venue – the BrewDog pub on Soho's Poland Street – as our fourth meet-up of 2016 gives us the opportunity to host a trio of eclectic creators with very different approaches to the comics page.
This time we welcome Amber Hsu of Tiny Pencil fame, small presser Cristian Ortiz (Golden Campaign) and 2015 Broken Frontier 'Small Press Creator to Watch' Rozi Hathaway to the pantheon of artistic greats to have featured at our monthly D&Ds. As ever, your co-hosts for the night are myself (Broken Frontier Editor-in-Chief Andy Oliver) and Gosh's very own Nora Goldberg.
Amber Hsu is well-known in the UK small press community as the editor of graphite-based artzine Tiny Pencil, an anthology that mixes illustration and sequential art with often darkly imaginative results. Hardly surprising given the subtitles of some of its editions which include 'The Beast Issue' and 'Death & Resurrection'!
Tiny Pencil has included work from many BF favourites over the years with the likes of Alys Jones, Isabel Greenberg, Gareth Brookes (below right), S.J. Harris, Alexis Deacon, Gary Northfield, Luke Pearson, Jack Teagle and Donya Todd gracing its pages.
Amber's solo self-publishing output has included minicomics and zines like There Was Once…, Lemons Roses Happiness and The Gherkin & Sardine; the latter emerging from the 'One Pound Poems' she and her collaborators produce at small press fairs and festivals. There Was Once… (below) was also part of Richy K. Chandler's Tempo Lush Tales of the Tanoox anthology, and I said of it then at Broken Frontier: "Amber Hsu steals the show for me… the reality she creates here is simultaneously alien and familiar in appearance, and her rhythmic use of language contributes significantly to the appeal of this entrancing allegory.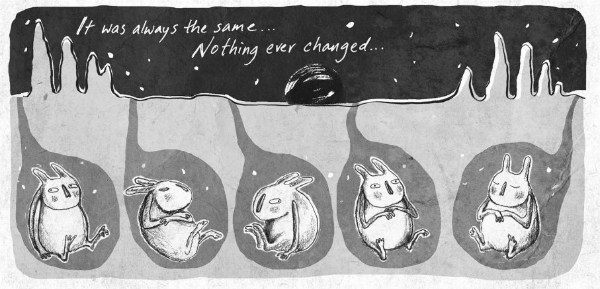 Cristian Ortiz has published three volumes of his ongoing book Golden Campaign to date. A fantasy series that began as autobiographical metaphor, I reviewed it on its debut back on the old Broken Frontier site here saying "Ortiz has created a rich storytelling landscape, and I'm looking forward to seeing where he takes this concept of autobio comics masquerading as sweeping epic in the months to come." Cristian was also one of the three featured artists (alongside Andy Poyiadgi and James Harvey) in the 'Lords of Infinity' exhibition at Orbital Comics a couple of years back.
Finally, we have the latest of the Broken Frontier 'Small Press Creators to Watch' to make a Drink and Draw appearance! Rozi Hathaway came to prominence a couple of years back as part of the line-up of Ravi Thornton's graphic memoir HOAX Psychosis Blues alongside such luminaries as Bryan Talbot, Karrie Fransman, Hanna Berry, Rian Hughes and Mark Stafford.
Rozi has self-published The Red Road, anthology Sneaky Business and the recently Kickstarted Njálla (below) which reached its funding target in just a few short hours! Her featured story 'Afloat' in our Broken Frontier Small Press Yearbook has received glowing reviews from the likes of Page 45 and The Quietus. Rozi's work has also been seen in anthologies Dirty Rotten Comics, Home and A Bit of Undigested Potato over the last year.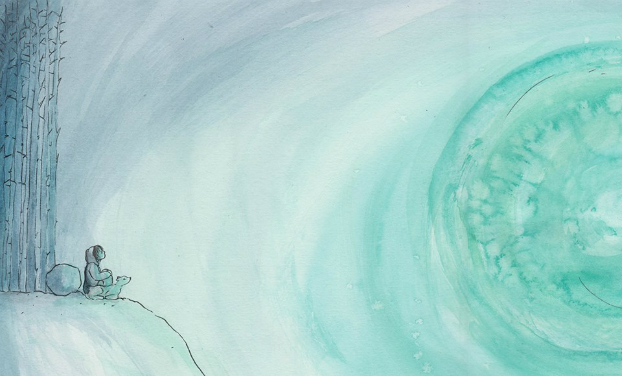 Join us next Tuesday night for another fun evening of drinking, drawing and comics camaraderie. We kick off at 6.30pm in Gosh with a chance to get hold of signed comics and books from our featured creators before moving over to The BrewDog for 7. Look forward to seeing you then!
You can find the Facebook event group here.