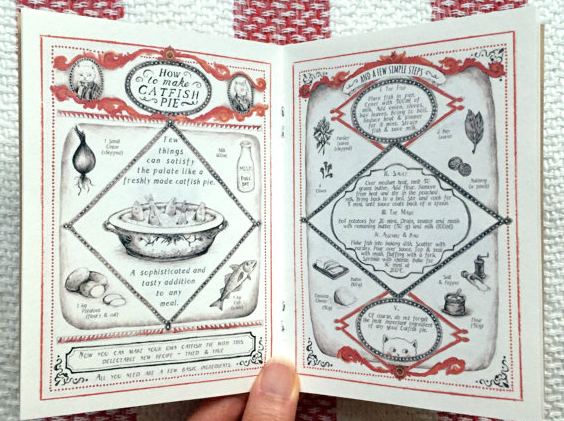 When not overseeing respected anthology Tiny Pencil, the ever versatile Amber Hsu can be found applying her multiple talents to all manner of diverse artistic pursuits. One of those many varied disciplines is the world of zine-making; an allied arena we have often crossed over into in 'Small Pressganged' over the years.
How to Make Catfish Pie (above and below) has its origins in Orbital Comics' recent 'Comics in the Kitchen' exhibition. Presented in minicomic format with a deliberately antiquated feel to its page layouts, it's part "recipe book" and part disturbing culinary stream-of-consciousness. With a storybook feel to its brief 8 pages – that borders on Tenniel in appearance – and a sense of sinister glee in its mischievous imagery, it's very much in keeping with the darker themes of the more recent issues of Tiny Pencil.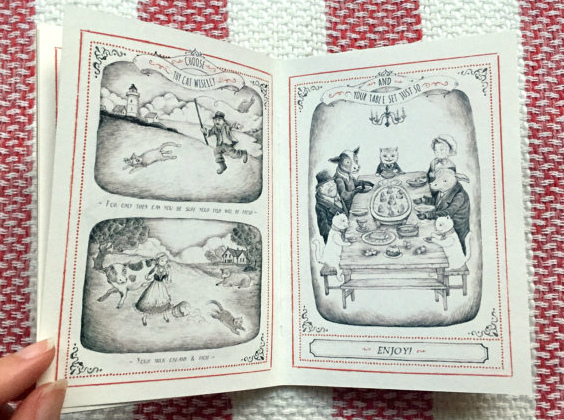 Those who have seen Amber Hsu and Gareth Brookes whipping up the magic of their 'One Pound Poems' on a delightfully retro looking typewriter at various UK small press events will be well aware of the astonishing productivity rate of their wittily assembled verse. Hsu has also collected some of her poems in two zines entitled The Gherkin & Sardine (A True Love Story) and Other One Pound Poems and Lemons Roses Happiness and Other One Pound Whimsies.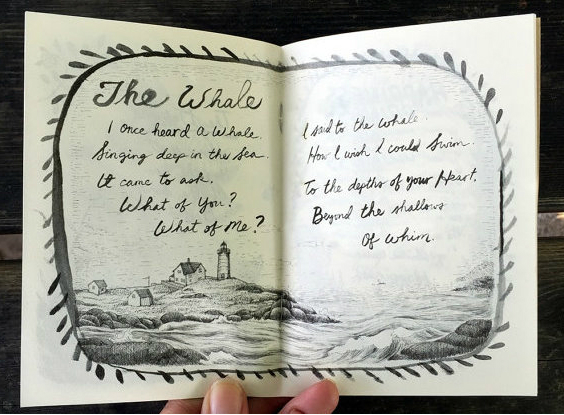 Both zines have their own distinctive character. Lemons Roses Happiness (above) is a compilation of more pensive pieces; profounder reflections on friendship, nature, creativity and life's last fleeting moments. The Gherkin & Sardine (below) is a less serious batch of work with the cross-food group love story of its title being a fine example of the more jaunty cadence of the material herein. Other entries include lyrical ruminations on baked beans, melons and multilingual romance. It's all complemented by that same stylish page design apparent in How to Make Catfish Pie and some gorgeous accompanying spot illustrations.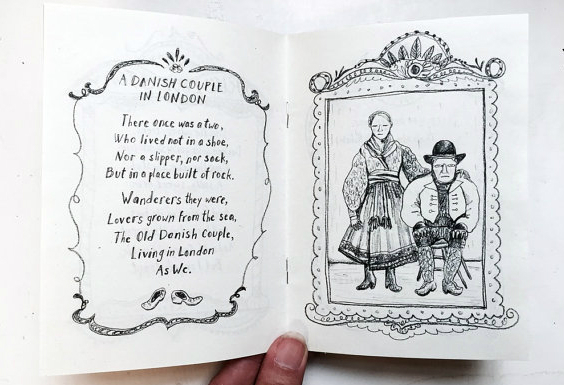 It's a strange conjunction of adjective and noun perhaps but there's something breezily macabre about the visual appeal of Hsu's work. It has an appealing otherness, a haunting rhythm and an unsettling allure to it that is really rather splendid. These three zines are a perfect appetiser for anyone eagerly anticipating the long-awaited Tiny Pencil #5…
Amber Hsu is a guest artist at tonight's Gosh! Comics and Broken Frontier Drink and Draw. Full details here.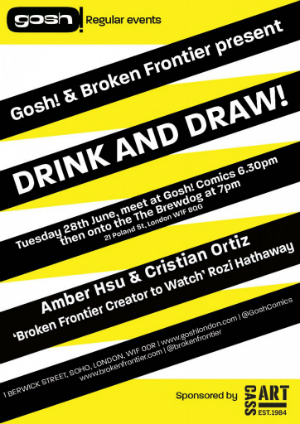 For more on the work of Amber Hsu visit her website here and follow her on Twitter here. You can buy her zines from her online store here and Tiny Pencil here.
For regular updates on all things small press follow Andy Oliver on Twitter here.