Artzine Tiny Pencil debuted back in 2013 as a showcase anthology celebrating all things graphite. A handsomely packaged publication it combines illustration and comics and, to date, has included work from such luminaries as Donya Todd, Luke Pearson,  Kristyna Baczynski, Gary Northfield, Andy Poyiadgi, Isabel Greenberg, Alexis Deacon and Gareth Brookes. 
With something of a hiatus since the last issue in 2015 pre-orders for Tiny Pencil #5 recently opened. Today I chat with editor Amber Hsu (below right) about the upcoming 'The Cosmic Issue' of TP, her own comics practice and the phenomenon that is 'One Pound Poems'…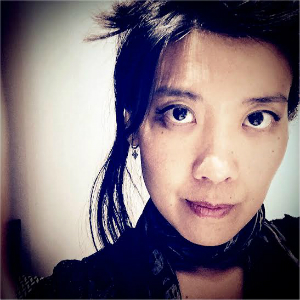 ANDY OLIVER: Before we discuss Tiny Pencil could you give us a little background on yourself and your own multi-disciplinary artistic practice?
AMBER HSU: I'm a Chinese-born, US-raised, UK-based writer, artist, filmmaker, poet, and small press publisher. I live in London. I have two cats.
Your graphite-based artzine anthology Tiny Pencil reaches its fifth issue this summer. Going back to its inception in 2013 what was the genesis of the project?
I draw a lot in pencil and the idea and name came from a blog I'd started some years before which I'd named Tiny Pencil. I'd wanted a space for personal, graphite drawings, but I never posted much to it. At that point, I think I was a bit demoralised and lonely. I was working on some "sculpture" pieces for a gallery in Copenhagen at the time and felt very removed, like I was basically making work in a vacuum.
Then I went to my first small press fairs. It was like love at first sight. I loved how energetic, collaborative and direct everything felt. I loved that you could buy a book straight from the person who made it right there. I saw all these people making things, collaborating, and just putting stuff out there. And I just thought it looked like too much fun not to join in.
The pieces I made for that gallery then ended up drowning in a flood and my "sculpting" career came to an abrupt end, which was just as well as I wasn't particularly good at it. But on the upside, I received an insurance payment that I then used to start Tiny Pencil.
The covers to Tiny Pencil #3 and #4
If you had to define Tiny Pencil in terms of a mission statement then how would you describe its aims?
I always meant it to be a home for raw, personal works — the poetry of the strange and the uncanny, the comic and the visionary.
Tiny Pencil mixes both illustration and comics. In what ways do you feel single imagery and sequential art in the pages of TP complement each other in the differing ways they ask the reader to interact with the page?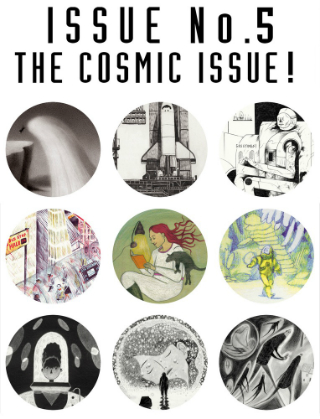 I wonder about that quite a bit actually. One thing I always find interesting when looking at sequential vs. single imagery is how the page itself is used.
Sequential art, for example, is made for the page. With text-based stories you read and forget about the page, but with a comic, the page itself is the finished form.
Single images give you a powerful and immediate entry into another world, but sometimes (not always of course) it can feel like you're looking at something designed to occupy another space – framed in a gallery, for example.
Perhaps the single and sequential works complement each other by giving a very strong and immediate sense of world, but anchoring the world in the object of the issue itself.
I love books as objects, so we try to produce the issue so the images feel finished in book form. It's one reason we use a very tactile paper – so the pages feel like a finished printed object that you would want to keep.
Perhaps in that way, the comics are contextualising the single imagery into book form – and the single imagery is contextualising the comics as art print.
I think it's fair to say that the tone of Tiny Pencil in terms of approaches to each issue's subject matter has veered towards the dark so far. Do you have any thoughts as to why so many memorably disquieting and unsettling pieces of work have taken precedence?
I've always found beauty and humour in darkness. Darkness and disquiet in art can be quite comforting too because we all have that in ourselves to some extent. So when I see darkness in art, it can be like having a conversation with an image that understands and empathises with that element inside of us. It can help keep you from feeling totally isolated and alone.
Your fifth edition has the subtitle of 'The Cosmic Issue'. What teasers can you give us to the work within? And who are some of the names involved this time around?
I'm really excited for this next issue! Here are a few teasers: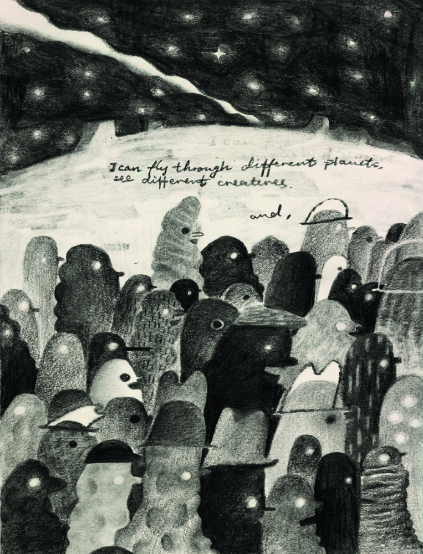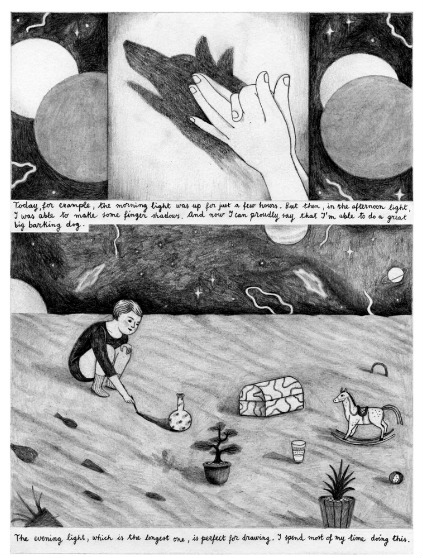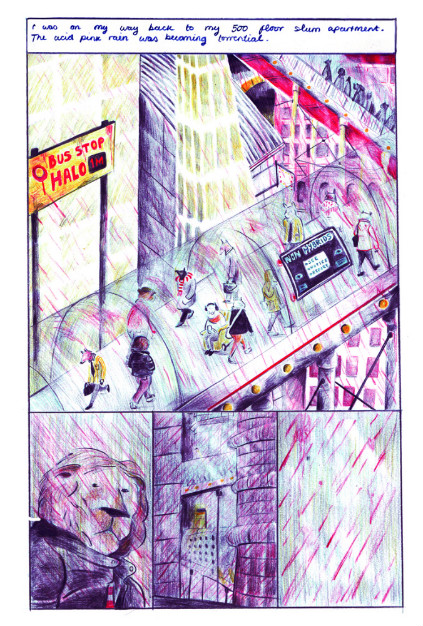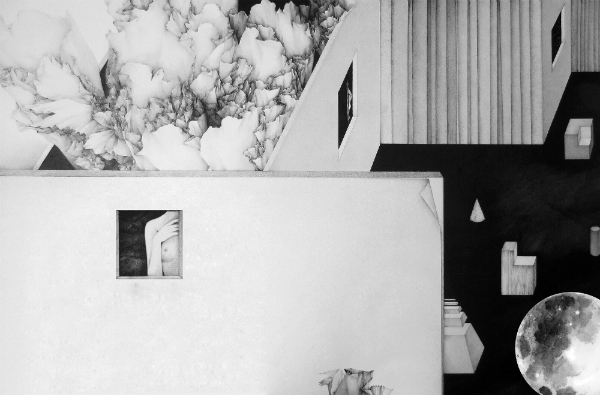 There are also pieces by Audrey Niffenegger (of whose visual novels I am a total fan), Renee French (whose pencil work is beyond exquisite), Alexis Deacon (who just put out a glorious graphic novel called Geis), and many, many more. (You can find the full list of artists at the TP site!)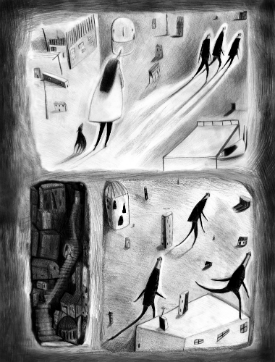 I can't let discussion of Tiny Pencil #5 go by without asking about the short comics story by 2016 Broken Frontier 'Six Small Press Creators to Watch' artist Kim Clements (see right). What was the appeal of her hugely distinctive style to you and how has she interpreted that "cosmic" motif?
I'd really loved Kim's zine Rabbit Thoughts. It was so emotive and tender. I felt I had found a friend in it, and was less lonely for having read it. Plus I'm a long-time fan of rabbits! As to how Kim interpreted the "cosmic" motif…well, anyone who would like to see how she interpreted it will have to get the issue and interpret that for themselves :0) Whatever they come up with, the journey will be worth it.
How important a part of Tiny Pencil's remit is that mix of newer voices with more established talents in its pages?
Absolutely important. Some of my favourite contributions actually come from artists who aren't necessarily professional in the traditional sense. It always makes me happy to put a new voice next to an established one because sometimes it can really mean a lot to them.
Last year you had a short comic published in Richy K. Chandler's Tempo Lush Tales of the Tanoox anthology that you've gone on to reprint as a minicomic called There Was Once… (below). I said when I reviewed Tales of the Tanoox that we don't see enough comics from you. Have you any plans for anything longer-form in future?
I've definitely been working on a few manuscripts. But I think there will be a few medium-short length pieces before I go the full monty with a long-form piece. The book I have roughly mapped out is a really long one which would require a level of stamina and focus that I can't quite give it right now…
Regulars on the UK small press circuit will be aware of your One Pound Poems appearances at fairs and festivals. You've also published some of those in zine format recently. What was the origin of One Pound Poems, who makes up the team and why do you think it's caught the public's imagination to the extent it has?
I used to try and get people to speed write poems in a game I called the Two-minute Poetry game, but hardly anyone ever wanted to play with me. But then, after I started doing small press fairs, and selling small things like miniprints, I thought why not sell poems too?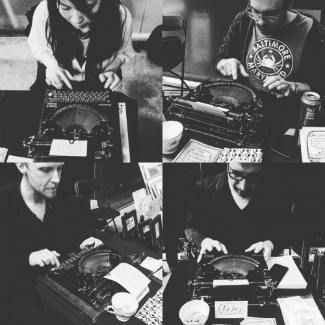 There are quite a few people involved now, including graphic novelists Gareth Brookes (author of The Black Project), Alexis Deacon, and my partner J. Jason Mitchell who also writes poetry. Richy K. Chandler also helped make a banner for us at the Soho village fete (while his son was busy writing a poem!).
I think people have taken to it because it's a one-of-a-kind, personalised experience that's also collaborative. The reader actually gives us the topic, so a One Pound Poem is really a collaborative exchange between two people. I think the £1 is also important. Almost anyone can afford it, but it's not free. The £1 becomes an almost ritualistic token exchange with the reader having agency and choice to initiate the poem. Also, for a one-of-a-kind, hand-made item, it's a total bargain.
It's also very appealing for a creator to be able to create without the critique. You're always trying to write a good poem, but since it's created live without a backspace button, there's some leeway if it's a bit shit! When you write a really good one though, and someone is genuinely moved and happy, that's a really wonderful feeling, a total bonus.
Do you have any thoughts on where you may go thematically with a sixth issue of Tiny Pencil?
I do, but they're all secret for now!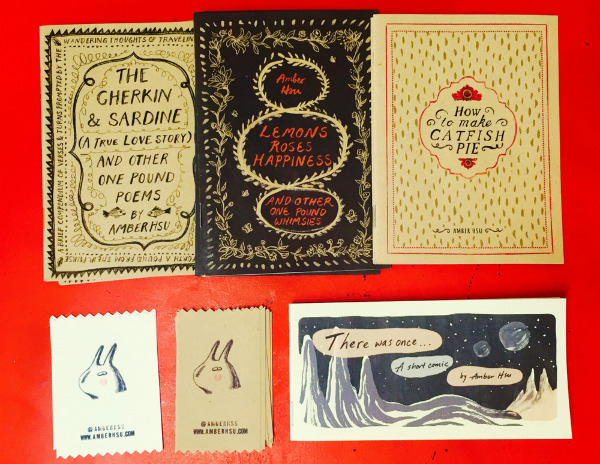 Some of Amber's zines including How to Make Catfish Pie (reviewed here at BF)
And, finally, are there any other upcoming projects that you can tell us about? What's next for the ever busy Amber Hsu?
More poetryzines and comics of course! I actually just started a poetry and zine making workshop for an arts and mental health charity here in London called CoolTan Arts, which should be a lot of fun. I'm also working on some stage adaptations of Chinese classics for the Royal Shakespeare Company and another children's stage project, both of which I'm very excited about. And I'm also developing a podcast on environmental issues called "Our Brave New World" which you can find at www.ourbravenewworld.com. That project's really new and neither of us have ever done a podcast before so please wish us luck!
For more on Tiny Pencil visit the website here and follow the anthology on Twitter here. You can pre-order Tiny Pencil #5 here priced £11.00 plus postage. 
You can find out more about the work of Amber Hsu here and follow her on Twitter here. Visit her online store here. 
For regular updates on all things small press follow Andy Oliver on Twitter here.