FRONTIER FRIGHTS!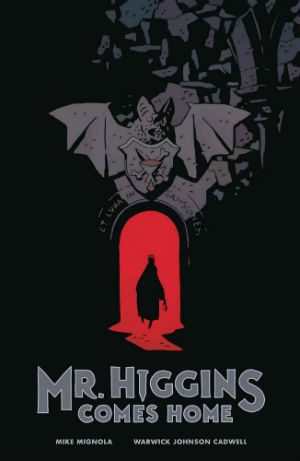 Presented in a handsomely packaged, slim hardcover format, Mr. Higgins Comes Home is both a loving homage to a classic era of Hammer Horror films and a knowing pastiche of their camper elements. It follows the mission of two vampire hunters, Professor Meinhardt and his assistant Mr. Knox, as they seek to rid the world of the scourge of the vampiric Count Golga. While the Count prepares to celebrate Walpurgis Night at Castle Golga with his supernatural hordes. Meinhardt and Knox visit the mysterious Mr. Higgins in the remote monastery he has been confined to.
Years before, Higgins lost his wife in tragically violent circumstances involving the evil count. But how is he the key to Meinhardt's plans? What truly happened to Higgins in Castle Golga decades before? And what infernal forces are about to be launched on the world?
As wish-list horror comics collaborations go could there ever be one quite as anticipated or as inspired as that of the architect of the Mignola-verse and the artist whose distictively distorted visuals have brought such idiosyncratic life to books like Dangeritis, Tank Girl and Helena Crash? Mike Mignola is, of course, an acknowledged master of supernatural sequential art while Warwick Johnson-Cadwell's impressionistic style has a spellbinding appeal that immediately draws the reader's eye in with its abstract energy and kinetic vitality.
Mignola throws in as many standards and clichés of the genre as he can with a joyous abandon that mixes the bloodsucking undead, werewolves, locales that evoke both Bram Stoker and Edgar Allan Poe, phantom carriages and deadpan Satanic visitations. The dialogue is wonderfully layered, sparkling with a double-edged delivery that is both melodramatic in its earnestness and yet knowingly witty at the same time. Despite being an engaging patchwork assimilation of hoary old horror chestnuts there's nothing here that's predictable. In fact the dynamic, almost slapstick denouement turns all our expectations on their head in a frantic, frenetic finale.
But it's Warwick Johnson-Cadwell's unforgettably offbeat panels that are the major draw here. Beginning with the almost elastic limbs of a warped and contorted nosferatu in the opening pages there's a palpable sense of misshapen horror to the otherworldly creatures he portrays. His realisation of the gothic overtones of the book gives us a spectacularly grotesque grand guignol and his more overt action sequences fly along with a crackling, almost animated spirit.
This isn't a sophisticated story nor is it a particularly profound one, and it's not meant to be. If you're looking for undead existential angst or portentous vampiric soliloquising this is not the book for you. But if you are after a boisterous romp of a read, delivered at a breakneck speed that will have you eagerly turning the pages as it sweeps you along in its manic, macabre madness then Mr. Higgins Comes Home is an ideal Halloween treat. A dream team creative collaboration that doesn't disappoint!
Mike Mignola (W), Warwick Johnson-Cadwell (A) •  Dark Horse Comics, $14.99
Check out the rest of our Frontier Frights coverage here. Promo art by EdieOP.