It's almost Wednesday, and you know what that means: a fresh load of comics and graphic novels! With so many publications hitting your local comics store or digital storefront, BF is here to lead you through the woods. These are the books that need to be on your pull list this week.
Comic of the Week
Moon Knight #1
The mystical force of Khonshu once again empowers Mark Spector's crusade against evil as the vigilante Moon Knight. But fighting crime as he returns to New York City may not prove to be as challenging as managing his three distinct personalities.
Comics superstar Warren Ellis helms this reboot, and we can expect him to concentrate on presenting a Moon Knight heavily influenced by his original motivations: seeking redemption for his deeds as a mercenary; the relationship between Moon Knight and Khonshu and its responsibilities; and his continued psychic instabilities and multiple personalities. Artist Declan Shalvey and colorist Jordie Bellaire recently teamed up on Deadpool and will be giving the night's most tormented detective a new and grittier look. This creative team is poised to send Moon Knight right to your pull list.
Warren Ellis (W), Declan Shalvey (A) • Marvel Comics, $3.99
– Karen O'Brien
Starlight #1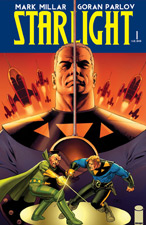 High-concept comic launches have been the trademark of Mark Millar for a few years and Starlight is no different as it's touted as Buzz Lightyear meets The Unforgiven. Obviously formulated to create some controversy by coupling a children's entertainment product to a gritty and violent outlook on life, Starlight actually features a very simple premise: Flash Gordon-lookalike finds himself retired on earth and longs for his youth to return fighting glorious monstrosities on magnificent alien planets. And then a spaceship lands in front of his house. That's it.
Millar has always had a good nose for quality artists and Starlight is in the capable hands of Goran Parlov (Punisher MAX), whose stylistic renderings serve to ground the more fantastic aspects of this story. So what will we get: another failed attempt at a retro fifties sci-fi hero, like Garth Ennis' Dan Dare, or, like Warren Ellis' Apparat comic book line, will Starlight be a daring reinvention of the fifties sci-fi template for the new age?
Mark Millar (W), Goran Parlov (A) • Image Comics, $2.99
– Bart Croonenborghs

Veil #1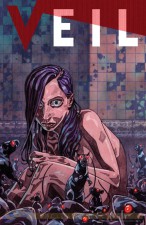 Greg Rucka is a writer with a rep for "strong female characters". So, it shouldn't come as a surprise that while the eponymous lead character of this new five-parter from Dark Horse starts off naked, amnesiac and in the wrong part of town, she soon shows that she's going to be nobody's victim.
But that's only half the story: editor Scott Allie has teamed up Rucka with Euro-comics star Toni Fejzula, who douses his confident line work in intense and unsettling color. There are hints of the supernatural in this spare, atmospheric opener, which leaves the readers with a lot of questions. With Rucka at the helm, it's usually worth hanging around for the answers.
Greg Rucka (W), Toni Fejzula (A) • Dark Horse Comics, $3.50
– Tom Murphy
Forever Evil #6
And so, the fatal hour is finally here: Richard Grayson's life hangs in the balance. Coming in a week when the publishing tactics of the big two have come under criticism again, DC concludes its Forever Evil series – a cross-over event that has been so-so at best and laughable at worst. And whatever happens (if it happens) will be reversed. 'He'll be back!' the fans will cry with that oh-so-knowing air which comes from being truly bored with it all: bored with being talked down-to and bored with buying 25 different comics only to find that none of it matters.
But, comic fans, remember this: if Grayson must die, then such death comes to the best. He is the original good soldier; the red-breasted hatchling who dared to fly from that dark, oppressive nest on wings of blue. His life means something and so his death must mean something too. So feel sad, shed tears, recall the good times and the bad. Your mourning is owned by you – the fan – not DC Comics. If death must come, then make it matter.
Geoff Johns (W), Richard Friend & David Finch (A) • DC Comics, $3.99
– Joe Krawec
Magneto #1
Which path should mutantkind take? Ever since the schism happened that saw Cyclops and Wolverine each move in their own direction, there were two distinct answers to that question. Now, there's a third as Magneto abandons Cyclops' team to go at it alone, fighting for the survival of his race like only he can – by any means necessary.
Cullen Bunn and Gabriel Hernandez Walta team up to bring you the next chapter in the storied history of the X-Men's perennial arch-nemesis, only this time he's not at the height of his powers so he really has to get his hands dirty. Check out this book especially because of Walta's pencils, whose style here is the product of artistic intercourse between Eduardo Risso and PJ Holden.
Cullen Bunn (W), Gabriel Hernandez Walta (A) • Marvel Comics, $3.99
– Frederik Hautain
Beautiful Darkness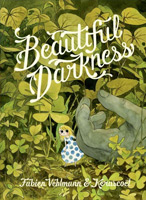 Civilized society is the facade of a beast that roars and strikes when threatened and does not care whether you are human or fairy. One of my most anticipated books of the year arrives, as Fabien Vehlman (of Seven Psychopaths fame) pens a distressing allegory of the breakdown of a community when a fairy on the run from a deluge hides in the skull of a dead girl and meets another crowd of tiny people. They band together and try to survive, but slowly discouragement creeps in and turns into something ugly.
This graphic novel promises to be more than Lord Of The Flies with fairies though! Beautifully drawn in a sweet cartoony style and painted in watercolours by Kerascoët (a husband and wife team), the visuals stand diametrically opposed to the serious underpinnings of the story and will gradually lead you from the comical observations of social interaction into the dark corners of the human psyche. Beautiful Darkness is allegory at its best!
Fabien Vehlmann (W), Kerascoët (A) • Drawn & Quarterly, $22.95

– Bart Croonenborghs

Evil Empire #1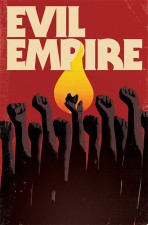 Max Bemis is best known as the lead singer of a band I've never heard of, but he's also emerging as a decent comics writer – as demonstrated in last year's Polarity (illustrated by Jorge Coelho), a satirical super-powered mash-up about a bipolar artist stuck in the hipster hell of Brooklyn's Williamsburg.
Now he's back at BOOM! Studios with a darker and much more ambitious project: a 16-part political thriller with artist Ransom Getty, looking at how easily a seemingly free and democratic society could degenerate into a totalitarian dystopia. It's all seen through the eyes of Reese, a young female rapper who inadvertently plays a part in the process.
Max Bemis (W), Ransom Getty (A) • BOOM! Studios, $3.99
– Tom Murphy
Swamp Thing #29
And so begins a three-part story in the life of Alec Holland – "The Gift of the Sureen", which promises changes to The Green and a fantastical offer from a mysterious cult.
This is what the solicitation tells you. As a reader of Swamp Thing, allow me to impart the knowledge that dry solicitations do not – i.e. the interesting stuff. Under Charles Soule's guidance, Swamp Thing has come alive once more. Soule has brought a beautiful summer back to the avatar of The Green; a Swamp Thing in full bloom, flowering with wondrous possibilities on his mythic nature. Whilst Snyder's run had horrific grandeur, it is Soule who has taken The New 52 edict that 'Alec Holland is Swamp Thing' and run with it. This is a human exploring the limits of his old/new self with a certain enjoyment, wrapping his tendrils around his reader and pulling them deep inside his story.
Charles Soule (W), Jesús Saíz (A) • DC Comics, $2.99
– Joe Krawec
Rogue Trooper #1
Amid the desolation caused by the galaxy-wide war between the Southers and the Norts Nu-Earth has transformed from paradise planet to a wasteland of plagues, toxins, and radiation. The Genetic Infantrymen were created by the Southers to fight in this hostile environment and rather than turning the tide of battle, the G.I.'s were betrayed, ambushed in the Quartz Zone, and massacred. The lone survivor of their number is a deserter who now seeks justice for his fallen brethren as the Rogue Trooper.
Writer Brian Ruckley resurrects this shoot-'em-up gem of the 1980s and revamps it for modern audiences in his first work in comics. Artist Alberto Ponticelli (Sam and Twitch, Frankenstein: Agent of S.H.A.D.E.) is no stranger to detailed action sequences and will provide dynamic pace and plenty of detail to this book.
Brian Ruckley (W), Alberto Ponticelli (A) • IDW Publishing, $3.99
– Karen O'Brien