PRIDE MONTH 2023! Reviewing serial comics is an odd exercise on many levels. You wouldn't review the first chapter of a book in isolation, after all, so examining the first issue of an ongoing sequential art narrative requires analysis of a different kind. Has this first instalment done enough to establish premise? Have we immediately connected with protagonist and cast? Are there enough in the way of intriguing plot hooks to ensure the reader wants to discover what happens next? And do we immediately feel a sense of collaborative synergy?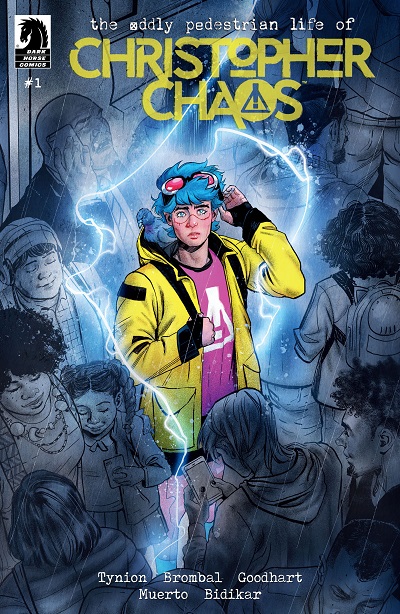 The Oddly Pedestrian Life of Christopher Chaos #1 features a lead character described in advance publicity as a "teenage mad scientist" but that hardly begins to sum up the entirety of this genre-merging story. Christopher is a genius, seeing the connections between things on an entirely different mental level, and allowing him to achieve things that his school friends never could. But this ability has made him something of a pariah among his peers and left him desperate for friendship.
Christopher's crush on his classmate Hayden – the "cutest boy in school" – is about to propel him into a whole new world of jeopardy, though, when it turns out Hayden has a huge secret of his own. One that will bring the supernatural, monster hunters and all-out weirdness into Christopher's life…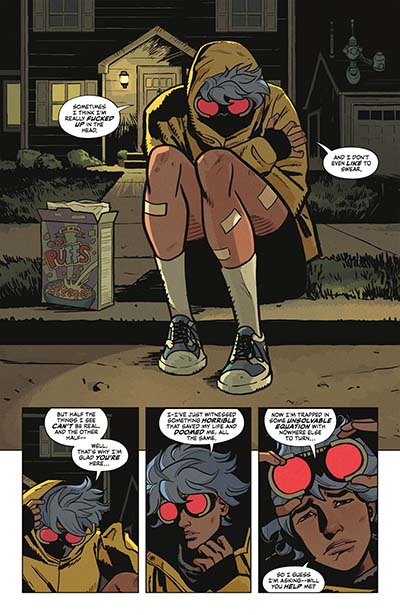 James Tynion IV and Tate Brombal keep the readers on their toes by giving us a first issue that combines horror, fantasy, science fiction and LGBTQ+ coming-of-age themes. Christopher Chaos is the archetypal outsider, the loner character we all immediately want to root for because we empathetically see something of ourselves in him. Indeed, the parallels between his search for companionship and his perception of his identity have an extra added layer of social commentary to them.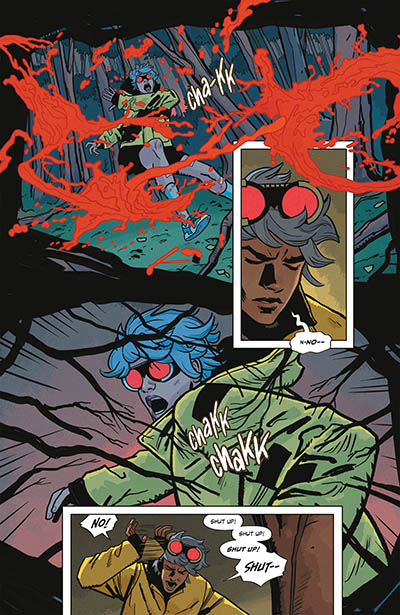 The multiple twists and turns of The Oddly Pedestrian Life of Christopher Chaos #1 are impossible to consider here without giving away too much. Suffice to say, this is an expectation-defying comic that intrigues us with its unpredictability while subverting meta elements with an eccentric self-referentiality. Isaac Goodhart's art skilfully reflects this with action sequences that are perfectly choregraphed, not simply sequentially but in the manner in which page structures mirror events with a beguiling flourish.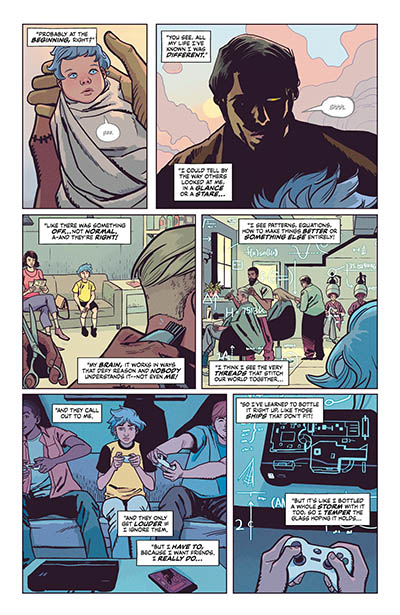 Complementing this, Miquel Muerto's colours play an essential role in conveying the atmosphere-charged tone of the book, amply emphasising the eerie and the fantastic. And Aditya Bidikar once again proves exactly why he's one of the very best in the business, portraying feelings of terror, despair, and even underlining a sense of time and place in his lettering choices.
Does The Oddly Pedestrian Life of Christopher Chaos #1 provide us with positive answers to those questions set out at the top of this piece? I would argue that it most assuredly succeeds in that regard. In terms of pure, old-fashioned "I really want to see what happens next?" considerations this is one of the strongest first issues I've read in a long, long time.
James Tynion IV and Tate Brombal (W), Isaac Goodhart (A), Miquel Muerto (C), Aditya Bidikar (L), Nick Robles (CA) • Dark Horse Comics, $4.99
Review by Andy Oliver