Even casual observers can tell Neil Gaiman likes myths. From The Sandman to American Gods to even Beowulf, Gaiman keeps returning to these ancient legends as metaphors for storytelling itself. Back in 2017 he addressed Scandinavian lore in his book Norse Mythology. Now Gaiman's retellings are being re-retold in comic form, adapted by P. Craig Russell, who has experience transcribing Gaiman's work into comics with Coraline, The Graveyard Book and American Gods. There's something particularly appropriate about Norse Mythology's reformatting. It mirrors how myths are continually passed down and retold until the stories finally become legends.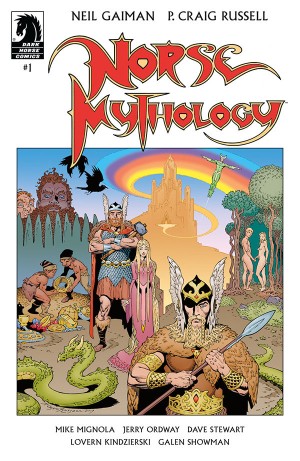 Despite the mainstream popularity of Thor, most of Norse mythology never quite penetrated pop-culture like Greek mythology has. Perhaps since instead of featuring direct personifications of cosmic forces (the Sea, the Skies, War, Love, Wine etc.), Norse folklore has a more separate and alien ecosystem. As a result, the first issue of Norse Mythology is mainly laying the groundwork of this lore in short encyclopaedic entries. The first story, 'Yggdrasil and the Nine Worlds' has Gaiman list off the different realms (Asgard for Gods, Midgard for humans, Alfheim for elves, Vanaheim for something called the Vanir etc.), which are all connected by the mighty dimension-spanning ash tree Yggdrasil. More than most mythologies, this dense lore reads as gobbledegook, but Gaiman's dry and matter-of-fact delivery makes it all digestible. It's presented so directly you almost don't question the gossiping squirrel Ratatosk. The two other entries have more actual plot in them, such as detailing how Odin gave up his eye for wisdom, and how Loki shaved off the hair of Sif (the wife of Thor) as a prank.
Such is the range of Norse Myths; epic wars and quests across different kingdoms, and the petty squabbles of sibling rivalry. Although the latter 'Treasure of the Gods' does end on a cliffhanger as Loki tries to forge a wig for Sif after Thor threatens him. Even for a single issue, Norse Mythology is pretty lean, especially since most of it is simply introducing us to these vowel-heavy names. Still, P. Craig Russell outlines these entries in a compelling way. Despite plenty of narration, they are paced and arrange to read like an actual comic instead of an illustrated dictionary. Moments like Odin asking for a knife with which to cut out his own eye are particularly impactful.
The artwork also helps. Russell himself illustrates 'Yggdrasil' with a crisp and tidy touch. The different races and realms are left suitably distinct, assisted by the colouring of Lovern Kindzierski. As the narration takes us from the shining Vanaheim to the dark world of Niflheim, the colours mirror the ensuing contrast. Each panel has its own hue to differentiate the worlds and their fantastical nature. Kindzierski's colours look different in 'Treasure of the Gods', slightly more muted and shaded. It follows the more 'grounded' pencils by Jerry Ordway, that renders the Asgardians like fairly normal men, appropriate for a more plot-driven and lowly tale. 'Treasure' is also where Galen Showman's lettering gets to shine. When Thor demands to know why Loki shaved off Sif's hair, Loki's response sickly-blue and scrambled as he screams "It was funny! I was drunk!". The changes in lettering – like when Loki shouts "Dwarfs" in big letters, and Thor replies "pardon?" in small ones – and the in-the-moment storytelling gives 'Treasure' the most forward-momentum.
However, it's the middle tale, 'Mimir's Head and Odin's Eye', which has the most compelling artwork from the most famous artist, Mike Mignola. As a story it's in-between the other two, showing Odin's early quest for wisdom but also skimming over wars. Objectively Mignola's style would seem a strange fit for high-fantasy, his signature sloped figures and heavy shadows (alongside the muted colouring from long-time collaborator Dave Stewart) going against the stereotypical brightness and upright-poses of mythical heroes. But Mignola's style taps into the shady darkness surrounding Norse folklore. His impressionistic artwork sets the tone for the implied fate of these characters, without giving away too many details.
Norse Mythology #1 is only an introduction to these ancient myths. It's a little too economical to fully allow Gaiman's distinct voice to shine through, but it does provide an intriguing gateway for those unfamiliar with these legends. It might be worth waiting for a collection, or even checking out Gaiman's original prose book. But Norse Mythology #1 is a well-made foundation for these stories, adding another verse to these long-chanted songs.
Neil Gaiman & P. Craig Russell (W), P. Craig Russell, Mike Mignola & Jerry Ordway (A), Lovern Kindzierski & Dave Stewart (C), Galen Showman (L) • Dark Horse Comics, $3.99
Review by Bruno Savill de Jong