Peculiarly, for a year in which some diverting holiday reading was perhaps more needed than ever, festive comics seem to be few and far between for 2021. One of the few offerings from the US serial comics publishers this year is the Stranger Things Winter Special from Dark Horse. This one-shot story fits neatly between seasons of the TV show and captures the spirit of Christmas comics from yesteryear, eschewing the seasonal parody that has become almost the given for such offerings over the last few years and instead providing the reader with something far more uplifting and heartwarming.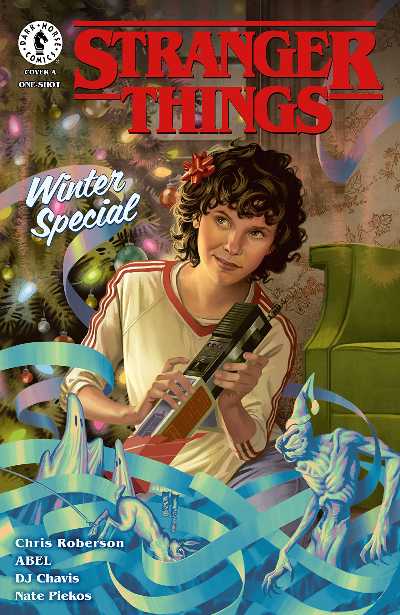 The hook for this short is the kids of the town of Hawkins getting together to teach Eleven about Christmas and what it means to them. In typical Stranger Things retro-style this begins with Mike, Dustin, Lucas and Will typically educating her from a pop cultural perspective, via a collection of holiday specials taped onto VHS from the television. As they describe the plots of each show Eleven visualises them through the filter of her own limited worldview, seeing classic characters in the guise of the Hawkins residents and interpreting the episodes as echoes of her own experiences over the first two seasons of Stranger Things.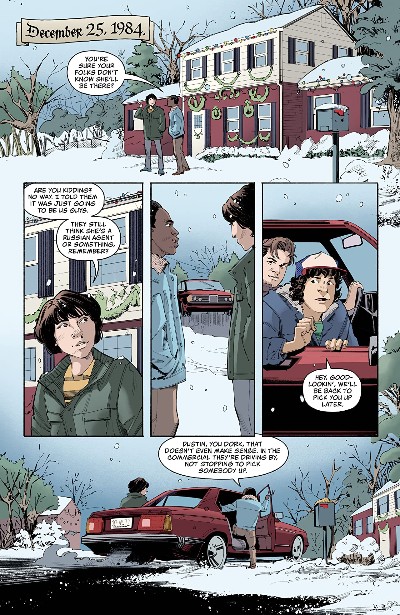 What writer Chris Roberson achieves here is a story that does that all too rare of things for a licensed property comic. The Stranger Things Winter Special transcends the usual vague approximation of its source material. For its duration we forget we are reading an apocryphal adjunct of the main franchise and find ourselves wholly immersed in the root mythos. Much of this is down to the characterisation which is delightful. As an Eleven spotlight story it brings her social awkwardness and sense of discovery very much to the foreground (there are also some wonderfully observed interactions between Joyce and Hopper). But what's also vital here is that this special tells a story that embraces the transition to a different medium, employing narrative tools that could not have worked in the same way on screen.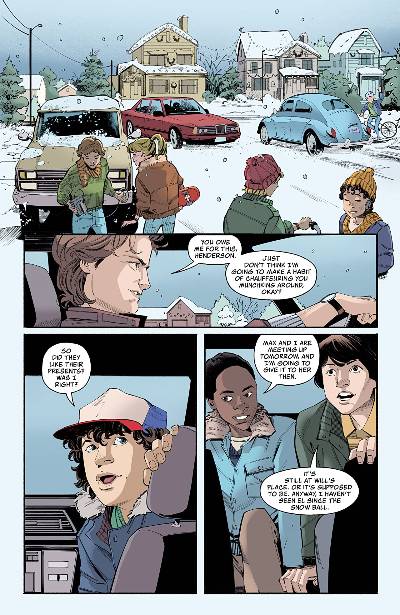 Artist ABEL does a fine job capturing the essence and body language of the characters without resorting to slavish photorealism, contrasting that imaginatively with the fantasy sequences where the Grinch, Charlie Brown, Scrooge et al are viewed through a Stranger Things lens (Dart as Snoopy is particularly memorable), while DJ Chavis on colours emphasises both the homeliness of Hawkins and the vibrancy of the season. As ever, rock solid lettering from Nate Piekos intuitively guides the reader's eye around character interactions, so important in a story that by necessity has a number of talking heads-style sequences.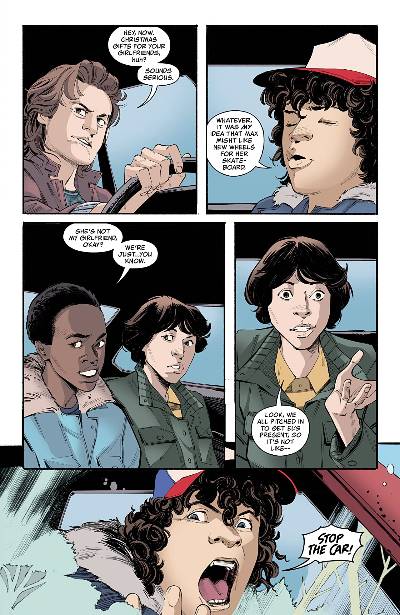 Whatever your take on the holiday season the Stranger Things Winter Special is a refreshingly feelgood comic, devoid of cynicism, and a celebration of friendship rather than a vehicle for saccharine holiday messages. It's also full of all those Eighties reference points and continuity nods that will make it an essential read for Stranger Things aficionados.
Chris Roberson (W), ABEL (A), DJ Chavis (C), Nate Piekos (L) Steve Morris (CA) • Dark Horse Comics, $6.99
Also available digitally on ComiXology
Review by Andy Oliver