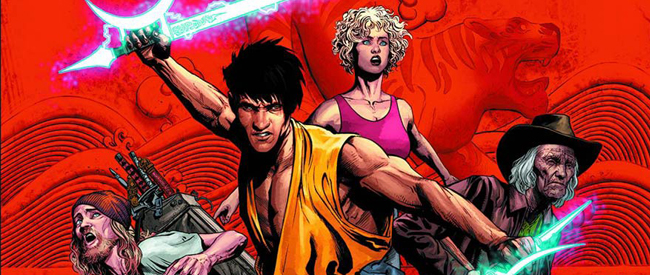 One part Master of Kung Fu, one part Dr. Strange, King Tiger leaps into the fray as sorcerer and warrior in this thrilling, gorgeously illustrated adventure tale that blends the exotic mysticism of the pulps with modern cinematic action.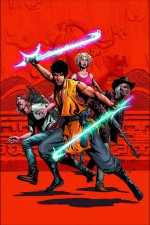 King Tiger began his fictional life over twenty years ago as a tertiary character in the now-defunct Comics' Greatest World line created by Dark Horse Comics in the early 1990s. As the guardian of the Vortex, an inter-dimensional portal to an infinite array of fantastic realms, King Tiger seemed to be positioned as a major player in the publisher's burgeoning superhero line-up.
However, overshadowed by more popular properties like Ghost and X, he quietly faded into the background shortly before the Comics' Greatest World line folded in the wake of the now-infamous speculative implosion that rocked the Nineties comics market.
In the past couple of years, spurred on perhaps by the superhero's successful invasion of mainstream media, Dark Horse has returned to both Ghost and X, once again delivering their unique take on the adolescent power fantasy. Although he remains somewhat removed from the publisher's gun-toting vigilantes in tone and setting, King Tiger is a refreshing departure from the trend towards grimmer, more "realistic" superhero fare.
That isn't to say this first issue lacks maturity or sophistication: far from it, in fact. Stradley's reputation as a high-level editor is well-known. He's left his mark on a number of very popular, very lucrative licensed comics properties like Star Wars and Aliens. If anyone knows the craft of writing comics and how to leverage the medium's inherent potential, he does.
There's a breezy crispness to the book's pace that keeps the reader interested and on their toes, as Stradley relies upon his exceptionally well-constructed characters to drive the plot ever forward. Even extended passages of exposition read easily, thanks to the organic interplay between Tiger and his intriguing supporting cast. The rhythm and cadence of the dialogue is infectious and contributes to the plot's snappy pace.
Like Stradley, Doug Wheatley has spent much of his comics career lending his extraordinary talents to Dark Horse's old Star Wars franchise. I've long been a fan of Wheatley's singular blend of cinematic melodrama and hyper-detailed realism, but he truly takes his art to another level in King Tiger.
While the material may lack the interplanetary scale and extra-terrestrial strangeness of the Star Wars universe, King Tiger's unique brand of Oriental mysticism allows Wheatley to stretch a different set of creative muscles. It's refreshing to see his trademark eye for intricate detail applied to the people and places of a more grounded milieu.
His intelligent use of reference prevents the heroes and villains of King Tiger from feeling over-rendered and static, while his fully realized backgrounds, packed deep with eye-catching detail, ensnare the reader's imagination, helping them to invest fully in the story. Wheatley is one of those rare artists who thinks everything through, from set designs to body language, making sure that each panel and page makes sense visually and tells the story with depth and emotion.
Thanks to masterful storytelling by both writer and artist, King Tiger is one of those books you can't help but appreciate for the immensity of its craft and heart. With its intriguing characters and astonishing visuals – not to mention a certain light-heartedness that never undercuts the plot's high stakes – Dark Horse's dark horse comes out a winner in my book.
Randy Stradley (W), Doug Wheatley (A) • Dark Horse Comics, $3.99