Reports of UFO sightings and alien abduction begin roughly around the same time manned space flights began. As ghosts represent the landed gentry's guilt over their legacies, Dracula's a xenophobic anxiety around foreigners and their exotic STIs, and zombies nuclear radiation/mass commerce/voodoo (depending on the period), so too was this new imagined threat an allegory for topical fears: faced with the vast scale of the universe, humanity suddenly recognised the vulnerability — and the fundamental meaningless of — our existence.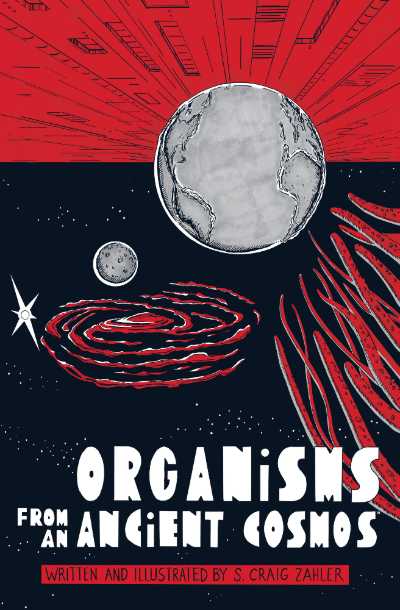 Thankfully we managed to ameliorate that cultural terror by turning little green men into kitsch cultural icons, the uncanny image of flying saucers transmuted into a chintzy trope of low-budget B-movies. S. Craig Zahler attempts to return some of the cosmic horror to those hoary old cliches in Organisms from an Ancient Cosmos. And he does so somewhat successfully! Beginning with a fake-out first act, where alien "invaders" are repelled by a joint, fraught US-China military assault, the story shifts gears. This opening section follows the structure of something like Independence Day, where the widescreen scope of the action is "grounded" through the POV of individual characters: a billionaire whose fiance is evaporated by a magma blast on their wedding day, a USAAF scientist dismissed for pursuing research over geopolitics, etc.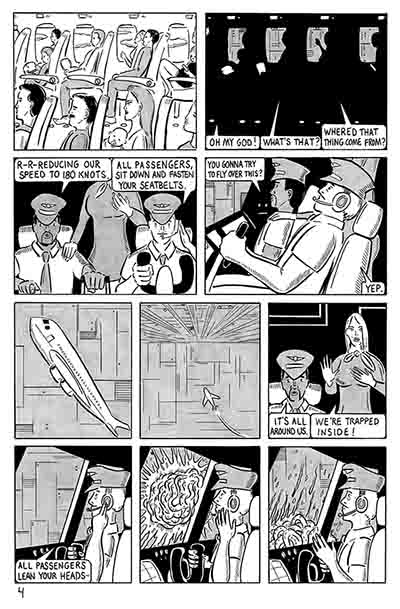 These characters, and plenty more besides, are the focus for the rest of the book. The bereaved billionaire hits rock bottom, before dedicating his fortune towards finding out where the aliens came from, and whether humanity can harness their cosmos-warping technology. The ex-military scientist heads up the endeavours, while he spends some time behind bars for a drunk driving incident. This ends up being the longest section of Organisms from an Ancient Cosmos, literally and experientially: it drags. It's clear what Zahler was going for, but he's hampered somewhat by the detached, ironic tone set in the earlier sections.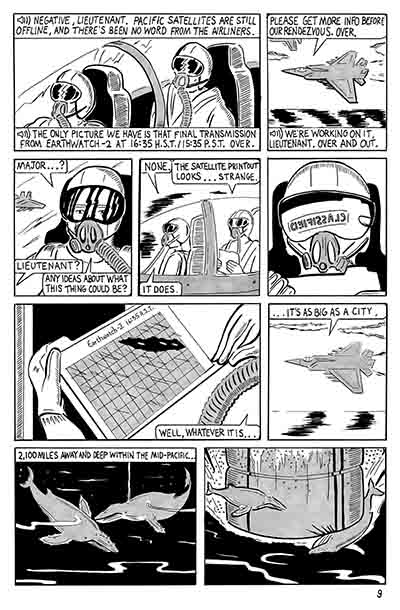 The book, and the simple visual style, recalls the likes of Ben Marra, Box Brown, and other artists whose names begin with B. It revels in genre cliche, relying on it for most of its humour (I'm particularly fond of the hard-as-nails navy veteran who bails out of a plane crash, loses his legs, has the wounds cauterised by lava, injects himself with morphine, then straps a fire extinguisher to the back of his knackered seat to rocket him back to land). The purposeful caricatures which populate this Earth are a lot less engaging when the pace is slowed, and the human drama is then meant to highlight the relative smallness of people's personal problems on a cosmic scale.
Zahler is an impressive multihyphenate — along with this, his second graphic novel, he's also an accomplished metal musician, writer, and filmmaker. His films Bone Tomahawk and Dragged Across Concrete do a much better job of taking familiar genres and twisting them, or stretching them like taffy, chopping and screwing familiar archetypes and plots into something new and barely recognisable; I can't speak for his work as a screenwriter on Puppet Master: The Littlest Reich. There's a lot of fun imagery and great gags in this (again, I was reminded of Box Brown's An Entity Observes All Things, in its shared Kirby-goes-Santoro Correspondence Course art), but it loses momentum about halfway through its 200 pages and doesn't manage to get back off the ground. Still, it's a more authentic and fun take on this material than the inevitable 12 episode maxiseries based on Tim Burton's Mars Attacks! will inevitably be.
S. Craig Zahler (W/A) • Dark Horse Comics, $39.99
Review by Tom Baker