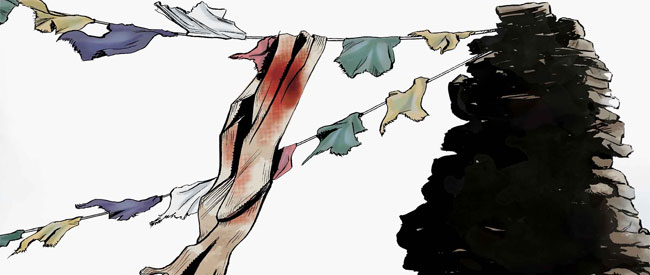 High Crimes, the high-altitude adventure series that garnered two Eisner nominations during its digital run through MonkeyBrain Comics, is finally available in print, having been collected by Dark Horse Comics into a single hardcover edition containing the entire 12-issue run.
To celebrate this occasion, the writer/artist team of Christopher Sebela and Ibrahim Moustafa held a release party at their local comic shop, Bridge City Comics in Portland, OR.
Since this is also one of my local comic shops, I couldn't help but swing by in order to snap a few pictures, get my book signed and ask Christopher and Ibrahim a few questions about their amazing work on High Crimes.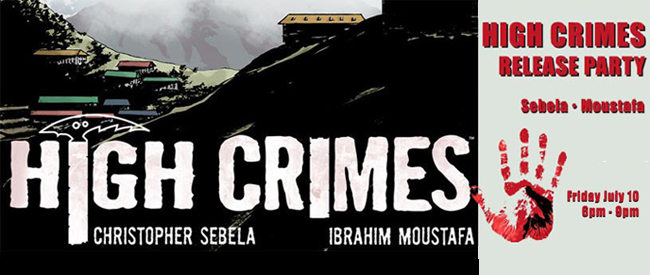 Chris, where did the desire to write a comic about mountain climbing and Mount Everest come from? Was it a subject matter you've always been interested in, or did the concept just jump into your head one day?
Christopher Sebela: I tend to write about my obsessions. I get hung up on things, perseverate over them and, at some point, a story starts to come out. Mount Everest has been an annual obsession for the last 7 or 8 years, starting with reading Jon Krakauer's Into Thin Air.
I initially got obsessed with the climbers – people who would dump a boatload of cash and possibly their lives on the line to get to this desolate spot they can only stand on for 20 minutes or so. Then it expanded to include the culture of Everest: the dead bodies they can't remove; the rising commercialization and overcrowding of the climb; the huge disparity between climbers and the Sherpas who make it possible for them to summit. Every year I'd find a new mini rabbit hole of Everest to fall into.
After a couple of years of reading and watching whatever I could about Everest, at some point a gun in the Khumbu Icefall popped into my head as a really messed-up variable in all the things that could possibly go wrong on Everest. High Crimes started slowly unfolding from there.
Ibrahim, when did you come on board as artist, and did you do anything specific to put your creative "stamp" on the series?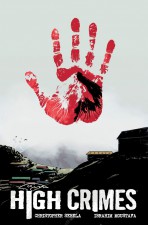 Ibrahim Moustafa: I got involved with the book 3 years and 3 days before the hardcover was released. It was Chris's birthday, and studio-mate/mutual friend Joe Keatinge had gone to breakfast with Chris. Knowing that I was looking for a collaborator to work with (specifically in the crime genre), Joe brought Chris by the studio to introduce us to each other.
As far as putting my "stamp" on the book, I really love playing with less conventional page layouts. I think they can really aid the storytelling in a lot of different ways. Putting emphasis on larger panels, using overlapping panels to convey certain bits of timing, etc. I try to stay away from basic grids whenever possible.
Why did you decide to publish High Crimes through MonkeyBrain? Did the "digital-first" model appeal to you or did you see it as a necessary means to an end?
Chris: It was out of necessity. I'd pitched the book to a traditional publisher and they turned it down for a couple reasons. I'd done a ton of work on it, worked out the entire story, wrote a whole pitch package and then it was just kind of dead and getting dusty on my hard drive. Then I met Chris and Allison (Roberson) from MonkeyBrain and they asked me to pitch them a book I most wanted to do. I knew without hesitation which book that was.
The digital-first model was so unknown back then, I wasn't sure what it was going to be. I was willing to take a risk on a brand new model. I just wanted to tell this story. It didn't feel risky – by that point the first wave of MonkeyBrain books had come out and there was a lot of great stuff, so if nothing else, I knew we'd be in a well-curated collection. I had no idea what would happen, mostly.
Having gone through it, there's a lot I love about digital-first. It really allowed us to take our time on the book when we had to, there were no publishing schedules we had to stick to and no worries that we'd ever be cancelled before we could finish the story. That last part was kind of essential. I'd spent too much time working on this story to not tell the whole damn thing.
Ibrahim, you were drawing High Crimes for close to 3 years. Do you feel your artistic style or approach to drawing comics changed much during that time?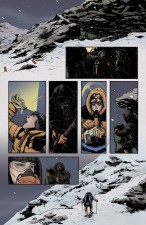 Ibrahim: I feel as though I definitely grew a lot as an artist working on this book. A lot can change in nearly 3 years, so I did have to fight the urge to try different stylistic choices. But one of the cool things about drawing this book was that the scenery changed as our characters entered different geographic areas. So in some cases I was able to employ techniques that were new to me, and it was seamless because of those transitions in the book.
How much did the two Eisner nominations help to bring attention to the book? Was there much of a demand to have it in print at that point or were most people content to read it digitally?
Christopher: Honestly, I have no idea. I feel like that's a question for the rest of the world to answer. For us, it was the really strange icing on an unexpected cake. We'd joked a lot about being nominated for Best Web/Digital, because we knew we were doing good work, but we also knew no one knew who we were, so getting nominated was a thing we'd laugh about now and then.
Then it happened and we also got nominated for Best New Series, and we kinda freaked out. It felt like a lot of people knew about the book before the nominations, and we'd already secured a deal with Dark Horse for the hardcover collection, so mostly the Eisner nominations were like confirmation that we weren't crazy. It probably gave the book a lot more cred, but we were inside the bubble – we couldn't really tell how much of an impact it made.
There's always been demand to have it in print. Lots of readers want to hold a physical object in their hands, myself included. We had a pretty sizable readership digitally but there were so many people who were waiting for an actual book that it feels like the book really has a chance to be seen by a much larger swath of people now.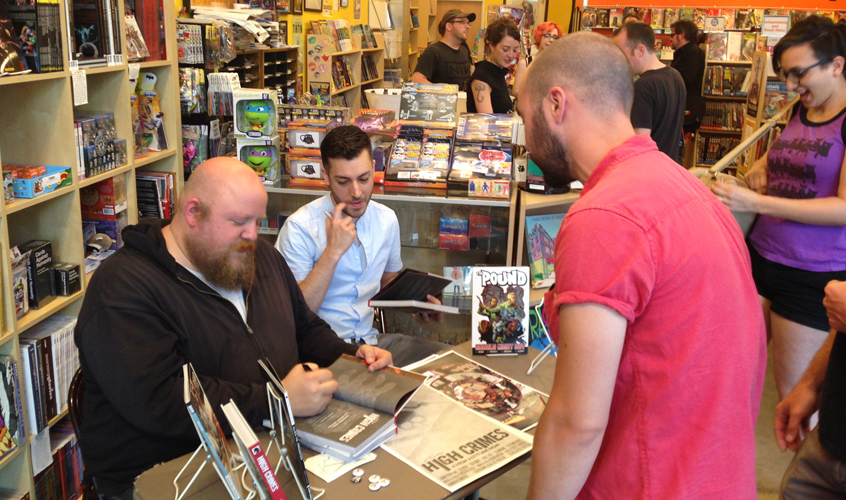 Now that it's done and you've had a chance to reflect, what's it like seeing all that work collected in one, beautiful hardcover? Are you happy to have the project in the rear-view mirror or is there still a part of you that wishes you could have kept the series going?
Chris: It's still a bit mystifying. Having the first inkling of an idea for it like 7 years ago that evolved into becoming an actual story and then an actual comic and now an actual book is very strange. I don't even know how to describe it. Like a really vivid dream that you wake up from with a piece of it in your hands. There's a lot of stuff that happened to both of us in the 3 years we were working on the book, and having this permanent object that sort of sums it all up is the best thing ever.
The series always ended how it ended, there was never any notion of stringing it out any longer than necessary. Towards the end of working on it, wrapping the book was hard, for sure, but I think both of us were excited for it to be finished. Doing a book is like a really volatile relationship, lots of ups and downs, and when it's over, there's equal amounts of sadness, relief and excitement.
Ibrahim: Being an artist, I can really only do one project at a time, so I was definitely ready to ditch the tents and backpacks and try something new and different. But I loved every page of this book, and being able to hold it in my hands was pretty wonderful.
What's next for you two? Any new projects you can share with us at this time?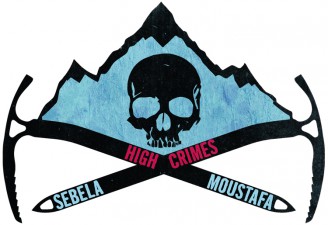 Christopher: I'm still writing the monthly Escape from New York series at BOOM! (which Ibrahim has done some covers for). I'm also working on two of my creator-owned books there – Dead Letters with Chris Visions, which is wrapping up this year at issue 12, and Welcome Back with Jonathan Brandon Sawyer, which starts in August. I've got a couple secret books with a couple different publishers that haven't been announced yet that I'm excited to get announced.
Ibrahim: I've got two chapters of The Flash: Season Zero digital-first book coming out over the next few weeks from DC Comics (written by Sterling Gates and colored by Nick Filardi). I'm just digging into an issue of the series Godzilla In Hell with my good friend Brandon Siefert writing, and I'm working on a new ongoing series with writer Kyle Higgins that's a bit too early to get specific about, but hopefully we'll be announcing something soon.
Beyond that, I've got covers for various books either coming out or about to come out soon: Doctor Fate, Escape From NY, and TMNT!
The High Crimes hardcover is available in comic shops now. You can also still read the entire series digitally on ComiXology. Or, for more information on everything High Crimes, visit the creators' tumblr where you can see a fantastic video trailer for the series.