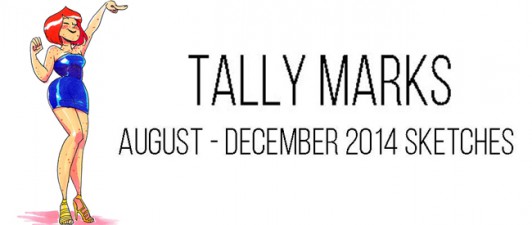 Artist Natalie "Tally" Nourigat, best known for her work on Between Gears (Image Comics) and A Boy & A Girl (Oni Press) is releasing her latest sketchbook, Tally Marks: August – December 2014 Sketches, as a "pay what you want" digital download.
Natalie first began sharing her sketchbooks in mid-2014 with the release of her Tally Marks: Eurotrip series, which contained drawings from her time abroad traveling through various European cities. This series of six smaller sketchbooks were distributed digitally by Monkey Brain Comics through ComiXology. Now she's trying something a little different by releasing over 100 pages of drawings all at once and giving readers the choice of how much to pay for it, including the option to download it for free.
The download package contains all-new, unpublished material from the months following the Eurotrip series. Each page is filled with gesture drawings, character designs, short comics, environment studies, fan art, and general doodles drawn in pencil, ink, and even featuring pops of color.
"I think that people appreciate when an artist is having fun, because it definitely shows in the work.  Tally Marks is all me having fun.  It's the grown-up version of the doodles I used to draw in my school notes; the things I noodle with between "real" projects.  Gesture sketches drawn in cafes.  Character designs I thought of right before going to sleep.  It's fun and freeing.  People responded so well to the little previews I'd post on Instagram, Twitter, and Tumblr, I wanted to make a real collection of them."
Natalie Nourigat's Tally Marks sketchbook is available for digital download as of Monday, January 5th on the Gumroad website. And with the pay-what-you-want model, there's really no reason not to go check it out!