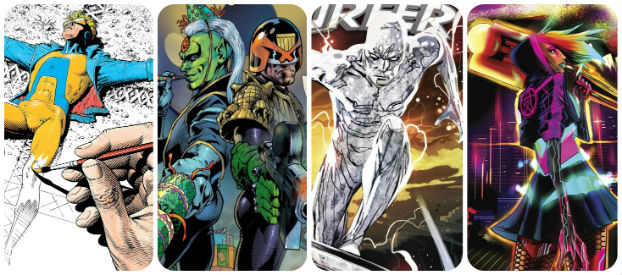 It's nearly Wednesday, and you know what that means: a fresh load of comics and graphic novels! With so many publications hitting your local comics store, comics event or digital storefront, the BF team are here to lead you through the woods with our weekly staff picks. Satisfaction guaranteed!
Comic of the Week
2000 AD #2111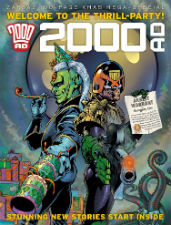 It's that time of year again where two old British weekly comics traditions – the festive number and the old hardback annuals – merge to create something new that still embodies the traditions of UK comics of yesteryear. Yep – this week sees the bumper, end-of-year, Christmas edition of 2000 AD!
In amongst the serial comic strips you can look for a no doubt suitably dark spin on the season in Judge Dredd tale 'Jingle All the Way' by Eglington, Cook and Parkhouse and Durham Red story 'Three Gifts' by Worley, Willsher and Parkhouse. This mammoth 100-pager also features the Rennie/Reardon Caballistics Inc. finale and another new spin on Fiends of the Eastern Front.
Anthology – Various creators • Rebellion, £4.99
– Andy Oliver
Animal Man 30th Anniversary Deluxe Edition, Book 1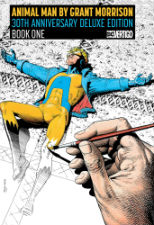 As much as any book, Animal Man epitomises the late-1980s 'British invasion' at DC Comics. Originally commissioned to write a four-part mini-series, hip young gunslinger Grant Morrison subsequently took the B-list superhero on an authored boundary-breaking journey that famously ended with him coming face to face with his (by now increasingly prominent) 'creator'.
Along the way, Morrison – in collaboration with penciller Chaz Truog – used the often conservative medium of superhero comics to promote themes of environmentalism, animal rights and vegetarianism. He also launched the kind of characteristic exploration into the nature of fiction and reality that would later bloom into full and extravagant fruition in The Invisibles and The Filth.
This repackaged hardback collects the first 10 issues of the series (including the Eisner-winning #5, 'The Coyote Gospel', which paves the way for the book's later metafictional shenanigans), plus a related story from Secret Origins.
Grant Morrison (W), Chas Truog (A) • DC/Vertigo, $34.99
– Tom Murphy
I Moved to Los Angeles to Work in Animation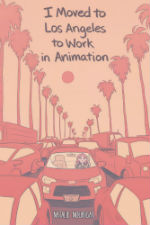 In this new graphic novel released by BOOM! Studios Natalie Nourigat describes her experience moving from Portland to L.A, as the title suggests getting a job in animation. The book depicts how she went about it – offering some guidance to her process into transitioning into the industry.
It explains concepts that somebody who doesn't know about the industry could learn from, as well as those interested in working in it. Despite its focus on the serious topic of careers the biographical element adds and maintains a fun, comedic style.
Natalie Nourigat (W/A) • BOOM! Studios, $9.99
– Holly Raidl
The Best Defense: Silver Surfer #1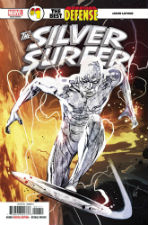 One of our rare forays into the "Big Two" super-hero universes here at Broken Frontier but if you've been following Jason Latour on social media and spotted some of the awe-inspiring art he's posted from this issue then you'll know exactly why.
Part of the 'Best Defense' series of one-shots featuring the original Defenders team of Doctor Strange, the Hulk, the Silver Surfer and the Sub-Mariner (who Marvel seem stubbornly determined to rebrand as simply "Namor" these days) these issues see the Defenders name return to its original conception after that brief Netflix appropriation.
The preview images have been simply stunning in execution, featuring a Galactus who is truly cosmic and unknowable and endowed with a fearsome majesty. Whether you're a committed fan or a lapsed Marvel reader then this looks well worth your time for the incredible artwork alone.
Jason Latour (W/A) • Marvel Comics, $3.99
– Andy Oliver
Goddess Mode #1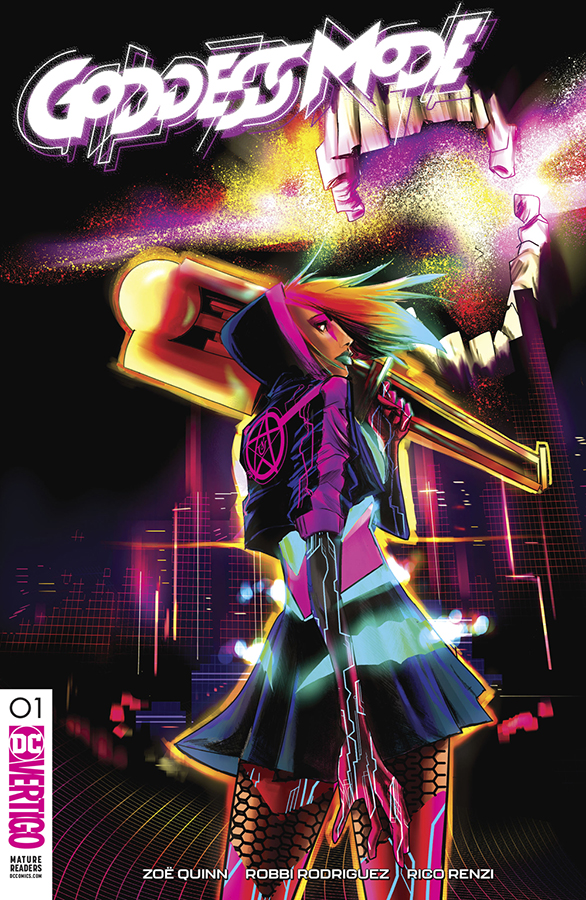 The artistic team behind the creation of Spider-Gwen join Hugo Award nominee Zoë Quinn to construct a very prescient vision of the future where the godlike A.I. "Azoth" provides for all of humanity's needs, but it also controls the world's resources and everything we consume.
Cassandra Price was a low level employee of Hermeticorp running tech support when she discovers a hidden digital world beneath our own where a group of super-powered women fight a secret war for the cheat codes to reality.
Zoë Quinn (W), Robbi Rodriguez (A), Rico Renzi (C) • DC Comics/Vertigo, $3.99
– Tyler Chin-Tanner