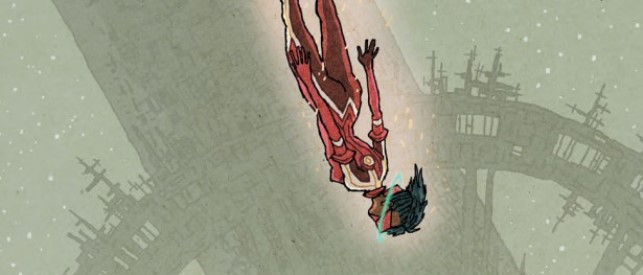 In their new four-parter for Archaia, Josh Tierney, Afu Chan and Giannis Milonogiannis produce a dark mystery set against a futuristic backdrop of division and inequality.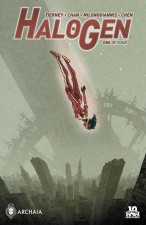 In a world of haves and have-nots reminiscent of the social inequalities of Babylon 5, series creators Josh Tierney, Afu Chan, and Giannis Milonogiannis offer just two pages of exposition to set the stage for a story presented already in motion.
It leaves you with more questions than answers as we meet Rell, a human with unique holographic-projecting abilities. She and her fellow agents of HaloGen are searching for the corpse of the god Det'Houna, which was first discovered floating in space five years ago.
The setting is Cityship Q, an out-of-the-way space station in a forgettable chunk of the cosmos, where the top half of the facility contains the wealthy and educated while the bottom houses the "repressed and disorderly". The social divide so often present in the world-building efforts of sci-fi books is rarely manifested as a physical separation as it is here, and this omnipresent division instantly establishes expectations for each half of this society that will probably be met and upended during the course of this four-issue run.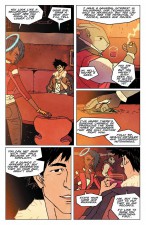 Why are they searching for the corpse? Is the cult of Det'Houna really dead and forgotten? Why is Rell able to project a hologram without the aid of a holosuit? Because the story doesn't begin at the beginning, readers will just have to let the action reveal the answers – which removes some of the predictability of a typical mystery and adds a good amount of intrigue.
Interestingly, HaloGen and its corporate rival, Securicorp, appear to be in a race to recover Det'Houna and use his data to learn about the human condition. It's a world of secret-stealing, robot mercenaries, and data piracy nestled in a web of deceit that will either give Rell answers about herself or kill her along the way.
Writer Josh Tierney (Spera) literally drops readers into an established world that is spinning through a story already in motion. Reading the first issue is like being dropped into a blender where the plot points are still in disjointed pieces; however, it won't take long for everything to come together. It's a walk on the darker side of human nature, so don't expect the lighthearted humor present in Rocket Girl or the police procedural structure of The Fuse.
The artwork of Afu Chan, Tierney's collaborator on Spera, goes a long way to establish the dark general vibe of the book. It has a raw, underground comix feel that resembles what would happen if Jim Mahfood's Everybody Loves Tank Girl met Fiona Staples' Saga and gave it a black eye.
So does it work? Yes. I definitely want to know what happens next.
Josh Tierney (W), Afu Chan, Giannis Milonogiannis (A) • Archaia/BOOM! Studios, $3.99,