It's nearly Wednesday, and you know what that means: a fresh load of comics and graphic novels! With so many publications hitting your local comics store or digital storefront, the BF staff is here to lead you through the woods with our weekly staff picks. Satisfaction guaranteed!
Comic of the Week
All My Ghosts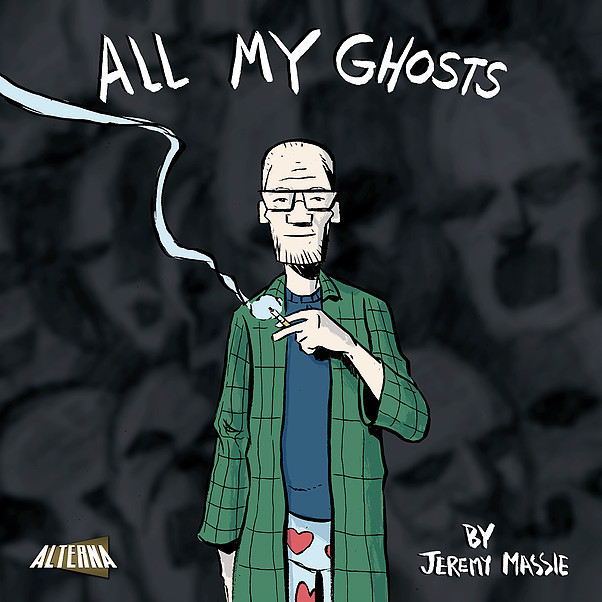 Everybody knows print is dead – especially when it comes to the newspaper biz. I can't remember the last time I actually read a newspaper and caught a whiff of the now exotic scent of newsprint. This makes me sad for a number of reasons.
For Joe Hale, the editor-in-chief and publisher of a small-town newspaper, the Wise Press, the death of print represents an escape from family duty and a chance to live his own life, even if the impending buy-out of the family business means his daughter never gets the chance to follow in her forebears' footsteps. What Joe fails to realize is just how important the paper is to the town of Wise and to what it means to himself.
Jeremy Massie's intensely personal portrait of a town in the midst of an economic downturn is a wonderful, bittersweet snapshot of a scene playing out across much of rural North America. First published by Alterna via Comixology, this well-crafted little gem is now collected in print and deserves a look by anyone who's ever lived through hard times in a dwindling town or industry – so, I guess that means just about all of us.
Jeremy Massie (W/A) • Alterna Comics, $9.99
—Jason Wilkins
The Shadow Glass #1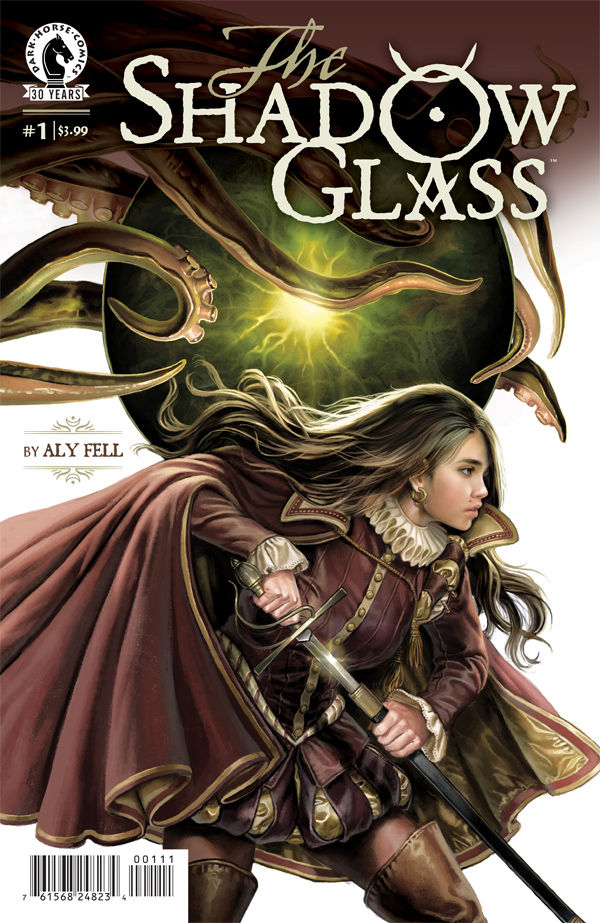 After 20 years as an illustrator and concept artist, Manchester-based artist Aly (Alastair) Fell is making his comics debut with this six-part tale of magick and self-discovery set in Elizabethan London.
The book focuses on Rosalind, a wilful young woman who searches for the truth about her identity when she discovers that the man who brought her up wasn't her biological father. When she seeks answers from her childhood teacher, the occultist Dr John Dee, she is drawn into a series of uncomfortable secrets about her heritage.
As you'd expect from the cover shown here, the artwork in Shadow Glass is crisp and rock-solid, backed up with delicate but eerie colouring. This is a smooth opener that creates a rich world and a sticky web of suspense around its elegantly rendered characters.
Aly Fell (W/A) • Dark Horse Comics, $3.99
– Tom Murphy
Circuit-Breaker #1
When an anti-human robot militia threatens Tokyo, the young android Chiren is just the "girl" to save the day. Created to protect humanity from harm, Chiren has never had cause to question her programming. However, the brewing conflict brings to light some uncomfortable truths that could turn our young heroine's world upside down.
Kevin McCarthy and Kyle Baker's Circuit-Breaker was first announced over two years ago, and all signs indicate that it will be well worth the wait. The influence of manga great Osamu Tezuka is evident in both McCarthy's high-flying, philosophically tinged script and Baker's eye-catching visuals. And, of course, expect plenty of the latter's customary sharp humor as well.
Kevin McCarthy (W), Kyle Baker (A) • Image Comics, $2.99
– Paul Mirek
Agony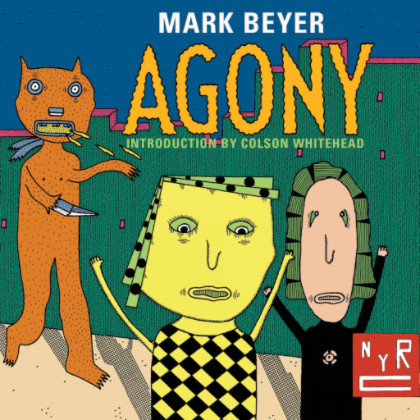 The darkly humorous misadventures of Mark Beyer's Amy and Jordan first burst into the world via Raw, Art Spiegelman and Francoise Mouly's epoch-making vehicle for art comics. And the pair's endurance of urban despair and grotesque misfortune hasn't lost any of its timeliness in the 29 years since Agony was originally published.
In his introduction, novelist Colson Whitehead gets to the skull beneath the skin of Beyer's work: "Agony is one of the most hilarious books I've ever read, but again, your mileage will vary depending on your feelings about the inherent comedy of suicide by acid bath and forfeiting the security deposit on your apartment because you've saturated every surface with blood."
This is the first release from New York Review Comics, an offshoot of the high-brow New York Review of Books, which promises to be a stimulating addition to the comics landscape. Also due out in the next couple of months are a new edition of historical saga Peplum, by French artist Blutch, and a collection of new and selected cartoons by the veteran British absurdist Glen Baxter.
Mark Beyer (W/A) • New York Review Comics, $15.95
– Tom Murphy
2000 AD #1973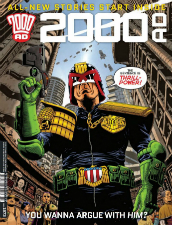 When a weekly publication is 39 years old and still going strong it builds up a lot of back story. For a number of years, 2000 AD – that great UK comics bastion of sci-fi and fantasy – has countered the potential problem of inaccessibility for newer or lapsed readers by providing special "jumping-on point" issues with a line-up of all-new serials.
Prog #1973 continues that tradition with Judge Dredd encountering 'The Grindstone Cowboys' by Carroll and MacNeil; a new three-part short story in the Tharg's 3rillers series from Robson and Lynch; Survival Geeks in 'Geeks Fatales' by Rennie, Beeby and Googe; a return to Deadworld in Tainted: Fall of Deadworld by Kek-W and Kendall; and more Roman-inspired Aquila adventuring in 'Charon's Mercy' by Rennie and Davidson.
With this great British institution's 4oth anniversary less than a year away there's never been a better time to revisit the Galaxy's Greatest Comic.
Anthology – Various creators • Rebellion, £2.55
– Andy Oliver
Klaus #4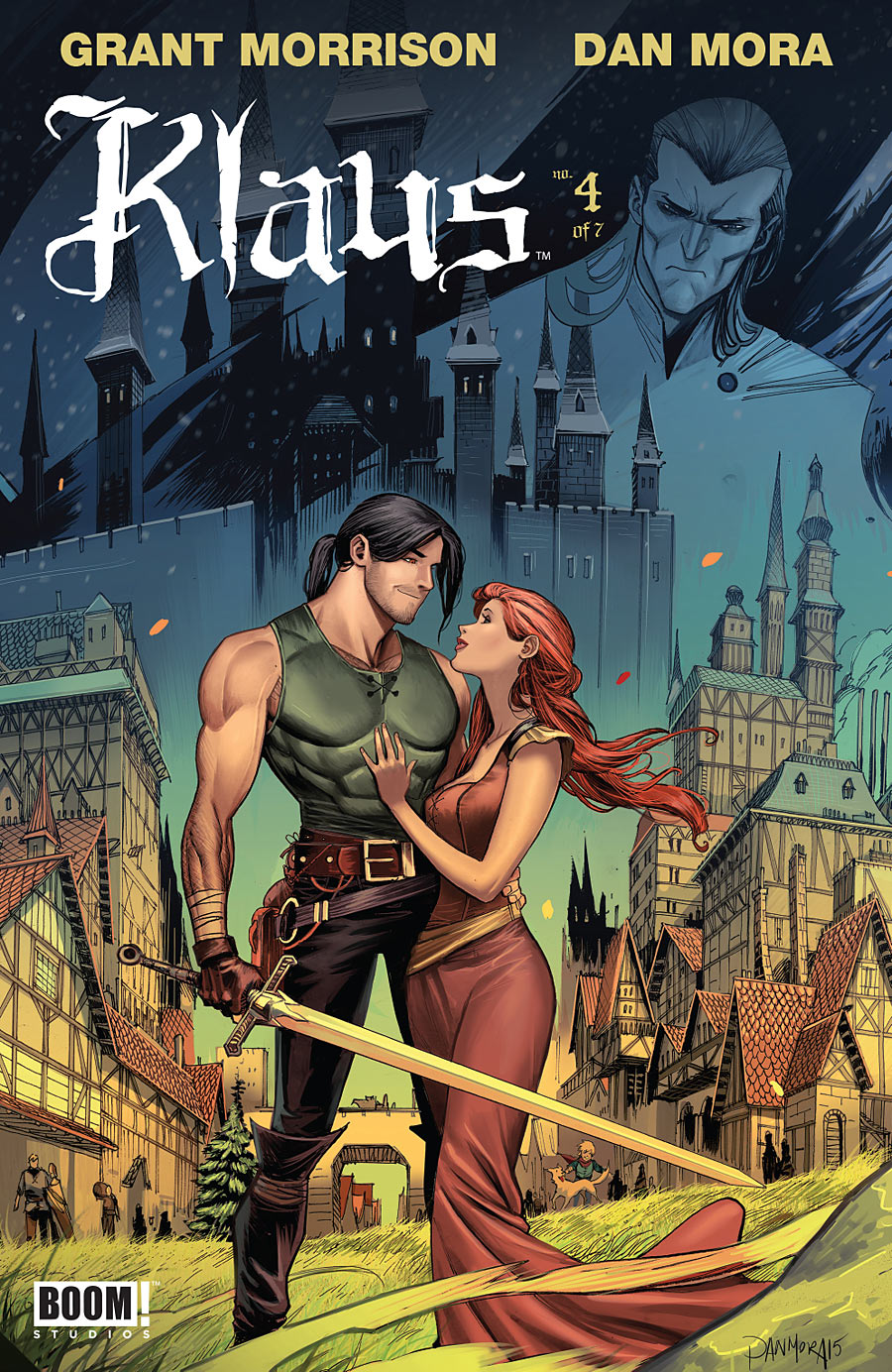 Dashing heroes are at their best when complemented by bold villains, and writer Grant Morrison never fails to provide this symmetry in his stories. His retelling of the Santa Claus mythos has been an enjoyable adventure thus far, and it appears that some of the deeper character development readers were hoping for will be delivered in the fourth issue. The Lady Dagmar and Klaus have a history that dates back to childhood, and artist Dan Mora will get to show off his flashback chops as Morrison's story heads for (mostly) happier times. It appears that we'll also learn more about the Baron and the root of his evil.
Morrison and Mora have been an effective team on this title. Mora exaggerates the art when necessary to prove a point and is consistent with the realistic elements that make this a fully realized world, while his colors take delightful departures from the established palate when dealing with the more fantastic elements in the story. As Morrison weaves together elements of the realistic with the fantastic, we see Klaus change from his solitary nature into someone who is dedicating himself to helping others. It's the journey of a man on his way to becoming a hero – but first he has to contend with a tyrant.
Grant Morrison (W), Dan Mora (A), Boom! Studios, $3.99
-Karen O'Brien